Germany Puccini, Tosca: Soloists, Sächsischer Staatsopernchor Dresden, Children's Chorus of Sächsischen Staatsoper Dresden, Sächsische Staatskapelle Dresden / Stefano Ranzani (conductor), Semperoper, Dresden, 7.6.2019. (MC)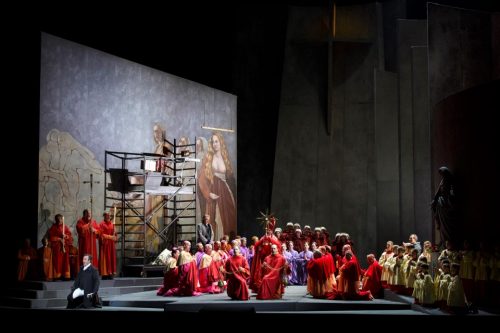 Production:
Stage director – Johannes Schaaf
Set design – Christof Cremer
Set design – Christof Cremer
Costumes – Petra Reinhardt
Lighting – Guido Petzold
Chorus director – Jörn Hinnerk Andresen
Children's chorus director – Claudia Sebastian-Bertsch
Dramaturgy – Ilsedore Reinsberg
Cast:
Floria Tosca – Angela Gheorghiu
Mario Cavaradossi – Riccardo Massi
Baron Scarpia – John Lundgren
Cesare Angelotti – Martin-Jan Nijhof
Sacristan – Mattias Henneberg
Spoletta – Tom Martinsen
Sciarrone –Tilmann Rönnebeck
Gaoler – Allen Boxer
Shepherd– Morten Graßau
Disparagingly described by Joseph Kerman as a 'shabby little shocker', Tosca is an opera of which I never tire. Puccini's perennially popular opera with its turbulent love affair between artist Mario and singer Tosca, Scarpia's attempt to seduce Tosca and the fatal conclusion are all set against a backdrop of political intrigue and menace.
In recent years I have relished Luc Bondy's staging of Tosca at the Royal Opera House, London and the Bayerische Staatsoper, Munich, and savoured both the Carl Riha and Alvis Hermanis productions at the Staastoper, Berlin. In addition, Jonathan Kent's Tosca which was streamed to cinemas from Covent Garden, London was superb too. I am also disposed to see new contemporary takes on the opera and recently I saw the film of Michael Sturminger's compelling contemporary production given at 2018 Osterfestspiele Salzburg complete with a prologue and an exciting new conclusion. Sturminger has shifted the action from 1800 to a Mafia-like underworld of say present-day Rome. Featuring Anja Harteros (Tosca) and Aleksandrs Antonenko (Mario) I recommend Sturminger's production on C Major DVD/Blu-ray. A couple of days ago Angela Gheorghiu, in an interview, emphasised to me her strong commitment to a traditional approach to Tosca and indicated that Sturminger's type of contemporary staging wasn't for her. For that I respect her honesty.
Tosca was introduced in 1900 at Teatro Costanzi, Rome and it was only two years later that its German première was given at Semperoper Dresden. This Johannes Schaaf staging of Tosca was first given at Semperoper in January 2009 and it was good to attend this revival at the famous Dresden opera house with a well-chosen cast starring Angela Gheorghiu as the eponymous heroine.
Schaaf and his creative team have devised a relatively simple, yet convincing, traditional staging. Set in Rome in 1800, the time of Napoleon Bonaparte's victory at the Battle of Marengo (which is announced by Sciarrone during act two of the opera), it delivered quite an impact. The set was relatively minimalist centred around a large iron grill on the floor that was hinged, serving as the entrance with steps down to both the crypt of the Church of Sant'Andrea della Valle and Scarpia's dungeon. For the set much of the background colour was predominantly a type of battleship-grey, still such a favourite with designers. Petra Reinhardt's costumes were suitably of the period and for Scarpia's henchmen their long trench coats were in grey providing a stark contrast to the principals. Standing out (in Act II) was Scarpia's vivid red costume with the ominous riding crop and in the first act renowned singer Tosca wore a pale green, chiffon dress with lime green sash and headband and for acts two and three changing into a stunning black sparkling gown and matching cloak. With all the various coloured vestments required for the church profession the Te Deum scene was a mightily colourful affair and exceptionally spectacular.
Certainly Schaaf's production contained considerable visual drama. Tosca's stabbing of Scarpia was suitably menacing whilst the famous conclusion to the opera, where Tosca throws herself from the castle ramparts, had plenty of impact. We saw her begin to make her leap and then all the lights went out before a spotlight shone out into the audience.
In her signature role of Floria Tosca, Angela Gheorghiu's performance was right on the money, it felt as if she had added a steely determination to her innate artistry. Gheorghiu soon got resolutely into her stride and her voice, blessed with significant power, communicated a generous emotional range. The way she moved from a girl-like vulnerability to a wickedly betrayed women with enough vengeance in her heart to kill was an impressive feat. Tosca's famous Act II aria 'Vissi d'arte' was show-stopping, sung so affectingly by Gheorghiu producing a level of despair and sense of loneliness rarely achieved and the audience loved it.
With this convincing performance I can see why Riccardo Massi is in such demand as the lovesick artist Mario Cavaradossi. His singing and acting ability certainly fulfilled the requirements of the role splendidly, looking very much the romantic lead. Mario's aria 'Recondita armonia' is one of the most celebrated moments in opera. It is extremely difficult to pull off as it comes so early in Act I, before the singer's voice has had time to warm up. The Italian tenor delivered 'Recondita armonia' and also 'E lucevan le stelle' from Act III with poise and passion, leaving one feeling he was singing from the heart. As a painter I didn't see him do much work on the large canvas of Mary Magdalene.
Baritone John Lundgren gave a convincing portrayal of Baron Scarpia, the depraved and conspiratorial chief of police who tortures his victims. I have seen more menacing Scarpia's such as Ruggero Raimondi, Bryn Terfel and Juha Uusitalo, with currently the finest singer in the role probably Ludovic Tézier. Nevertheless, Landgren's acting and voice were persuasive, especially his first act aria 'Va, Tosca! Nel tuo cuor s'annida Scarpia!' with his intimidating threats to Tosca to have Cavaradossi hung at the gallows. Scarpia's role has the advantage of being supported by the some of the most descriptive and dramatic music Puccini ever wrote as he progressively ratchets-up the tension to a fearsome level.
Full credit goes to fugitive Cesare Angelotti played by Martin-Jan Nijhof and the genial Sacristan taken by Mattias Henneberg who both excelled in their supporting roles. The Staatskapelle Dresden played with real verve and a surety of commitment that we often take for granted however Stefano Ranzani didn't keep complete control of the volume and less powerful singers than Gheorghiu, Massi and Lundgren might have been drowned out completely. In addition Ranzani didn't tend to leave space for applause after the famous arias which made for some awkward moments. All evening the choruses were on superb form, so well drilled and making a real contribution to the production's success.
Johannes Schaaf's traditional staging was unfailingly gripping and with Angela Gheorghiu in imperious form this was a very special night at Semperoper.
Michael Cookson