United Kingdom Michael Balfe, The Sleeping Queen: Soloists, Una Hunt (music director/producer, piano).The Erin Arts Centre, Port Erin, Isle of Man 22.6.2019. (RJW)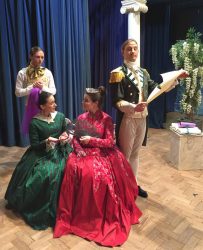 Cast:
The Queen of Leon – Susan Gibbons (soprano)
Donna Agnes, Maid of Honour – Sarah Kilcoyne (mezzo-soprano)
Phillipe, a courtier – Oisin Ó Dálaigh (tenor)
The Regent, Prime Minister – Kevin Neville (baritone)
Stage director – Kate Minogue
The Mananan Festival of Pt. Erin, Isle of Man takes place in the last two weeks of June each year. This year a rare operatic treat from Ireland was presented. Irishman, Michael Balfe wrote 28 operas between 1830 and 1870 and one operetta, The Sleeping Queen. This was written in 1864 for German Reed's 'Gallery of Illustration' in Regent Street, London where it played to piano accompaniment. Over recent years, Una Hunt of Dublin has taken a keen interest in researching and promoting the works of such outstanding Irish composers as Michael Balfe and Vincent Wallace. Balfe's music is always easy on the ear with characteristic good melody and subtle filigree of decoration in the music. The overture is not an easy number to play as it moves in and out of many themes represented in the operetta. Una Hunt who conducted from the piano played brilliantly with bright tempi, sensitive dynamics and immaculate timing. The balance between singers and accompaniment was first class and struck an ideal balance.
The Sleeping Queen tells the tale of a young nobleman, Phillipe, who manages to move up in Court circles after first meeting the Queen informally when she encounters difficulties when out riding. During her rescue Phillipe is enchanted by her radiance and she in turn is taken by this helpful courtier. When she falls asleep in the Palace garden's hot sun he makes an unpardonable solecism by daring to steal a kiss. This offence unfortunately is witnessed by the Queen's Regent and Donna Agnes. The Regent who has designs on the Queen himself accuses the courtier of treason and certain death. He tries to have Phillipe sent away, but the Queen wishes to keep him at Court. She deceives her ambitious Prime Minister and with some trickery makes him commit treason and so both he and Phillippe are condemned to death. A neat return to order in H B Farnie's book restores trust and eventual marriage of the courtier, Phillipe to the Monarch. The Regent's plan of ridding him is thwarted.
The operetta is held together by four principals, their voices covering a good spectrum of register to provide a fine balance in the ensembles. Kate Minogue as stage director ensured the well-rehearsed cast gave an outstanding performance. The pace was slick and there was particularly good use of the stage, the team portraying their characters to great effect. A difficult trio, 'She is Heartless' was particularly well presented and sung.
Susan Gibbon's Queen of Leon conveyed elegance with authority. Her pure light soprano voice was a joy to the ear and her interaction with the Regent was convincing. She sang her duet 'The Treaty' with engaging presence.
Sarah Kilcoyne as Donna Agnes was confident in her role of adviser to Phillipe and sang delightfully.
Oisin Ó Dálaigh, as Phillipe added the right amount of pathos to his part; he carried the right amount of believable charm to attract the Queen's eye. As a love-torn courtier, he sang his serenade superbly with clear diction.
Baritone, Kevin Neville as the scheming and authoritative Regent showed the strength of conviction to undermine the courtier's presence in Court. His opening, well-sung aria promoted his power and indicated disdain for those below him. He also enriched the ensembles throughout.
As a prelude to the operetta, Una Hunt gave an introductory talk about Balfe, a hitherto forgotten composer, and expounded on his amazing output of 28 operas, plus numerous songs and ballads before explaining the origination of The Sleeping Queen that was Balfe's penultimate work. Farnie's book is concise, keeps the plot moving until the final unexpected twist and the composer works hard to allot each singer matched vocal strength in harmony and hold good presence in their ensembles.
So what did the audience make of this rarely heard music? In talking to members of the audience afterwards it was interesting to find out that some patrons had come especially to discover this unknown corner of Balfe's repertoire and support the young cast. They were not disappointed with what they heard.
A CD recording now exists of his novel one act piece (for details click here).
Raymond J Walker