United Kingdom Matthews, Alma Mahler, Janáček, Dvořák, Martinů: Jennifer Johnston (mezzo), BBC Philharmonic / Jac ‎van Steen (conductor). BBC Philharmonic Studio, MediaCityUK, Salford Quays, 19.6.2019. (RBa)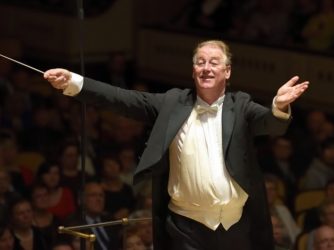 David Matthews – New Fire
Janáček – The Fiddler's Child: tone poem
Alma Mahler (orch. Colin and David Matthews) – Seven Songs
Dvořák – The Wood Dove: tone poem
Martinů – Symphony No.3
This afternoon concert, in part (Matthews, Mahler, Janáček) broadcast live on BBC Radio 3, was directed by Jac van Steen. A fortnight ago he headed up the orchestra in a programme that included a rare performance of Prokofiev's Sixth Symphony (review click here). He is a purposeful, energetic, involving and affable conductor. On this showing, I hope that the BBC Phil will retain him again, and that he will also be favoured for the orchestra's recording projects with Chandos.
David Matthews (b.1943) is one of that select band of composers who receives substantial and due attention by musicians and record companies; his brother Colin (b.1946), a degree less so. David's Ninth Symphony came out on Nimbus Alliance not so long ago. Both David and Colin had their places this afternoon.
New Fire 2017 is a short piece, a steadily paid-out crescendo. The composer asks that, if possible, the three trumpets be sited above the orchestra. In the BBC studio – every audience seat taken – they were placed a tier above their usual level, next to the timpani. Their role is momentarily commanding but by no means as dominant as their physical placement might imply. The music proceeds somewhat in the manner of Tavener and Macmillan. The Fire referred to is the flame that lights the candle(s) at the start of the Orthodox Church's Easter Saturday service. New Fire was premiered in 2018 in Brno, and this provides a felicitous link with other works in the programme: the Dvořák tone poem was premiered there in 1898, and Janáček conducted.
Operatic mezzo-soprano Jennifer Johnston sang Alma Mahler's Seven Songs. These were in orchestrations made in 1995 by Colin and David Matthews. I could not distinguish who arranged which song; it hardly matters to audiences. The style of these short German-language songs, setting Dehmel, Bierbaum, Hartleben and Rilke, was in the grand manner. I do not know the voice and piano originals, but the singer here gave every seeming of being stylishly adroit, as was the material she sang. Ms. Johnston, apart from a moment in the first song, was triumphantly, yet not suffocatingly, in charge. Rather than adopting an impassive 'stand and deliver' manner, she acted the words with facial expression, hands, arms and demeanour. These little known examples can stand with the best of Richard Strauss, both in their occasional high-tide grandeur and in their luxurious yet often minimalist delicacy. Neither of the Matthews brothers is unfamiliar with the demandingly gentle and fine art of arrangement; that much was clear from this sequence.
Janáček's The Fiddler's Child – a ballad for solo violin and orchestra (his first tone poem) – is founded on a poem by Svatopluk Čech. Like the Dvořák work we were to hear after the interval, it is founded on a gruesome tale. A ghostly fiddler's spirit kisses his sickly child, whose death is then assured. Janáček softened the storyline but it hardly matters. This score is by no means an overblown piece. Yuri Torchinsky (good to see and hear him again) was well in command of his prominent role; it was a matter of more silvery and poetic virtuosity rather than concerto foreground. The orchestra coasted close to the gentle chiaroscuro of Sibelius's theatre music. By contrast, the composer's signature jagged 'stabs' across the canvas of the orchestra pointed the way forward to Taras Bulba. The work was premiered on 14 November 1917 by Czech Philharmonic under Otakar Ostrčil. On 3 May 1924  Sir Henry Wood conducted  it at the Queen's Hall.
After the interval (unusual for these concerts) came Dvořák's fairy-tale tone poem The Wood Dove (or The Wild Dove). Its storyline, like those of the composer's other three major tone poems, all late works, is dictated by one Karel Erben's grim poetic stories. This is a story of poisoning and suicide. Then again, where would classical music based on literature be without such themes to suffuse them with light and dark? The work starts and ends with harp and horns in a gesture that might be a softened pre-echo of the tragic brass trudge of Mahler's Fifth Symphony. Along the way, in this long tone poem, two trumpets call out from offstage; they return to the hall to take their role in a more conspicuous manner. The performance was vivid and quite magical. Serrated trills mark out shudders at the more grand guignol moments in the storyline. It was quite clear that van Steen enjoyed every moment, and this included a beaming smile sideways visible to the audience at one point.
All six of Bohuslav Martinů's remarkable symphonies were composed during his exile in the USA. His Third Symphony, which is not often heard, was written in 1944 whilst he was living in Connecticut. It is dedicated to Koussevitzky, who premiered it in Boston. The three movements are Allegro poco moderato, Largo and Allegro-Andante. The first movement, which van Steen launched very quickly, picked up on some of the airless tragedy of the same composer's Double Concerto for Two String Orchestras, Piano, and Timpani. Once again there is a significant role for orchestral piano. It was the first time I had heard any Martinů symphony live. The first two movements struck me as tense yet melodious but densely concentrated. Its profile is very different from the triumphantly imaginative and lucidly scored Fourth Symphony. The free-flowing rhythmic finale drew considerable applause and some bravos, richly merited.
Rob Barnett