United States Bernstein, West Side Story: Soloists, Orchestra of Lyric Opera of Chicago / James Lowe (conductor). Civic Opera House, Chicago. 18.5.19 (JLZ)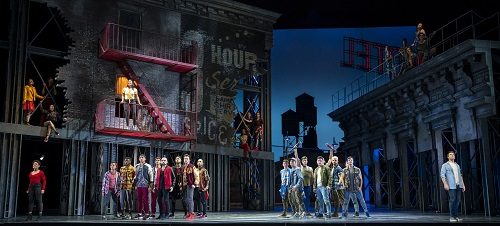 Production:
Conductor – James Lowe
Director – Francesca Zambello
Set Designer – Peter J. Davison
Costume Designer – Jessica Jahn
Chorus Master – Michael Black
Cast:
Tony – Corey Cott
Maria – Mikaela Bennett
Anita – Amanda Castro
Riff – Brett Thiele
Bernardo – Manuel Stark Santos
Directed by Francesca Zambello, West Side Story is a strong addition to Lyric Opera of Chicago's series of musicals. The production is fresh and dynamic, with a set that well suits the Civic Opera House. More than that, it supports Jerome Robbins's original choreography (directed by Julio Monge) with ample space for the ensemble sequences and appropriate blocking for the more intimate ones. The set's multiple levels suggested the tenements described in the libretto, while also framing the stage aptly for the exquisitely danced "Somewhere" ballet. Dance sequences, music, and dialogue all fit together with pacing and drama—nothing ever lagged.
Conductor James Lowe incisively brought out the rhythmic aspects of Leonard Bernstein's score, with restraint on sentiment. Rather, the sonic elements underscored the drama as the composer intended. From the first bars of the iconic prelude to the closing sonorities of the tragic conclusion, Lowe's reading made the score sound as fresh as it must have been at its premiere. Bernstein would have approved.
The cast was uniformly strong. Mikaela Bennett's Maria was nuanced and subtle, and her sense of detail set her apart. She delivered lines with consummate phrasing, and used her range impressively. Her ringing soprano underscored Maria's part in the "Tonight" ensemble, while she also made use of her lower range to offer a moving "Somewhere." At the same time, Bennett deftly emphasized the soubrette character of "I Feel Pretty," and gave it remarkable charm.
Likewise, Corey Cott was strong as Tony, with the range and precision the role needs to be convincing. Cott's sense of dramatic timing combined with nuanced phrasing in "Tonight" and elsewhere. A seasoned actor, Cott's musical acumen deserves attention for his subtle yet strong embodiment of the role.
As Anita, Amanda Castro gave a powerful reading, with the comic elements tempered by her vivid emotions. The satiric side of "America" was never over-the-top, and she added flair to the ensemble in "Tonight." Also a strong dancer, Castro was especially good in the crucial penultimate scene with the Jets, which moves the finale to its tragic conclusion.
Brett Thiele's Riff and Manuel Stark Santos's Bernardo had the strength and brought out the tribal rivalry between the warring gangs. Both actors boasted excellent timing and clear delivery, adding their superb work to the rest of the cast, in a virtuoso evening to be treasured.
James L. Zychowicz