Switzerland Brahms: Janine Jansen (violin), Tonhalle-Orchester Zürich / Herbert Blomstedt (conductor), Tonhalle Maag, Zurich 27.6.2019. (JR)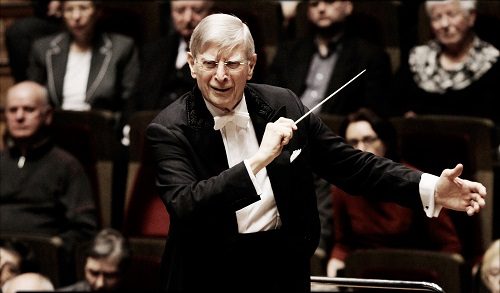 Brahms – Violin Concerto in D Op.77; Symphony No.3 in F Op.90
Remarkably, in a few days, Herbert Blomstedt will celebrate his 92nd birthday. With the Big Conducting Names dropping rapidly by the wayside, Haitink about to retire, Maazel gone, Jansons ill, we must savour these performances given in the golden twilight of these illustrious and venerable conductors' careers. It matters not that they wend their way, gingerly, with the odd helping hand from a double bass player, up to the podium and move economically when they get there. Certainly (on doctors' orders) no jumping, little swaying, often no arms above shoulder height – but still no chair or stool either for Blomstedt. (I watched Mikhail Jurowski, Vladimir's father, the other night at Zurich Opera – he conducted a fine performance of the ballet Romeo and Juliet; but he now needs a walking stick, though aged only in his seventies.) Christoph von Dohnányi also still appears to be going strong, 90 in September; he comes to Zurich later in the year with a Schubert Ninth.
Back to Blomstedt. He knows his Brahms like the back of his hand. No score required. He has been performing all the symphonies around the major concert-halls over the last few years, a whole cycle in Philadelphia, and single symphonies (usually his First, Second and Fourth) in Hamburg, Amsterdam, Brussels, Houston, to mention just a few. Of course, his experience with Brahms spans decades.
That experience helped 'Artist in Residence' Janine Jansen deliver a simply perfect performance of the Violin Concerto. One could simply not wish it any better. Jansen recorded the concerto with Antonio Pappano (a live recording from Rome and the Santa Cecilia Orchestra) a few years ago, to high critical acclaim: Gramophone magazine praised a 'lyric reading of rare inwardness and beauty'.
The concerto had a wonderfully easy sense of flow and Jansen gave us a tour de force. Fast passages were muscular and urgent, whilst the gentler passages were meltingly beautiful. In the cadenza Jansen showed off her superb technical prowess, you could have heard a pin drop. The dramatic and vigorous finale was joyous, and Jansen received rapturous applause at the end. Despite numerous curtain calls, she declined to give an encore. The Brahms was certainly more than enough satisfaction.
Brahms's Third Symphony is probably the least often performed of all his symphonies and, on hearing it afresh, one wonders why. Brahms's devotee conductor Hans Richter thought the symphony his 'Eroica', while others, like Clara Schumann, his 'Pastoral'. One can certainly hear the sounds of the forest, the babbling brook – it is in all senses a beautiful symphony and Blomstedt, with the aid of the Tonhalle Orchestra on top form, gave us a very beautiful performance. Every movement ends quietly; and audiences prefer to be roused by a brilliant finish, certainly at the end of the last movement. Nevertheless, the performance received an ecstatic reception, most of the applause directed – by audience and orchestra alike – at Blomstedt.
Some principals must be highlighted for their sublime solo contributions: Simon Fuchs (oboe), Sabine Poyé Morel (flute), Felix-Andreas Genner (clarinet) and the entire horn section (led by Ivo Gass). The orchestra, as a whole, gave of their all, well and truly cementing their position as one of Central Europe's leading ensembles.
This was effectively the last concert of the Tonhalle Orchestra Zurich season and Blomstedt and Jansen ensured it was a truly great occasion. I look forward to seeing and hearing Blomstedt again next season, and no doubt many seasons after that.
John Rhodes