United States Handel, Orlando: Soloists and Orchestra of San Francisco Opera / Christopher Moulds (conductor), War Memorial Opera House, San Francisco. 9.6.2019. (HS)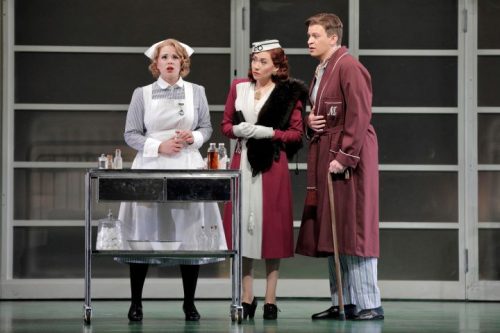 Production:
Director — Harry Fehr
Production designer — Yannis Thavoris
Original Lighting designer — Anna Watson
Revival Lighting designer — Tim van 't Hof
Projection designer — Andrzej Goulding
Cast:
Orlando — Sasha Cooke
Angelica — Heidi Stober
Dorinda — Christina Gansch
Medoro — Aryeh Nussbaum Cohen
Zoroastro — Christian Van Horn
Getting a Handel opera right is a steep climb. Among San Francisco Opera's achievements was a memorable 1985 success with Handel's Orlando. The volcanic Marilyn Horne assumed the title role — a military hero driven mad by his ambivalence over love — and Charles Mackerras conducted an inspired performance. A budding young soprano named Ruth Ann Swenson made a dazzling mainstage debut as Dorinda, and Jeffrey Gall convinced me for the first time that a countertenor was worth hearing.
Since then the company has delivered fully on other Handel operas, including Semele, Alcina, Rodelinda and most recently a delightfully droll Partenope in 2014. Sunday afternoon saw the return of Orlando, the company's first performances since 1985.
The voices were more than fine. Mezzo-soprano Sasha Cooke lavished her creamy sound and command of dynamics on the title role. Soprano Heidi Stober, who has become a company regular, brought her signature gleam to Angelica. Christina Gansch, who has sing Melisande at Glyndebourne, made her U.S. opera debut as Dorinda, caressing phrases with a creamy soprano. Countertenor Aryeh Nussbaum Cohen, an Adler Fellow in the company's young artist program, spun out Medoro's music with astonishing richness in his mainstage debut, and bass Christian Van Horn, another company regular, brought solid low notes (a bit of strain on high ones) to Zaroastro.
But something was missing, and it had nothing to do with updating the setting from an unspecific 15th-century countryside to a 1940 London hospital during the Blitz. This staging, first seen in 2011 at Scottish Opera, worked seamlessly, putting the motivations of the five major characters in sharp relief.
Conductor Christopher Moulds, a Baroque specialist, in his company debut, shepherded the music with obvious care. But it came up short on the buoyancy that Handel's music wants. Faster passages lost their edge, and slow arias needed more of a pulse.
Also, every one of the singers was performing these roles for the first time. The first act, especially, found them stepping so cautiously as to drain the energy from the musical proceedings. As they seemed to loosen up, Acts II and III were better, but it never really caught fire.
One problem was that Cooke seemed miscast. Her strengths — a lyrical warmth and an ability to infuse the characters she sings with fully human attributes — left her struggling to bring force to low notes. And let's be honest, fast fioratura is not her friend. Handel's music for Orlando was made to order for a stentorian voice like Horne's, combined with flawless coloratura.
Stober was better, as the woman who spurns Orlando for Medoro (in this staging a casualty of Dunkirk brought back by Angelica). Her duets with both characters were highlights.
Even better was Gansch, fresh out of the young singers' programs at Salzburg and Verbier. The Austrian lyric soprano's résumé is peppered with Barbarinas, Papagenas and Forest Birds, but the endless variations in ornamentation for Dorinda (a shepherdess in the original libretto, a nurse here) didn't faze her a bit. She struck a balance among freshness, humor, and the character's own frustrated yearning for Medoro.
From a purely vocal standpoint, however, Cohen stole the show. He unleashed a countertenor of purity and focus — sleek, with an intoxicating timbral gleam. His phrasing was elegant and expressive. David Daniels was originally slated to sing this role until accusations late last year of sexual assault derailed him. Cohen, who impressed the company with his studies as an Adler Fellow, got the nod to step in. A star most certainly is born.
Harvey Steiman