United States Korngold, Die tote Stadt: Sächsischer Staatsopernchor Dresden, Kinderchor der Sächsischen Staastoper Dresden, Sächsischer Staatskapelle Dresden / Dmitri Jurowski (conductor), Semperoper, Dresden, 4.6.2019. (MC)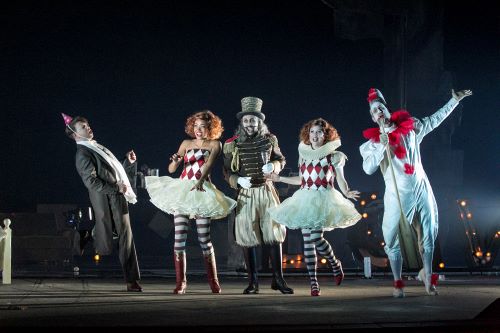 Production:
Stage Direction – David Bösch
Sets / Video – Patrick Bannwart
Costumes / Video – Falko Herold
Lighting – Fabio Antoci
Choir director – Jörn Hinnerk Andresen
Kinderchor director – Claudia Sebastian-Bertsch
Dramaturgy – Stefan Ulrich
Cast:
Paul – Aleš Briscein
Marietta / Marie – Manuela Uhl
Frank / Fritz – Sebastian Wartig
Brigitta – Michal Doron
Juliette – Tahnee Niboro
Lucienne – Grace Durham
Victorin – Boemjin Kim
Count Albert – Jürgen Müller
Gaston – Florian Daum
Korngold's Die tote Stadt isn't an opera that I come across too often and a couple of productions on DVD/Blu-ray that I have seen haven't appealed too much in truth. My response to this Staatsoper Dresden staging directed by David Bösch was very different, firmly drawing me into this production that I found entirely compelling.
The opera is based on Siegfried Trebitsch's German translation of Georges Rodenbach's play adapted from his 1892 symbolist novel Bruges-la-Morte. Korngold set his music using a libretto that he and his father Julius had written under the pseudonym Paul Schott. Korngold was only twenty-three when Die tote Stadt (The Dead City) was premièred in 1920 simultaneously both in Hamburg under Egon Pollak and Cologne under Otto Klemperer. It was one of the greatest opera successes of the decade before being banned by the Nazi regime, owing to Korngold's Jewish heritage. The opera languished in virtual obscurity until it was revived at Vienna Volksoper in 1967 and began to receive an increasing number of stagings.
Korngold's deep perception of psychological trauma, in particular the effects of bereavement, is remarkable for such a young man and David Bösch and his creative team have done an excellent job in transferring this so effectively to the stage. Unlike some productions I have seen of the opera the action never seemed static with plenty to engage the eye as well as the ear.
Set in Bruges the principal male character Paul is angry and tormented and has basically turned his large apartment into a shrine in memory of his dead wife Marie. I am not a medical man but I think we are dealing with psychosis here. This dark and dingy room has its walls strewn with mementoes of Marie with pride of place given to a large painting of her on an easel. Paul had spray painted Maria's name in very large letters on the rear wall. Paul meets Marietta a spirited dancer who leads a troupe of entertainers. An inconspicuous scrim totally covers the walls, which serves to darken and slightly obscure, on which video images at various points are effectively projected mainly images of Maria. In the final act in Paul's apartment long straggly ropes hang at various angles from the ceiling that seem to represent the grey plaits of Marie's hair. In Act II the apartment breaks open and Paul's mind is occupied by an entertainment troupe including clowns which serves to add high spirits, much needed colour and character to the predominately drab environment. In addition, there is a religious element where Paul is reminded of his wife's funeral with a procession including nuns.
The leading role of Paul is sung by tenor Aleš Briscein who after a somewhat nervous start settled down to reveal a bright tone which became much more appealing. To satisfying effect Briscein sang his Act I aria 'Du weißt, das ich in Brügge blieb' where Paul is telling his friend Frank that Maria is not dead. Overall Briscein gave a most convincing portrayal of Paul's emotional torment. Making the most of her roles of Marietta and Marie was the vivacious Manuela Uhl who unfazed, excelled in both singing and acting. The highlight of the evening from Act I was Uhl's famous aria 'Glück, das mir verblieb' ('Marietta's Lied') sung clearly with a heart-stopping passion, both tender and affecting she was able produce a pleasing range of tone colour. Sebastian Wartig as Fritz the Pierrot in Marietta's troupe has the celebrated aria 'Mein Sehnen, mein Wähnen' better known as the 'Pierrot's Tanzlied' which he sang effectively and with feeling, but a long way from the heights of famous exponents such as Thomas Hampson. Wartig did all that was asked of him as the wheelchair bound Frank as did Michal Doron as downtrodden housekeeper Brigitta.
Korngold's score is predictably sumptuous, at the extremes quickly shifting from tender beauty to anger and violence and not surprisingly I was often reminded of the works of Richard Strauss. The Staatskapelle Dresden played consistently and compellingly throughout with Dmitri Jurowski demanding top volume although I am not sure it was absolutely necessary. My only real grumble was disappointment at the advertised English surtitles not being operational but thankfully I know the opera quite well. For those who are new to Korngold's Die tote Stadt this Semperoper production by David Bösch is a marvellous way to get to know the opera.
Michael Cookson