United States 2019 New York Opera Fest [6] – Various Composers, Chunky in Heat: Soloists, Contemporaneous / David Bloom (conductor), Experiments in Opera, The Flea Theater, New York, 2.6.2019. (RP)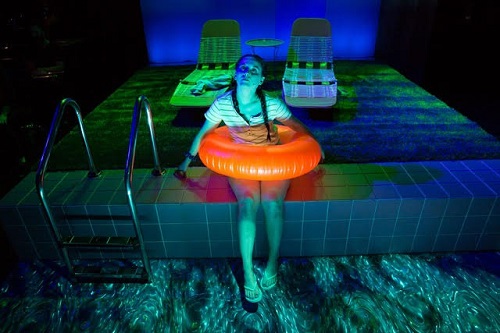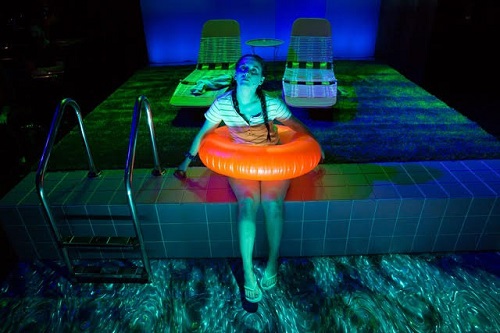 Production:
Director – Alison Moritz
Sets – Kate Noll
Lighting – Solomon Weisbard
Costumes – Elivia Bovenzi
Sound – Nathaniel Butler
Cast:
Chunky (Cheryl) – Sarah Daniels
Walter/Fiancée/Beekeeper – Timothy Stoddard
Mother – Emily Geller
Father – Joshua Jeremiah
Abigail/Shapeshifter – Rachel Doehring
Talking Tree – Jason Cady
As titles go, Chunky in Heat is titillating but a misnomer. Except for a short scene where the teenage Chunky masturbates poolside, there is little sex in this tale by A. M. Homes, the American writer best known for her controversial novels and unusual short stories. There is, however, despair by the bucketload. Three years earlier, Chunky's younger brother, Billy, was bitten by a snake. Their parents told him to put a wash cloth on it, insisting it was a bug bite: there were no snakes. They were wrong.
Chunky's mother, father and sister all have different stories, but each asks the same question: is there such a thing as heaven and will they see Billy there? Trying to make sense of it all, the family took a course in suffering, had a Buddhist monk live with them and sought help at the University Team for Trauma and Unnamed Disease, where they were given a Talking Tree with a 16-terabyte video memory to keep their lives in chronological order. Their question remains unanswered, and nothing has eased their pain.
Cheryl emerged more or less unscathed; normal is her aspiration. After Billy's death, she was never called Chunky again, a nickname her brother had coined. Her mother would have cried if she could when told of Cheryl's decision to go to college in Minneapolis, but the punctal plugs put in after her Lasik surgery made it impossible. Cheryl's rationale for her decision: 'It's the most normal place I could find. It's where Charles M. Schultz, the cartoonist who drew Peanuts, was born. Remember Snoopy – and how wise he was?'
In this colorful, ersatz poolside world of plastic and palm trees, the supernatural and absurd co-exist alongside the humans. As Cheryl lolls by the pool, the Talking Tree announces that two incredibly large insects are mating above her in midair and that the family home is hovering like a spaceship above the ground. A Shapeshifter appears in the form of a coyote and tells Cheryl that they have something in common: 'You are like me, adaptable, flexible, permeable'. Extraordinarily normal, but on the geeky side of the equation, is Walter, the boy next store who helped Cheryl navigate puberty and all the rest.
As a child, Homes listened to the Texaco-Metropolitan Opera in her grandmother's car on Saturday afternoons. In a pre-performance Q&A with fashion designer Isaac Mizrahi, Homes said that she studied some operas to further familiarize herself with the genre. She's a quick learner, especially when it comes to packing a lot of emotion into arias. The story never loses focus, and her words are meant to be sung. Most importantly, I cared about these characters, especially Cheryl's mother. The facelifts and the Botox hide her pain – 'I put on a good face, literally. I had it lifted, tucked and pulled to a smile' – and Homes revealed it.
Six composers – Jason Cady, Paula Matthusen, Erin Rogers, Aaron Siegel, Shelley Washington and Matthew Welch – collaborated on the score. The constants were Homes' libretto and the instruments for which they composed. (There was a handy chart in the libretto that indicated each composer's contribution.) There were noticeable stylistic shifts, and the lyrical moments, especially the poignant melodies for cello and double bass, appealed to me more than the rhythmically charged, rock-music ones. An idealized Los Angeles was captured in a few strains of Henry Mancini-like melodies, while instruments were sometime used as noise machines.
Soprano Sarah Daniels was fearless in bringing to life this brave, wonderful girl, who came of age sitting by the edge of a pool. In the blazing Southern California sun, she sang of her thighs that melted out of her shorts like human butterfat. Hope was written all over Daniels' face as she dreamed of Minneapolis – from where she is summoned home to find both her parents on life support – with her compassion intact. Her sister died after she arrived, but Cheryl balks at the idea of a coffin for her: Abigail would think that it made her look fat. Cheryl's solution is a tiny pill bottle to hold the ashes, as her sister would have wanted to be as small as possible. Abigail's fiancée and Walter concur.
Called upon to do triple duty as Abigail's fiancée, a beekeeper and Walter, tenor Timothy Stoddard was his most whacky and endearing as Cheryl's friend and soulmate. Stoddard's Walter was a tall, goofy kid, whether wearing outsized sunglasses or a Harvard sweater, and seemingly dropped into LA from another planet. As a child, he thought of Cheryl's mother as a magician, a woman who could do anything, which included producing real snow for Christmas, celebrated in July in order to make it non-denominational. For Cheryl, she was the mother who baked homemade Oreos.
The woman they described was well masked (at times literally to keep down the swelling from the treatments) in Emily Geller's mother, who was all brittle glitz and efficiency. Geller possesses an amazing mezzo-soprano voice with a lower extension that has to be heard to be believed. At times, it could be cold, almost masculine sounding, but warm and dreamy at others. The mother has a short aria in which she relates that all of Billy's goldfish died on the same day he did, but that she has replaced them over and over again. It was a simple and beautiful moment, in which Geller let the audience have a glimpse into the woman's soul.
Baritone Joshua Jerome's father spends far less time on stage, which is appropriate for an LA entertainment attorney. He entered with a glass of whiskey in one hand and the bottle in the other. In his aria, which follows his wife's, the father tells of Billy as a boy. They threw toy soldiers with parachutes out the window and watched them land, but when the Apocalypse struck there wasn't one to break his fall. Jerome sang with such immediacy and emotion that the father's loss was revealed in all its desperation and depth.
Abigail and the Shapeshifter are alter egos of the same young woman: the coyote is the one that eats. At their first encounter, Cheryl offers her a carrot stick, but the coyote was thinking of something more like a sandwich or a slice of cheese pizza. They settle on frozen waffles with syrup. Abigail, meanwhile, exists on ten calories a day plus supplements. Soprano Rachel Doehring was lithe and agile as the Shapeshifter, absolutely lovable, endearing and wise. That she managed to create an equally human Abigail was far more remarkable.
In my perfect world the singers would not have been miked, but in a small, black-box theater with an orchestra heavy on percussion, guitar, brass and saxophone, it was a necessity. Amplification gave a sonic sameness to the voices but permitted conductor David Bloom and Contemporaneous to let it rip. Bloom is the founding Co-Director of Contemporaneous, a terrific ensemble whose mission is to bring to life the music of now. The creators of this amazing little opera – so zany, so crazy, so touching – couldn't have hoped for better.
Rick Perdian