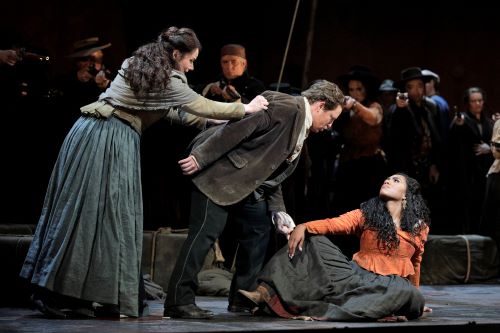 United States Bizet, Carmen: Soloists, orchestra and chorus of San Francisco Opera / James Gaffigan (conductor), War Memorial Opera House, San Francisco, CA. 5.6.2019. (HS)
Production:
Production — Francesca Zambello
Production designer — Tanya McCallin
Original Lighting designer — Paule Constable
Revival Lighting designer — Justin A. Partier
Fight director — Dave Maier
Chorus director — Ian Robertson
Cast:
Carmen — J'Nai Bridges
Don José — Matthew Polenzani
Micaëla — Anita Hartig
Escamillo — Kyle Ketelsen
Zuniga — David Leigh
El Dancaïro — Christopher Oglesby
El Remendado — Zhengyi Bai
Moralès — SeokJong Baek
Frasquita — Natalie Image
Mercédès — Ashley Dixon
With local favorites making their debuts in both lead roles, a conductor familiar to Bay Area audiences from the San Francisco Symphony, and a director who's made splash after splash bringing celebrated productions to the War Memorial Opera House, hopes were high for Carmen. However, Bizet's evergreen drama kicked off San Francisco Opera's June season Wednesday with only intermittent success.
On the plus side was James Gaffigan, whose connections to San Francisco go back more than a decade, to his tenure as associate conductor of the city's orchestra. In this case, he kept the group on its toes with well-judged tempos and crisp articulation, and Ian Robertson's finely-tuned chorus invigorated the well-worn score every time they chimed in.
Matthew Polenzani's first go at Don José was an unalloyed success. His sleek tenor and commitment to sketching the lovesick Army corporal with extra dimensions paid dividends in every scene. He played the character as as 'game for anything' — but clearly in over his head.
Romanian soprano Anita Hartig, making her SFO debut, headed up the supporting cast with lustrous sound and unfailing charm as Micaëla, the country girl trying to win Don José back to his village. Her Act III aria ('Je dis que rien ne m'épouvante') was especially affecting, and her Act I interplay with a sex-starved gang of soldiers aroused by a country lass came off just right.
Mezzo-soprano J'Nai Bridges, a product of the company's development program, had won over audiences in supporting roles — Bersi in Andrea Chenier in 2016, Josefa Segovia in the première of John Adams's Girls of the Golden West in 2017. Although as a student she sang Carmen in 2011 at Glimmerglass Opera, the role is still a work in progress for her. There were moments when her ripe lower register — rich in tone and carefully placed — underlined the drama, but the vocal sensuousness that defines the Gypsy temptress was missing. It didn't help that, especially in her solo turns in the Habañera and Séguidilla, she was often behind the beat a few milliseconds, and a couple of decibels short of the intensity needed from a first-class Carmen.
Bridges looked the part, spoke the French dialogue with authenticity, and faithfully executed direction that had her draping a leg over Don José, but it was hard to discern any chemistry between them. There was definitely a spark, however, when she locked eyes with the torero Escamillo (the velvet-voiced bass baritone Kyle Ketelsen, who arrived on a horse in Act II to reprise the role in which he made his 2006 company debut).
2006 was also the year when director Francesca Zambello created this production for Royal Opera Covent Garden, featuring Anna Caterina Antonacci and Jonas Kaufman and captured on DVD. In this version, originally staged by Opera Australia and co-commissioned with Washington National Opera, two ocher walls, one curved and one straight, move into various positions to suggest the different scenes. An orange tree placed Act I in Seville, a few tables and chairs defined Act II as Lillas Pastia's tavern, and a makeshift tent between the walls created the smugglers' mountain hideout in Act III. The curved wall served well as the exterior of the bullring in Act IV.
But the set also created claustrophobic outdoor spaces for a full chorus, dancers, and supernumeraries. To their credit, they moved with purpose, rather than milling about, and in the Act II tavern scene there was plenty of space for dancing and the crowd following Escamillo.
Zambello lost some potential intimacy during that scene by keeping Carmen and Don José so far apart for the famous 'Flower Song'. Without proximity to her he sang it — with beautiful control of tone and soft dynamics — to the red flower Carmen had given him.
The gypsy vibe flared vividly among the supporting cast, especially in performances by current Adler Fellows Christopher Oglesby as Dancaïro, Zhengyi Bai as Remendado, Natalie Image as Frasquita, and Ashley Dixon as Mercédès. Their Act II quintet with Bridges was precise and created a welcome feeling of weightlessness. As Zuniga, David Leigh — another Adler Fellow — marked himself as a future Escamillo.
As she always does, Zambello's direction emphasized the motivations and actions of the women, from Carmen to the Gypsy girls to the exhausted workers in the tobacco factory getting some fresh air in Act I. There were also girls sprinkled among the children in the Act I mock-soldier chorus.
If all the elements didn't quite click as smoothly as they might, the pleasures from the orchestra, chorus, and most of the cast went a long way toward making up for it.
Harvey Steiman