United Kingdom Glyndebourne Festival Opera [2] – Massenet, Cendrillon: Soloists, Glyndebourne Chorus, London Philharmonic Orchestra / John Wilson (conductor). Glyndebourne Festival Opera, 8.6.2019. (CC)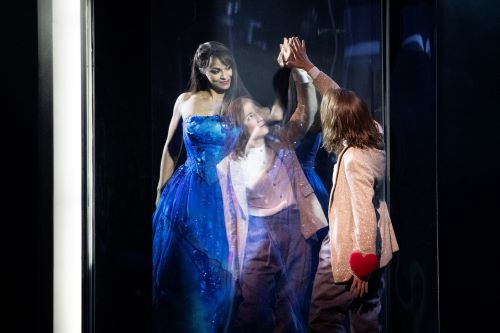 Production:
Original director – Fiona Shaw
Revival director – Fiona Dunn
Set designer – Jon Bausor
Costumes – Nicky Gillibrand
Lighting – Anna Watson
Movement director – Mike Ashcroft
Cast:
Cendrillon – Danielle de Niese
Prince Charming – Kate Lindsey
Pandolfe – Lionel Lhote        
Madame de la Haltière – Agnes Zwierko
Noémie – Eduarda Melo
Dorothée – Julie Pasturaud
The Fairy – Nina Minasyan
Spirits – Sofia Larsson, Jacquelyn Parker, Jennifer Witton, Leslie Davis, Rhian Taylor, Lauren Easton
The Master of Ceremonies – Romanas Kudriašovas
The Dean – Anthony Osborne
The Prime Minister – Michael Wallace
The King – Adam Marsden
Jess Barlow, Ryan Munroe, Emily Pottage, Sophie Thorpe, Connor Williams (dancers)
This production is notable for the way it takes fairy tale so seriously. It was no accident that the choice as author of one of the Glyndebourne season booklet essays was Angela Carter, a scholar and expert on fairy tale whose little book Once Upon a Time punches way above its little physical weight (it is absolutely recommended reading). Her essay here, Magic Opera, is chock full of pearls of wisdom (although it is worth pointing out that Once Upon a Time is a fraction of the cost of the Glyndebourne programme). The theme of fairy tale – Cendrillon, Rusalka – and myth – La damnation de Faust, Die Zauberflöte – runs through the 2019 season. Enchantment, it would appear, is alive and well.
Fiona Shaw's production – revived here by Fiona Dunn – was originally conceived for the 2018 Glyndebourne Tour. Amazingly, this is the first production of Cendrillon at Glyndebourne itself, perhaps a reflection of just how underperformed Massenet's operas are. This Cendrillon has distinctly adult themes, positing that the whole thing is a dream (we see a child version of Cinderella asleep, as well as the adult one) while its work with mirrors conveys the heady discombobulation of the dream state. In this world, archetypes of evil stepmothers, ugly sisters and a Prince Charming can move from the area of panto to psychedelia and back again in the blink of an eye. Anna Watson's lighting expertly conveys this, while Nicky Gillibrand's costumes are brilliantly, colourfully imagined.
Weaving its way through the production is the idea of the butterfly, something Cinderella explicitly identifies herself with in the libretto. Shaw takes this idea and runs with it, seeing in the transformation of caterpillar to butterfly the transformation of Cinderella herself from servant to Princess. The prisms of glass are also about transformation, of carbon of the ash from the grate to the reflective glass so prevalent.
Within the adult preoccupations of Jungian dream, archetype and alchemical transformations (if one accepts the lead is Cinderella as servant and gold her glittery alter ego) is the fact that sometimes we adults all need a fairy tale, to revert to childhood just occasionally. The directing Fionas ride this tightrope exceptionally well, leading to an immensely satisfying evening on all levels.
In the pit, the London Philharmonic was on fine form, led by John Wilson (better known for his work with musicals – remember that exceptional West Side Story at the Proms last year? review). Cleanliness of delivery is of utmost import in Massenet, and Wilson gave us so much to admire. Wilson opts not to dwell on the score's beauties, instead presenting a fluent yet still beautiful experience.
Right at the centre of the vocal activity was Danielle de Niese. If there is one opera house she should feel at home in, it is this one, and indeed in the later stages particularly she was brilliantly secure. She was matched – at the very least matched – by her Prince Charming, the brilliant mezzo Kate Lindsey. A trouser role, there was a delicious sense of what we would now call gender fluidity: beauty is beauty, love is love, no matter who, and what sex, the participants. It is probably fair to say that Lindsey nearly eclipsed Danielle de Niese, so confident was her assumption of the role; together, they wove magic in the love duet at the oak tree. Belgian baritone Lionel Lhote as Pandolfe, Cinderella's father, was another cast member who excelled, absolutely convincing dramatically and of fine, full voice. Agnes Zwierko returns to take the role of the stepmother (she took it in the tour), full of brio and confidence.
Making her Glyndebourne debut, Armenian soprano Nina Minasya was delicious as the Fairy Godmother, light and utterly magical (the Fairy Godmother is everything Cinderella had not experienced by this time, and the polar opposite of the evil stepmother – offering her a replacement that was a projection of an imagined perfection, perhaps). The two Ugly Sisters, who looked as if they enjoyed nothing as much as a Big Mac and Coke followed by deep fried apple pies and a pack of fags were brilliantly brought to life by Eduarda Melo and Julie Pasturaud.
With the chorus in fine voice (the unaccompanied 'Ô la suprenante aventure' a particular delight), the orchestra on fire, a great cast and a stupendously thought-provoking production, I want to see this Cendrillon again. Immediately.
Colin Clarke
For more about GFO click here.