United Kingdom Heggie, Dead Man Walking: Soloists, WNO Youth Opera and Children's Chorus, Orchestra of Welsh National Opera / Karen Kamensek (conductor), Wales Millennium Centre, Cardiff, 7.6.2019. (GPu)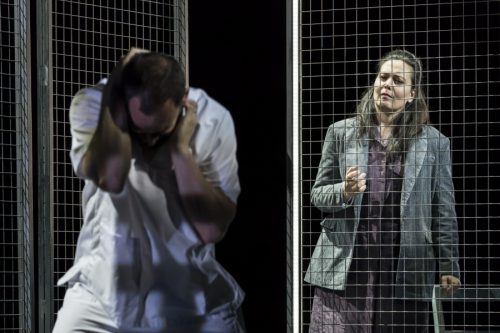 Production:
Director – Martin Constantine
Set designer – Misty Buckley
Costume designer – April Dalton
Lighting designer – Mark Jonathan
Video designer – Hayley Egan
Chorus master – Andrew Greenwood
Cast:
Sister Helen Prejean – Luca Cervoni
Joseph De Rocher – Morgan Smith
Joseph's Mother – Anne Mason
Sister Rose – Rosie Rowell
George Benton – Oscar Castellino
Father Grenville – Andrew Henley
Motorcycle Cop – Aaron Holmes
Kitty Hart – Claire Watkins
Owen Hart – Owen Webb
Jade Boucher  –  Catherine Wood
Howard Boucher – Richard Roberts
Older Brother – Tom Smith
Younger Brother – Rhys Meilyr
Sister Catherine – Rachel Good
Sister Lilianne – Christine Byrne
This is surely one of the most important American operas of recent decades; if I describe Dead Man Walking as a 'controversial' opera, it should be stressed that I am not using the word in the manner in which it is often employed – lazily and perhaps euphemistically – in modern journalism, to imply that a book, a play or an opera is seeking to get more attention than it really deserves by doing something likely to outrage or give offence, to cause a commercially successful scandal. Before the first performance of this production of Heggie's opera, ticket holders were warned 'Ahead of our performance of Dead Man Walking on Friday 7 June, we are writing to advise you of a change in age guidance and to provide some information about the opening scene of the opera. Following rehearsals, we have raised the age guidance to 18+, as the opera includes an intense scene of an unprovoked attack of rape and murder that some audiences may find upsetting. We believe this opening scene is critical to the opera, but there will be an opportunity to enter the auditorium around 10 minutes into the performance if you prefer. We are of course working with Wales Millennium Centre to ensure that people can do so with minimum disruption'. Such a warning, I would suggest, was, even if well-intentioned, quite unnecessary (and certainly I didn't see any sign of people being admitted late). The opening scene was, indeed, emotionally disturbing, as it should be; but it was neither titillating nor especially graphic in its representation of rape and murder. If Dead Man Walking is a 'controversial' opera it is so in a 'better' sense, because it takes as its subject matter something which is very much a matter of controversy – the ethical status of capital punishment. It is relevant to remember that there are more states of the USA which retain the death penalty than have abolished it and that it remains in force in many other countries around the world. Yet, in saying that about the opera we need also to add that it is by no means polemical or propagandist. Indeed, the libretto by Terence McNally goes out of its way to prevent multiple perspectives on the issues raised. Perhaps too much so, at the cost of a certain loss of complexity in characterization.
The work was written to a commission from San Francisco Opera and was premiered by that company in October 2000. Since then it has been seen around the world in more than 60 productions (its 70th production – by Israeli Opera – will take place in December 2019). Its first European production was at Dresden in 2006; its Australian premiere was in 2003. The UK didn't see a production until 2018 (at the Barbican).
The power of that opening scene – with its rape and murders – lay more in Heggie's orchestral music than in anything to be seen on stage. Yet it was important that we did see the dreadful events. We became 'witnesses', informed as to what 'actually happened', possessed of the knowledge we needed to understand and 'judge' Joseph De Rocher in the ensuing scenes. Analogously, in the closing scene we were made witnesses to his execution, and could, relatedly 'judge' the system that killed him.
In a piece by Sister Helen Prejean printed (re-printed?) in the WNO programme she writes that 'The moral arc of Dead Man Walking is about much more than the issue of the death penalty. It's about the experience of being viciously hurt and violated in our own person and then being forced to respond: to get even or to reconcile, perhaps even to forgive. Or, perhaps, even more difficult, seeing someone we love violated and not knowing what to do to help them heal. And that's just one side: the victim's side of the drama. On the other side is the perpetrator, the one who has done something unspeakably evil, which cannot be undone. What can it mean to have committed such an act, then to be faced with your own death as punishment? Then, add to the sorrow of it all that you have inflicted on your own mother an incurable wound, she who gave you life?'
McNally's words and Heggie's music touch on these and other questions, without ever imagining that there can be a simple answer to any of them. But, of course, while operas can certainly be very much concerned with ideas (one thinks, to cite but two examples, of Fidelio and The Magic Flute), they have also (primarily?) to be concerned with individual human figures and their relationships, even if those figures embody something more than just themselves. As Peter Conrad puts it the Preface to his constantly stimulating book A Song of Love and Death: The Meaning of Opera (1987), opera 'is an art devoted to love and death (and especially to the cryptic alliance between them'. Dead Man Walking fulfills Conrad's 'definition' of opera, though the 'love' with which it deals is neither the romantic love of so many Italian operas nor the lust of Don Giovanni or Lulu . It deals, rather, with how we might understand, and access, God's love even in the worst extremities of a fallen world. The theme is explored, primarily, through the encounter between Joseph de Rocher and Sister Helen. Joseph denies his guilt, throwing all the blame on his brother and insisting that he has received the death sentence, while his brother got a life sentence, only because he had a lawyer inferior to the one who represented his brother.
Joseph's entrapment in this attempted deception (of himself and others) is, it might be thought, a yet more severe form of imprisonment than that represented by the chains and bars of the Angola State Penitentiary. Sister Helen struggles, in their repeated scenes together to get Joseph to acknowledge his guilt; she stresses that to her he is a human being, not a monster, 'a human being who needs someone, whatever he has done'. Against the advice of Sister Rose and of the Prison Chaplain, Father Grenville, she persists in her meetings with Joseph, refusing to see him as someone beyond the possibility of redemption. In a sense, what she does is to take seriously the identity of the etymological root which the words Penitentiary and 'repentance' share. She is insistent in asserting to Joseph that if he acknowledges his guilt 'the truth will set you free' (quoting Christ's words [John 8:32]). It is, I think, clear that for the librettist Terence McNally accepting the truth about one's own actions is a form of psychological liberation, not only a pathway to Christian salvation. Though Christian language and imagery is prevalent in Dead Man Walking (how could it be otherwise when one of its two chief protagonists is a young nun making her own journey to a fuller understanding of the faith she professes), it is by no means a work of Christian apologetics. It is content to affirm that both forgiveness and self-forgiveness (which Joseph embraces at the very end of the opera) are possible, while recognizing that both are very difficult to enact.
This semi-staged production, sensitively and intelligently directed by Martin Constantine allowed the work to speak for itself, without forcing it to make simpler points than the libretto and music do. The orchestra was spread across much of the back of the stage, sometimes overlooked from a gallery by a chorus of Joseph's fellow prisoners. Members of the cast and chorus wheeled necessary props on and off the stage. The orchestra pit served as a kind of invisible basement of the prison. It was all done so well that one didn't miss more elaborate staging – indeed one valued the fluidity of narrative that this staging made possible.
There were a number of very powerful individual performances. Canadian mezzo Lucia Cervoni was in fine voice as Sister Helen. She convincingly presented the character's determination to confront Joseph and to put before him a human face embodying God's love of 'his children'. I didn't, though, feel that she did full justice to Sister Helen's own spiritual growth through her journey (Cervoni did so more through increasing vocal weight than through the way she acted), or to how the rage and despair of the de Rocher victim's parents challenged her own beliefs. As Joseph, American baritone Morgan Smith presented his character as the embodiment of power inadequately disciplined. Smith sang both powerfully and, when appropriate, sensitively. Joseph's final recognition and admission of guilt seemed implausibly sudden, but this may be more the fault of the work than of Smith's own performance. Anne Mason's performance as Joseph's mother was remarkable; she invested a rather simple and bewildered woman with a fully 'operatic' (in the best sense) weight of emotion and dignity. Her performance repeatedly tore at the strings of one's heart – I don't mind admitting that I felt my eyes filling up with tears at more than one point. There were fine performances in lesser roles by Rosie Rowell and Oscar Castellino. Karen Kamensek's conducting was very well-judged in terms both of tempi and dynamics.
Hitherto, I have always found Heggie's music to be, at the very least, highly competent, but not perhaps especially distinctive. That would seem to be true of Dead Man Walking too. There are affinities with Gershwin and Bernstein. The orchestral writing is highly accomplished, notably in the Prologue. The idiom is consistently American, including a spiritual 'He Will Gather Us Around', which serves as a kind of leitmotif for Sister Helen and which I originally took to be a traditional Negro spiritual, but which I now guess to be by Heggie himself. Though in some respects the work has debts to the tradition of the Musical, much in Heggie's music – such as the set piece arias and the brilliantly effective sextet which closes Act I and is in some ways, musically speaking, the work's climax – makes it more sensible to think of Dead Man Walking as an opera. I particularly liked Heggie's writing for both adult and children's choruses. Heggie's music does much to develop and sustain the dramatic tensions in the scenes between Joseph and Sister Helen, though the episodes involving the parents of his victims (Mr and Mrs Hart and Mr and Mrs Boucher) are scored rather too predictably and with too broad a bush.
The work then, is not without its flaws, but the brave ambition of librettist and composer has produced a powerful, even harrowing, work – an eloquent demonstration that opera remains a form capable of taking on difficult subjects, of dealing with a contemporary issue in ways which are effectively timeless and far from geographically-bound either: for all that Dead Man Walking has a very specifically American subject its relevance is universal.
Glyn Pursglove
For more about WNO's FREEDOM Season click here.