United Kingdom J. S. Bach, B Minor Mass: Collegium Vocale Gent / Philippe Herreweghe (conductor). Barbican Hall, London, 14.6.2019. (AK)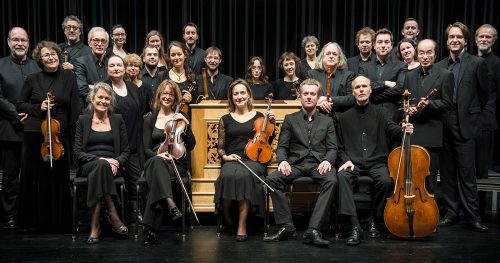 Dorothee Mields (soprano)
Hanna Blazikova (soprano)
Alex Potter (countertenor)
Thomas Hobbs (tenor)
Krešimir Stražanac (bass)
We do not know why Bach composed his great B Minor Mass at a late stage of his life in the 1740s. What we do know is that he compiled the material partly from his pre-existing pieces (Kyrie, Gloria and Sanctus) and by adding the newly composed Credo, Benedictus Osanna, Agnus Dei and Dona nobis pacem. With up to two hours needed for a full performance, the length of this Mass is too long to be included in any religious service – be it Lutheran or Catholic – so there has been speculation that Bach might have been trying to impress courtly patronage (like Frederick the Great of Prussia for whom Bach composed his Musical Offering in 1747) or other possible potential benefactors.
The most striking element of the Barbican Hall performance of Philippe Herreweghe and his Collegium Vocale Gent team was the religious ambience throughout. They performed without an interval – thus minimising the possibilities of losing focus on the essence – and they all dressed as well as behaved/performed like a congregation with a united devotional purpose. Their black attire was formal but understated, the soloists were part of the team and conductor Herreweghe seemed more a caring, elderly pastor guiding his forces than an a conductor in charge. Yet, from the musical point of view, he was clearly in command and thus was faithfully followed by his devotees. From the non-musical point of view it was astonishing how the 72-year old Herreweghe managed to stand in front of his team without any support of even a rostrum (to lean on occasionally) for two hours without any break.
I could not help being reminded of the late great Wagnerian conductor Reginald Goodall. If I recall it correctly, he conducted without a baton. His conducting technique was unorthodox and could have been difficult to interpret for those with a closed mind. He treated his musicians as if they were his equal and drew magnificent performances from them. Participating in a Goodall performance (as I did as an orchestral cellist) could give the feeling that we were in the noblest part of Valhalla. Goodall's tempi were often majestic (that is slower than conventional) and his attention to detail was relentless. He used to say that 'take care of the small notes and the long notes will take care of themselves'.
For this concert Herreweghe conducted without a baton (although away from Bach's music and his Collegium Vocale Gent he may function differently); his contact with his team was articulated by expressive hand and arm movements as well as clear attention to individuals within the team. At the start of the performance I was concerned about Herreweghe's unorthodox conducting technique but, before long, I was in his Valhalla of music making. Clearly Herreweghe knows every note of Bach's Mass and deeply cares for them. His tempi for some of the music were slower than in other interpretations – hence the performance lasted almost two full hours – but never sluggish. On the other hand, or perhaps exactly for this reason, depending on the textual content the fast sections were all the more frightening or jubilant.
Herreweghe's forces included an 18-piece chorus and 24 instrumentalists. The chorus included the five soloists all of whom participated in the choral numbers. Judging by the sound they produced, the chorus had 18 soloists blending into a unified chorus. Their opening four-bar statement of the Kyrie was more focused and powerful than many large choruses present. The instrumentalists were placed on two sides of the continuo group (consisting of cello, violone and organ) in the middle; upper string players were on the left when facing the stage, while wind and brass on the right. Tuning started with the cellos and the violone tuning to the organ; thus the continuo bass was the basis in all dimensions.
The placing of solo singers, always within the choral group, was also carefully planned. Dorothee Mields and Hana Blažíková, the two soprano soloists of similar tonal colour (and of similar height) stood next to each other and produced a fully integrated duo in 'Christe eleison'. At times solo instrumentalists also had their role heightened by visual representation.  The three trumpets always stood for their exposed sections in choral numbers. Violinist Christine Busch was standing at her regular place at the edge of the stage while delivering her solo accompaniment to soprano Mields (standing further back with the choral group) in 'Laudamus te': the sound was united but also possibly indicating spaces in a church environment. In 'Domine Deus' we had a triangle effect with the spacing of soprano Mields, tenor Thomas Hobbs and flautist Patrick Beuckels at different places of the stage. The sound produced was united but had also a lovely stereo-like quality. Other solo singer/solo instrumentalist duos were placed at two opposing ends of the stage and delivered their music standing (and outstandingly in every dimension of the word): Alex Potter counter tenor and Marcel Ponseele oboe d'amore in 'Qui sedes',  Krešimir Stražanac bass and Bart Cypers horn (corno da cassia) in 'Quoniam'.
All singers and instrumentalists performed with what was credible baroque style, they all spoke Philippe Herreweghe's Bach language. Excellence was the standard. However, I would like to single out Patrick Beuckels's heavenly flute playing (in particular in 'Domine Deus'), the firm but sensitive timpani playing of Martin Piechotta and the beautiful violone playing of Miriam Shalinsky in 'Et in Spiritum Sanctum', where the soloists consisted of bass singer Stražanac, two oboe d'amore players  and the unusually sensitive violone player Shalinsky.
In my last two reviews I complained about baroque ensembles specifying their bass instruments as double bass (instead of violone). At this concert the instrument was specified as violone in the programme notes and it was played more beautifully than I ever heard.
Agnes Kory
For more about Collegium Vocale Gent click here.