United States Dvořák, Rusalka: Soloists, chorus and orchestra of San Francisco Opera / Eun Sun Kim (conductor), War Memorial Opera House, San Francisco. 22.6.2019. (HS)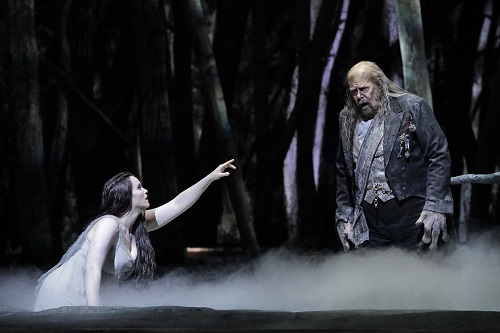 Production:
Director — David McVicar
Revival Stage director — Leah Hausman
Set designer — John Macfarlane
Costume designer — Moritz Junge
Lighting designer — David Finn
Choreographer — Andrew George
Chorus director — Ian Robertson
Cast:
Rusalka — Rachel Willis‐Sørensen
The Prince — Brandon Jovanovich
Vodník (Water Goblin) — Kristinn Sigmundsson
Ježibaba — Jamie Barton
Foreign Princess — Sarah Cambidge
First Wood Nymph — Natalie Image
Second Wood Nymph — Simone McIntosh
Third Wood Nymph — Ashley Dixon
Gamekeeper — Philip Horst
Kitchen Boy — Laura Krumm
Hunter — Andrew Manea
It is hard to imagine a better Rusalka than the one currently occupying the San Francisco Opera stage. An exemplary cast, coupled with a conductor making a stunning company debut, brought to vivid life David McVicar's 2014 production from Lyric Opera of Chicago, which gets to the heart of a timeless story of an impossible love.
Based on the Grimms's The Little Mermaid, it is a dark fairy tale with a tragic ending, all set to music by Antonin Dvořák. And McVicar's staging (directed in this revival by Leah Hausman) underlines the theme of the dangers of messing with nature. Rusalka's lake is small, surrounded by trees that move around menacingly, and framed by a concrete wall that might be a water treatment plant.
In the third of five performances at War Memorial Opera House, the stage teemed with powerful performances, starting with the title character. American soprano Rachel Willis‐Sørensen, last seen here as a resplendent Eva in the company's 2015 Die Meistersinger, brought a dazzling combination of vocal brilliance and evocative physical acting to bear on Rusalka, the water sprite who falls for a handsome prince and pays a steep price for it.
Willis‐Sørensen's approach to the signature aria, the 'Song to the Moon', rested on full-blooded richness of voice rather than the wispy floating high notes usually heard. It worked. And under the polished surface of her voice, an unsettling distress rumbled, along with sheer beauty of tone and secure articulation.
Her Act I scenes blossomed with spectacular singing from Icelandic bass Kristinn Sigmundsson as her father, Vodník the Water Goblin, and the American mezzo-soprano Jamie Barton as the witch, Ježibaba. Both of them embraced the comedic potential of their roles, without losing an ounce of the story's dramatic tension. Clad in webbed gloves and rubber feet, Sigmundsson seemed to levitate from the lake like an apparition, and later got laughs when he gained accees to the Prince's palace through a manhole cover, but his farewell scene with Willis‐Sørensen carried the gravitas of Verdi's greatest father-daughter music. In brewing the potion that would make Rusalka human, Barton — clothed like a Victorian street denizen — at one point tossed a dead cat and a few weeds from her hat into the kettle with abandon. But when she voiced a spell to leave Rusalka with a silent tongue, she approached the intensity of Ortrud's curse from Lohengrin.
American tenor Brandon Jovanovich made a tall, dashing Prince, his heldentenor ringing every phrase until his final moments. When Rusalka finally spoke to him only to tell him that her kiss would kill him, in his madness he kissed her anyway, and died while floating velvety high phrases that were pitch- and texture-perfect.
Conductor Eun Sun Kim, principal guest conductor of Houston Opera, made a gripping company debut, bringing out the Czech pulse and phrasing under a shiny surface of supple orchestral playing. The Korean-born artist maintained impeccable balances with all the singers and kept the score unfolding with a sense of inevitability.
She wrangled the big cast into a cohesive, propulsive engine. Among the standouts was soprano Sarah Cambidge as the Foreign Princess who beguiles the fickle Prince away from Rusalka. Baritone Philip Horst as the Gamekeeper and mezzo-soprano Laura Krumm as the Kitchen Boy created a tense scene gossiping about the Prince and his strange fiancée. Three current Adler Fellows — soprano Natalie Image, and mezzos Simone McIntosh and Ashley Dixon — made a vocally substantial and, for humor, physically uncoordinated trio of nymphs.
The dance crew outdid themselves, portraying everything from raunchy satyrs and satyresses to straight-faced sendups of an en pointe French ballet corps. Three actors or dancers in large black raven costumes made up Ježibaba's crew, taunting humans and spirits alike. In a remarkable scene in the palace, the dancers tossed white petals at Rusalka, at first seeming to praise her, then clearly to taunt her. The ravens entered, surround Rusalka, and flapped their wings to stir up a tornado of the petals, a stunning visual effect in David Finn's spot-on lighting.
It is a rare thing when all of the elements of opera – voices, musicality, conducting, orchestral virtuosity, dance, drama, costumes, and set design – are all of the highest level and come together so completely and seamlessly.
Harvey Steiman