United Kingdom Bizet, Carmen: Soloists, Chorus and Orchestra of the Royal Opera House / Julia Jones (conductor). Royal Opera House, Covent Garden, London. 24.6.2019. (JPr)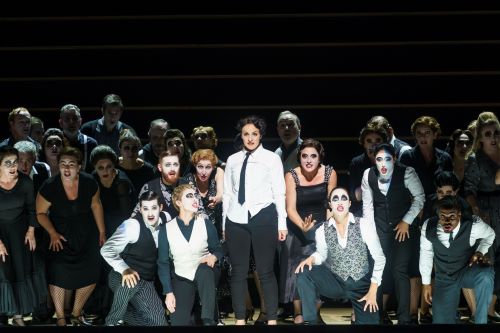 Production:
Director – Barrie Kosky
Revival Director – Julia Burbach
Designer – Katrin Lea Tag
Lighting designer – Joachim Klein
Choreographer – Otto Pichler
Revival Choreographer – Madeline Ferricks-Rosevear
Dramaturg – Zsolt Horpácsy
Cast:
Carmen – Anaïk Morel
Don José – Bryan Hymel
Escamillo – Luca Pisaroni
Micaëla – Ailyn Pérez
Zuniga – Michael Mofidian
Frasquita – Jacquelyn Stucker
Mercédès – Hongni Wu
Dancaïro – Dominic Sedgwick
Remendado – Stuart Patterson
Moralès – Germán E. Alcántara
There is great motivation in writing about something seen before not to repeat nearly word-for-word what was previously written and – to a degree – I intend doing that here. However, my only previous experience of Barrie Kosky's Carmen was as a cinema broadcast early last year and so much of what I wrote then is applicable to what I now saw in the opera house that an element of repetition is unavoidable. This revival of Carmen has issues – mainly in relation to the casting – but I must add that I enjoyed it much more than I expected I would.
For me Barrie Kosky's work has been rather like Marmite and my response has polarised from so-so (click here) to thought-provoking (click here); even though both had a surfeit of what I have previously described as his typical 'madcap mayhem'. Well this Carmen – first put on in Frankfurt in 2016 – takes that to a whole new level. In the cinema we heard from the director himself who revealed: 'I wanted to take the opera out of any sort of Spanish kitsch or Folkloric kitsch. So, I wanted to have a sort of haunted space. So, we took a little bit of Buenos Aires 1930s, a little bit of Tango Argentino, there was a little bit of Berlin '30s with a little bit of Paris.' He went on to comment about its 'very sparse aesthetic', how 'dance is not a secondary element in this piece. Dance is used by Carmen as a force of seduction' and how having a chorus just standing around and singing was simply 'boring'.
For this Carmen we are clearly meant to appreciate what we see as pure artifice from behind Covent Garden's gilded proscenium arch which gets lit up for the Prelude. This is the theatre of Bertolt Brecht and not the opéra-comique – or more likely music drama – Bizet conceived. There is no Seville square, Lillas Pastia's inn nor smuggler's mountain hideaway. Designer Katrin Lea Tag has created a steep stage-wide flight of 16 steps that all the singers and dancers must clamber up and down – often so hurriedly – making me worry for their health and safety. Kosky has eliminated the problematic issue of the opera's dialogue and soon we hear the smoky Jane Birkin-ish voice of Claude De Demo start to recite some original text which the director has put together – from Carmen's point of view – from Meilhac, Halévy (Bizet's librettists) and Mérimée (who wrote the original novella).
Carmen enters at the top of the steps, dressed as a toreador, staring beguilingly forward into the orchestra stalls. The original narration has, I believe, now been trimmed and the first act hits the ground running – in more ways than one – much quicker than it did before. Indeed, there seems to have been a loss of over 15 minutes in the opera's advertised running time and this is very welcome. What we are now left with more positively sets the scene for what we will see, without – at length – explaining what most of us know will happen anyway.
We are left with this Carmen's duality as being both hyperactive, yet frequently, quite static. The deeply impressive chorus and six extremely talented principal dancers hardly stop moving for the first half (Acts I and II). Otto Pichler's choreography blends Busby Berkeley, Roland Petit, Bob Fosse, body popping, semaphoring, with traditional flamenco, tango and pasodoble. Sometimes the singers often are as far apart as they can be, especially with the long, staircase-deep, rope as the only contact Don José has with Carmen when she escapes (unseen) at the end of Act I. On other occasions the singers are just left on their own to duet or give us their party pieces and there is a hint of a more familiar 'traditional' Carmen.
We are in Offenbach's Paris and not Bizet's as what we see – initially at least – is equal parts Parisian floorshow and operetta. Carmen soon re-enters as a gorilla (don't ask!) and sings the familiar Habanera that immediately morphs into the less sultry version (with the same words) that Bizet changed because Célestine Galli-Marié – the first Carmen – insisted. This, at least, goes to show that the singer does sometimes know best! Once out of her fancy-dress costume Kosky's Carmen remains an androgynous figure in white shirt with black tie and trousers for the rest of Act I; though for the rest of the opera she looks more as we would expect. The (in)famous 'flower' is a shower of rose petals, one of only a few 'props' which basically are just that rope, some playing cards and a knife.
Carmen is a powerful piece about love and obsessive jealousy and there was much to explore in 2018 – and more so in 2019! – about whether the 'heroine' is a seductress or victim. Kosky is not really concerned with any of that. Micaëla, Escamillo, Frasquita, Mercédès, Zuniga and Moralès are ciphers in the original work and are side-lined even more now. Very soon in Act III the commentary stops and I was increasingly drawn back into the drama of this Carmen. Whether that is what Kosky intended – or he had just run out of further novelties – I cannot be sure. The final confrontation between Carmen and Don José is played mostly straight – apart from her huge ruffled train – and is all the better for it. Even then there is a concluding coup de théâtre which makes us question all that has gone before.
I am happy to repeat my history with Carmen at Covent Garden that began with Agnes Baltsa, José Carreras, Yvonne Kenny and Benjamin Luxon in 1983. Unfortunately, this cast was not in the same league and the equivalent of such a quartet these days is needed to make this staging work even better. (However, the number of seats unsold in the opera house suggests this Carmen will not be revived again.) However, with her smoky voice French mezzo-soprano Anaïk Morel had a certain Gallic je ne sais quoi that compelled attention though she didn't show the overt sexuality that I suspect was Kosky's idea. Bryan Hymel's burly Don José acted suitably bewildered by the rings Carmen runs round him. Hopefully he will have better days vocally and there was too much gravel and hard-won top notes to feel relaxed about his performance. (A fight director should have been employed for his encounter with Escamillo in Act III that is still poorly staged.) Nonetheless – as is the case with most Don Josés – Hymel was at his full-throated best when he returned at the end of the opera and channelled Otello for the familiar tragic outcome that has caused much #MeToo debate.
Why in 2019 is it so difficult to cast Escamillo, not just at Covent Garden but elsewhere? After all it is not Wotan they are singing! Luca Pisaroni looked the part and acted with all the necessary braggadocio, but we heard none in his uncharismatic voice. The most complete performances were from Ailyn Pérez who was luxury-casting as Micaëla ('Je dis que rien m'épouvante' was exquisitely poignant) and Jacquelyn Stucker's skirt-swishing relish in the minor role of Frasquita. (It is a shame Stucker is not staying in the UK and is joining the Deutsche Oper Berlin next season.) I have already mentioned the magnificent Royal Opera Chorus and kudos to the spirited children of Streatham & Clapham High School and Trinity School.
Julia Jones and her fine orchestra sounded a little tentative at the beginning when an attempt is made to shed some new light on the score despite the stop-start nature to the performance. It was only as the opera drew to its close that there became any real opportunity to allow dramatic tension to build and then for the torrent of emotion in Bizet's music – that can so often keep the audience on the edge of their seat in the opera house – to be released .
I am glad I had this opportunity to see Kosky's Carmen live but remain doubtful if I would want to see it again. However, it is undoubtedly a compelling operatic spectacle. There are many tickets still available but if you cannot afford it you can catch this Carmen broadcast live (with Aigul Akhmetshina as Carmen) on Tuesday 2 July as part of BP Big Screens or live streamed via the Royal Opera House's Facebook and YouTube channels.
Jim Pritchard
For more about what is on at the Royal Opera House click here.