United Kingdom Robert Schumann, Rangstgröm, Alma Mahler, Berg: Katarina Karnéus (mezzo), Julius Drake (piano), Dora Stoutzker Hall, Royal Welsh College of Music and Drama. 18.6.2019. (GPu)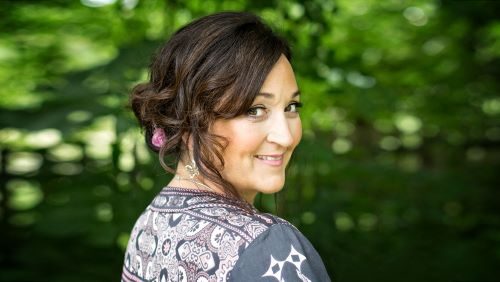 Robert Schumann – Gedichte der Königin Maria Stuarda (Op.135): 'Abschied von Frankreich'; 'Nach der Geburt ihres Sohnes'; 'An die Königen Elisabeth'; 'Abschied von der Welt'; 'Gebet'
Ture Rangström – 'Melodi'; 'Pan'; 'Vingar i natten'; 'Notturno'; 'Flickan under nymånen'
Alma Mahler – 'Die Stille Stadt'; 'Laue Sommernacht'; 'Bei dir is't es traut'; 'Der Erkennende'
Alban Berg – Sieben Frühe Lieder: 'Nacht'; 'Schilflied'; 'Der Nachtigall'; 'Traumgekrönt'; 'Im Zimmer'; 'Liebesode'; 'Sommertage'
During the early stages of this year's BBC Cardiff Singer of the World it was very fitting that Katerina Karnéus – a previous winner in 1995 who has established herself as a major figure – should give a song recital in the city. It was billed as part of the 'Fringe' of the competition and was, in a sense, doubly fitting, since a young Karnéus sang the title role of Rossini's La Cenerentola in Cardiff even before she won the prize. 'Fringe' or not, this was a major musical event. Held in Cardiff's Conservatoire, the Royal Welsh College of Music and Drama, my only regret was that for perfectly good reasons the recital had to be scheduled for a date when most of the College's students – having completed their end of year assessments – were no longer around, since any young singer would certainly have learned a great deal from listening attentively to Karnéus's singing.
Accompanied by the excellent and rightly highly regarded Julian Drake, with whom she has often performed and recorded, Karnéus began her programme with Robert Schumann's Gedichte der Königin Maria Stuarda (Op.135). These are settings of German translations by the minor poet, and Shakespeare scholar, Gisbert von Vincke (1813-1892) of five poems attributed (erroneously) to Mary Queen of Scots (Mary did write poems, but mostly in French). Vincke's translations are, it must be said, far from being great poetry – but, as we know, the best lieder/songs have by no means always been settings of the best poetry. Yet von Vincke's verse has many awkward turns of phrase and rhythm which would present any composer with problems. This is evident  in Joachim Raff's later (1872) song cycle Maria Stuart, setting poems from von Vincke's book. Interest in the 'tragic' figure of Mary Queen of Scots was, of course, a recurrent feature of Romanticism, as, most famously, in Schiller's play Mary Stuart (1800) which formed the basis of the libretto Giuseppe Bardari prepared for Donizetti's Maria Stuarda (1835). But Schumann's short song cycle avoids the sensationalism which characterizes most Romantic treatments of Mary. His five songs make no mention of her many notorious affairs (real or rumoured) and the general tone is restrained.
Though the texts Schumann is using may not be of great quality, the composer saw things in them with which he could work. Schumann constructs a clear shape to his sequence, musically speaking, so that, for example, the vocal lines in all but the first song begins with a step-like descent. The opening two lines of 'Abschied von Frankreich' have a shape which is clearly echoed in 'Abschied von der Welt'. In terms of verbal and emotional content the first song, the title of  which we might translate as 'Farewell to France' stands in parallel to the penultimate song 'Farewell to the World'. Relatedly, the third song, 'An die Königen Elisabeth' is a kind of implicit petition that the holder of earthy power should release her, while the final song 'Gebet' is an explicit prayer that the holder of Divine power should 'rescue her'. All of the songs are in  a minor key, four in E minor (the exception being 'An die Königen Elisabeth' in A minor). There is little that is flamboyant here, the dominant tone being subdued; the settings are predominantly slow. For reasons such as these, and perhaps because they were the last songs Schumann wrote before his final mental collapse, the sequence was long held in rather low regard, though recent years, however, has seen an increased interest in them.
Katerina Karnéus brought to these songs an intensity, mental and vocal, which indicated her belief that they deserved to be taken seriously. There was an impressive, and appropriate, weight of voice in 'Abschied von Frankreich' which made it clear that this was an older Mary (literally close to death) remembering her feelings as a nineteen-year-old girl who was forced to leave the adopted country where she had found happiness. 'Nach der Geburt ihres Sohnes' was taken  very slowly, with sustained notes sung beautifully; the whole seeming to anticipate the fate of a descendant such as Charles I. The quicker tempo of 'An die Königen Elisabeth' communicated the urgency of Mary's situation and the complexity of her emotions very forcefully, but quite without exaggeration or excess. In 'Abschied von der Welt', exemplary breath control and supreme clarity of diction played a part in the sense of noble melancholy so beautifully achieved in the song. 'Gebet' is in some ways the simplest of the five songs, and Karnéus respected that simplicity; by now she had created – vocally, psychologically and almost physically – a complete character in whom one believed completely. The art of Lieder at something like its best.
In Britain we don't encounter live performances of the songs of Ture Rangström (1884-1947) very frequently (at any rate I haven't), primarily because not very many singers have felt the need to add Swedish to their range of languages. His songs, though, are an important part of his output and it was a delight to hear a few of them sung with the authority that Katerina Karnéus can bring to them. Of the five songs by Rangström presented on this occasion, four were settings of poems by Bo Bergman (1869-1967) – the exception being 'Notturno', which has words by Rangström himself. The song which opened this sequence 'Melodi' made a beautiful contrast with the Schumann settings, being the celebration of human and natural beauty and the connection between them, not least in their shared power to inspire poets and composers, to create 'melodi' ('melody'). This song about, in part, inspiration certainly inspired some utterly beautiful singing from Karnéus, very effectively supported by Julius Drake, particularly in some passages where the accompanist has some almost mimetic writing as the song talks of the murmur of rocking waves, for example. There was superb legato singing in 'Pan', a setting of a Bergman poem in which the God Pan lazes against a spruce tree  and plays his pipes. Music is celebrated in the text and was, implicitly, by the beauty of Rangström's own music as performed by these two artists, especially in the song's rhapsodic ending. 'Vingar i natten' ('Wings of the Night') is very different, being much more powerful and dramatic and, at times, quite menacing in its imagery of a mute black bird which seems to embody fear and anxiety, spreading them around the world amongst the human population. With 'Notturno' calmness returned, but whatever the mood, whatever the larger implications, Drake and Karnéus had a remarkable and consistent power to grip the listener, to 'embody', as it were, the words and the music, not merely to interpret them. This was true of 'Flickan under nymånen', the last of these songs by Rangström, in which a girl begs of the new moon that she might be united with her beloved; Katerina Karnéus's singing of this song was quite ravishingly beautiful, indeed it left one with a rapturous sense of pleasure.
The mood changed considerably, once more, as we moved through this well-planned and various programme. There now followed four songs by Alma Mahler. 'Die Stille Stadt', has a text by Richard Dehmel which is full of negatives, of things 'not there', of light disappearing, such things being only slightly redeemed at its close when 'through smoke and fog' there is heard 'a faint song of praise' sung by children which might offer comfort to the traveler 'full of fear' in this 'silent town'. But the overall effect is of bleakness and isolation. At points the sense of isolation seems articulated in the manner in which the piano accompaniment has relatively little apparent connection with the vocal line. Less troubling is 'Laue Sommernacht' ('Midsummer Night') in which the protagonist (Karnéus adopted a slightly flirtatious manner and tone) speaks of people (lovers?) stumbling across one another in the dark and finds in the experience a metaphor for the whole of life. Alma's musical invention is striking and distinctive here. Rilke's beautiful short poem 'Bei dir ist es traut', a lyric about mutual trust, albeit a trust that depends on the couple being unknown to others, evidently brought out some of Alma Mahler's finest music and the combination of words and music inspired some gorgeous singing from Karnéus. The last of these songs by Alma Mahler 'Der Erkennende' has a text by Franz Werfel (with whom Alma had an affair beginning in 1917; the two married in 1929). It is a text which speaks of the human tendency to push away or reject the thing they love. The psychological and emotional complexities hinted at in the text are enacted musically. If there was one point in the recital where I wasn't sure that Karnéus and Drake had the full measure of their material, this was it. Their performance lacked something of the emotional darkness the song requires if it is to be performed with full conviction.
Full conviction was certainly not lacking in the set of songs which closed this outstanding recital – Berg's Sieben frühe Lieder (finished in 1908). For those who retain an antipathy to serialism, this is perhaps a point of ne plus ultra where Berg is concerned. The musicologist Philip Radcliffe has written how in these songs 'the tonality, though very fluid, can still be felt'. That seems to me to capture the particular magic of these early songs. Berg was finding a means to reconcile, at least temporarily, influences such as Wolf and even Debussy, with what he was learning (and had learned) from Schoenberg.
Since this review is already longer than I intended, I shall refrain from any comment on individual songs by Berg and rest content in saying that the set drew from Karnéus singing which respected fully both text – with an acute awareness of poetic meaning being evident – and the frequent beauty of Berg's vocal line. I several times scribbled in my notebook words and phrases like 'gorgeous sound', 'perfect control of colour and dynamics', 'the voice is beautiful right across its range'. These Berg songs brought an exceptional recital to a fittingly splendid close.
Glyn Pursglove