Germany Verdi, Rigoletto: Soloist, Staatsopernchor, Staatskapelle Berlin / Andrés Orozco-Estrada (conductor), Staatsoper Unter den Linden, Berlin, 16.6.2019. (JMI)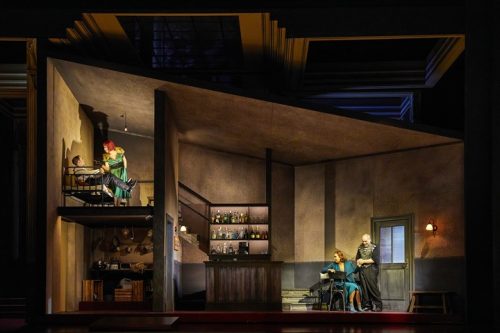 Production:
Director – Bartlett Sher
Sets – Michael Yeargan
Costumes – Catherine Zuber
Lighting – Donald Holder
Cast:
Rigoletto – Christopher Maltman
Gilda – Nadine Sierra
Duke of Mantua – Michael Fabiano
Sparafucile – Jan Martinik
Maddalena – Elena Maximova
Monterone – Giorgi Mtchedlishvili
Giovanna – Corinna Scheurle
Countess Ceprano, Page – Serena Sáenz
Marullo – Adam Kutny
Ceprano – Erik Rosenius
Borsa – Andrés Moreno García
My Berlin opera trip has come to an end with this performance of Rigoletto in a new production by Bartlett Sher. The program announced that the staging had been done in 'cooperation' with the Metropolitan Opera, but I am not sure what that cooperation can consist of: the Met now has a modern production of Rigoletto from Michael Mayer set in a 1960s' Las Vegas casino that has been around since 2013.
This staging features a curtain at the back that seems to pay tribute to German painters George Grosz and Otto Dix, who specialized in social criticism. There is a palace with columns at the rear that serves both for the first scene of the opera and for the second act. The second scene of Act I as well as the last act are solved with mobile sets at the front of the stage: Rigoletto's house on two floors, and then a sort of tavern where Sparafucile and his sister live.
The action is set in the 1920s and the costumes, particularly at the Duke's party, are attractive. Bartlett Sher's stage direction is correct, and calls one's attention to Gilda's defense of herself when being abducted, as well as the poor resolution offered for her death at Sparafucile's house.
The musical direction was under the baton of Andrés Orozco-Estrada. He carried out the work competently, but I missed a heavier dramatic charge – his reading was somewhat monotonous. As usual, the Staatskapelle Berlin and the men's chorus did extremely well.
Rigoletto was played by Christopher Maltman, who may have been making his debut in the character; I don't remember him having sung it before. He was a good Rigoletto, with a broad voice that was appropriate to the demands of the role. However, there was an excess of open sounds: he sang practically everything in full voice. If he paid more attention to nuances, this could be a basic character in his repertoire.
Nadine Sierra as Gilda was outstanding. She is a light soprano, perhaps too much so for the second part of the opera, but was convincing at all times. Her 'Caro nome' was the best moment of the night: she gave an authentic demonstration of breath control in a final, endless note. I would also highlight her performance in the duets with Rigoletto and with the supposed Gualtier Maldé.
Michael Fabiano as the Duke seemed, surprisingly, in disappointing vocal shape. I have heard him on many occasions and always found him to have an appealing, well-handled tenor, although sometimes tight at the highest notes. He is still a remarkable singer, but his voice has widened noticeably to the detriment of his top range. Now his sounds are very open and there are no harmonics at the top: there were problems with the high A, let alone a high B or C. Obviously, he had to go down at the end of 'Addio, addio' in Act I and in the cabaletta of the second act. He also struggled with this in 'La donna è mobile', which received some isolated booing. I am curious to see what will happen next month in Madrid, where he joins Plácido Domingo in a concert version of Verdi's Giovanna d'Arco.
Jan Martinik's Sparafucile was correctly done, and the same can be said of Elena Maximova's Maddalena. Among the secondary characters, Giorgi Mtchedlishvili was a modest Monterone, while Adam Kutny was good as Marullo, as was Corinna Scheurle as Giovanna.
The audience greeted the artists enthusiastically at the final bows, with the biggest applause going to Nadine Sierra and Christopher Maltman.
José M. Irurzun