United Kingdom The Mother (choreography by Arthur Pita): Natalia Osipova and Jonathan Goddard. Queen Elizabeth Hall, London, 21.6.2019. (JPr)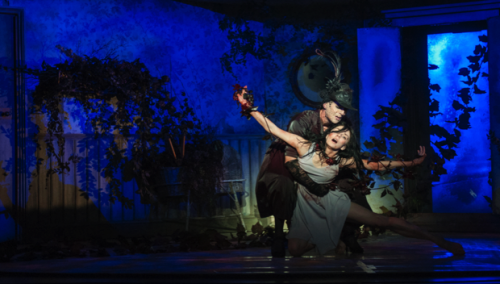 Production:
Director/Choreographer – Arthur Pita
Composer/Musicians -Frank Moon and Dave Price
Designer – Yann Seabra
Lighting designer – David Plater
Dramaturge – Anna Rulevskaya
Cast:
The Mother – Natalia Osipova
Death/Doctor/Babushka/Rose Gardener/Ferryman/White-haired Witch/Lover – Jonathan Goddard
Force of Nature Natalia is Gerry Fox's new documentary about the life and career of Russian ballet superstar Natalia Osipova described by The Telegraph as 'One of the twelve greatest ballerinas of all time'. It is currently to be seen in selected cinemas nationwide and a shorter version – that I have seen – is available on Sky Arts. What can be gleaned from it is that Osipova has become slightly bored by the constraints of her life as a prima ballerina, or as she puts it – in delightfully broken English – she is 'not interested' in just being a classical dancer. Osipova outlines her credo as 'I really love dance, I love not just the classical ballet, I love contemporary. For me it doesn't matter which style, but I am classical ballerina, but every time I am never like calm, I really want try new. I really want try and experiment.' Later saying 'I never think about dance and about role … My body, my arms, my face, is like an instrument for story.' Kevin O'Hare, director of The Royal Ballet, adds 'What's more important [about Osipova apart from her 'amazing elevation'] is the way she lives the role and the way she becomes the part that she wants to play.'
Towards the end, Osipova makes the revelation that 'I'm really moody person'. That was said with the hint of giggle in the direction of her fiancé – fellow dancer – Jason Kittelberger so that may be true or not.
All of which brings us to the London premiere of The Mother, Arthur Pita's harrowingly bleak narrative dance-theatre work based on Hans Christian Andersen's The Story of a Mother which the choreographer first saw as an Italian book, with no text, illustrated by AkaB. The lavish programme prints – in full – the rather dark and downbeat short story which is given a somewhat psychoanalytical reading by Anna Storey in her follow-up essay Ghosts in the Nursery. I make no further comment other than Andersen also wrote 'The Emperor's New Clothes' which suggests that people believe they see what they want to see – or in this case perhaps read into things what they believe is there.
Death comes to a woman's sick baby and it becomes something of an anti-nativity tale. It is not an 'act of God' that gives the Mother a divine child, rather that he is instrumental in taking the child from her. I could be accused myself of 'reading' more into something that is not there, though when the Mother becomes bloodily entangled in the thorny stems of a rose bush Osipova spreads her arms mimicking the crucifixion and possibly Jesus with his 'crown of thorns'.
Osipova is onstage for several minutes before the advertised starting time confusing members of the audience entering the auditorium. Composer/Musicians Frank Moon and Dave Price are at the extremes of the stage surrounded by a vast array of instruments producing a viscerally eerie accompaniment to the Mother nursing her whining child. Apart from some atmospheric Russian folk melodies this chilling and pulsating soundtrack accompanies the rest of what we see during the relatively short interval-less work.
What I find crucial is that the worn-out Mother soon falls asleep. So, is what we subsequently see just a postnatal nightmare? But wait, the coda we eventually get – that is not in Andersen's original – suggests (spoiler alert!) that everything we have experienced is just the innate fears of a pregnant woman.
Anyway, the Mother is drugged by the Doctor (Death) she called to treat her child and who enters supernaturally through a mirror rather like – a similarly sinister – Dr Miracle in the opera The Tales of Hoffmann. The Mother wakes to find the baby no longer in its cot or in any of the three grimy rooms that make up Yan Seabra's revolving set and included a particularly dank and unpleasant bathroom straight from Norman Bates's motel.
All the locations of the labyrinthine quest Andersen has conceived for the Mother become confined to her own house of horrors. However, there are still the personal sacrifices to be made to some strange figures she meets during the hunt for her baby. These are all personified by the exceptionally talented Jonathan Goddard whose part in the success of Pita's The Mother cannot be underestimated. First the Doctor; then a Matryoshka who has come to life to make the Mother dance; a black widow who binds her in a garland of thorns; the Ferryman who takes her eyes (in a vignette so gruesome it is difficult to watch); the drag queen who steals the Mother's dark hair for her own greying locks. Goddard also appears as the Mother's soldier lover before turning into a hooded figure of death I remember so well from Rudolf Nureyev's version of Romeo and Juliet. There it rapes Juliet in a dream sequence and here it has made love to the Mother.
During her travails the Mother's body is so ravaged that when she arrives at Death's 'garden' her bloodied nightdress looks as though she might just have given birth. Throughout Osipova is captivating in showing her character's fearless self-sacrifice. The Mother's resolve, time and again, drives her on even though she often appears on the brink of giving up, yet resists the temptation with all her might.
I am sure Pita's The Mother is suffused with many cross-cultural references that are beyond me though I am certain some shine a mirror – as mentioned above – on the history of ballet. Certainly, when the Babushka/Matryoshka forces the Mother to dance – to songs coming from a radio – until she is totally exhausted then this is there to obviously remind us of Giselle, one of Osipova's signature roles and those revengeful Wilis in Act II of that ballet. In the Force of Nature Natalia film, it is revealed that Pita includes in this scene the Russian folk dance steps the young Osipova learnt when she was at school.
Despite The Mother's occasional longueurs you cannot take your eyes off Osipova and indeed she proves that she is a true 'force of nature'; the sheer physicality of her movement – and the emotional journey she takes the audience on – is worthy of the finest of (non-dancing) stage actors. Her fluid movement and placement of arms and legs do betray her classical roots but never for a moment do we believe she is not The Mother, especially in the whirling dervish-like spins when her turmoil is at its height.
Obviously, this work is not something for ballet purists and some of the audience voted with their feet and exited during the performance and long before someone behind me exclaimed 'Is that it?' at the end! For me Natalia Osipova's performance was so mesmerising that I am glad to have had this opportunity to see it.
Jim Pritchard
For more about Force of Nature Natalia click here.
For John O'Dwyer's review of the performance on 20th June click here.