United Kingdom Bach, Liszt: Yu-Ning Chuang (piano), Keyboard Charitable Trust at Steinway Hall, London, 5.6.2019. (JB)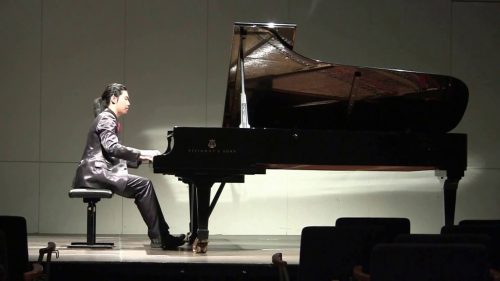 Bach – Goldberg Variations BVW 988
Liszt – Isolde's Liebestod (Tristan und Isolde) S447; Danza sacra and final duet from Verdi's Aida, S436
Bernard Levin in a BBC television interview with Arthur Rubinstein, was famously stopped in his tracks with the pianist's saying, I shall have to interrupt you there, since the journalist was making the assumption that the pianist was completely relaxed and at ease when he stepped onto the platform to play. It was nearer the truth, explained Rubinstein, to say that when he came onto the platform, he was as nervous as a flea, since he couldn't know what the concert would sound like until after he had played it: it had to be INVENTED on the spot. Invoking memory would be the death of the music. Irritatingly that historic interview has now been taken down from YouTube.
Rubinstein further articulated his performance magic by saying that every performance was unique, and had therefore to be freshly invented on the spot. This will be clearer if we take the case of an actor playing Hamlet or Richard II. We may admire an actor's memory of all the Elizabethan language. But such a performance is fake. Shakespeare demands that his actor BECOMES Hamlet or Richard. Not a recitation of the lines, even with the right spoken rhythmic responses. The great performances that stay with us are those where we say, I saw Hamlet tonight like I've never seen it before. What did you say was the name of the actor? So it was with Rubinstein's Chopin.
The young Taiwanese pianist, Yu-Ning Chuang arrived at Steinway Hall with two Liszt transcriptions, preceded by a somewhat scrambled performance of the Goldberg Variations. As he began to play, Thomas Beecham's reservation about Bach came into my mind's ear: Too much counterpoint, and protestant counterpoint at that.
Mr Chuang is also a harpsichordist. He goes out of his way to make the piano sound like a harpsichord. He has also studied with Angela Hewitt, whose first teacher was her father – an organist. I have been impressed with Ms Hewitt's steely command of being firmly in the driver's seat, but that good lady has the sense to play on a Fazioli piano which is designed to give pianistic colours even where you might not request them. And besides, the organ-approach to Bach is in her DNA. It is emphatically not in Yu-Ning Chuang's. There is a blocked musicianship which is not allowed by this young man to come out. To put that another way: he is hell-bent on a performance skill which is alien to his considerable natural gifts.
Wagner's Tristan arrived at a peak of romanticism which no other work of art would ever match. Nietzsche famously came out of the opening night (Munich 10 June 1865) asphyxiated – Oxygen! Give me Oxygen! he is recorded as crying.
Wagner's father-in-law, Franz Liszt, could hardly wait to reproduce in pianistic language the amazing, unique Tristan experience.
Franz Liszt's transcriptions are like Virginia Woolf's commentaries on other works of literature. No lover of English syntax would want to be without the beauty of the sentences of the Woolf novels. But her insights into the soul of other writers goes straight to the point. Take her remark on George Eliot's Middlemarch. Finally, she wrote, someone wrote a novel for grownups. That rather puts the novels of Jane Austen into girls-own stories or the gothic novels of the Brontë sisters into crap fiction. Or the Dickens novels as kids' fiction.
Similarly, Liszt's transcription of the Liebestod asphyxiates the listener: the Liszt magic works by overwhelming us, by challenging all the instrumentation of Wagnerian soprano and orchestral timbres to sonorities not hitherto produced on (for this particular evening) a Steinway grand.
Mr Chuang's Liebestod was not just underwhelming. He positively pumped oxygen into the music, whereas Liszt goes to considerable trouble to keep it out. Ends of phrases which become beginnings of the next phrase were ignored. (It takes enormous skill to realize these on any piano.) He doesn't let us forget for a second that he is playing a percussion instrument. But this insistence comes out sounding like an out-of-tune pub upright. O dear!
Verdi's Aida was commissioned for the opening of the Suez Canal (Cairo Christmas Eve, 1886) and Liszt chose for his transcription the most mystical, serious and tender scenes of the sacred dances of the temple virgins, and the final duet where the two protagonists are buried alive. As with La forza del destino for St Petersburg, where Verdi successfully 'speaks' musical Russian, so for Aida, there is magical invocations of Egyptian rhythms, tones and cadences. All picked up in Liszt's homage to Verdi. The dance of the virgin temple maidens is a wondrous exploration of the richness of pianissimi. But Yu-Ning trotted this out like a Salvation Army Band on a wet night. A bull got into this china-shop. And even some touches of what sounded like the Folies Bergère were inappropriate too.
Keyboard Trust frequenters will remember Italian-Romanian Emanuel Rimoldi's breath-taking performance of this transcription under Eliso Virsaladze's tutelage.
An encore of Schumann's Träumerei was a charming thought to end the evening. And would have been more so, had it not been tossed off with a touch too much of nonchalance. The trick here is to be gracefully measured without sounding measured. The complexity of the simple, if you like.
Dear Yu-Ning, you may think I have been unnecessarily harsh in my probing. But allow me to say that I am most disturbed because I hear within you a wonderful musician who has been blocked and frustrated by some well-meaning – but to my mind – misguided teaching. Like anyone else, I could be wrong on what I have written. There is a side to me which hopes that I am wrong. I have given you the cultural parameters which I have used for this report. The most I can ask of you, is to see if these make any sense to you. I have certainly learned something from your performance. I only hope that you might have too.
Jack Buckley