Argentina Rossini, Il barbiere di Siviglia: Soloists, Chorus and Orchestra of Ensamble Lírico Orquestal. Conductor: Gustavo Codina, Teatro Astral, Buenos Aires. 5.6.2019. (JSJ)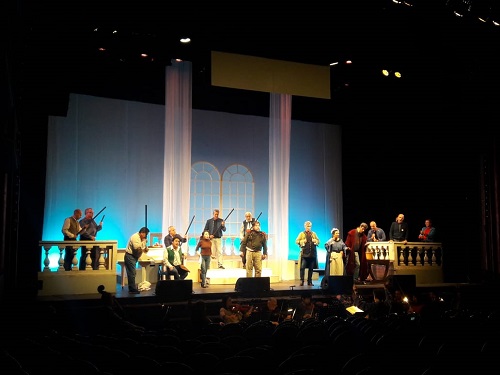 Production:
Direction – Gonzalo Berdes
Sets – Juan Carlos Hougham
Costumes – Miguel Alejandro Flores
Lighting – Luis Bolster
Chorus – Cecilia Layseca
Cast:
Figaro – Enrique Gibert Mella
Rosina – Lídice Robinson
Count Almaviva – Patricio Oliveira
Dr Bartolo – Mirko Tomas
Don Basilio – Felipe Cudina
Berta – Cecila Pérez San Martín
Fiorella – Alfredo González Reig 
After a fine start with a welcome Il Trovatore to its 2019 season, Ensamble Lírico Orquestal has continued what is arguably its most ambitious with a move to a new venue, the Teatro Astral in the heart of Buenos Aires' theatre district in Corrientes avenue.
A theatre that is gaining a growing reputation for musical events, it also offers the opportunity of new audiences and for this 'first' the ever popular 'Barber of Seville' was put on with two performances – the first almost completely sold out and the second only slightly less so.
The theatre is somewhat more intimate than the usual venue and particularly with limited room for an orchestra which here was reduced to just a dozen players, including the harpsichord located in an adjacent box. As a consequence, the music often sounded 'thin', especially in the overture and other orchestral passages, although less so during the arias with the musical preparation coming to the fore.
Individual orchestral members also all came under more than usual prominence, but all played impeccably under the baton of Gustavo Codina, who knows and paces the score well.
A basic set served successfully with minor changes for each of the scenes, albeit somewhat crowded at times when the chorus members were present in their various guises. But slick direction ensured that the space was used optimally to represent the many comings and goings of the Count in his different disguises, the untrusting doctor and the wily Basilio.
The star of the cast should be Figaro with his 'Largo al factotum' and Enrique Gibert Mella – almost unrecognisable with a mop of hair – showed off both his acting and vocal skills and experience from his first entrance. But with this cast it would be invidious to highlight one over another and each have their special arias, even if not so well known.
Lídice Robinson, a coloratura soprano, was a passionate Rosina and Mirko Tomas presented a comedic but elegant interpretation of an elderly Bartolo. Patricio Olivera is a tenor with elegant vocal timbre and played the drunken soldier in the first act and the music teacher in the second with a high degree of exuberance.
Felipe Cudina stood out as Basilio, not only because of his towering height but also his bass to match and Cecilia Pérez San Martín played a believable Berta with well deserved applause for her 'Il vecchiotto cerca moglie'.
Alfredo González Reig satisfactorily played Fiorella and the male chorus sung enthusiastically.
What was clear was that all of the cast thoroughly enjoyed their roles and it showed in their expressions and the nature of their interactions, and that ultimately is at the heart of a memorable production.
Jonathan Spencer Jones