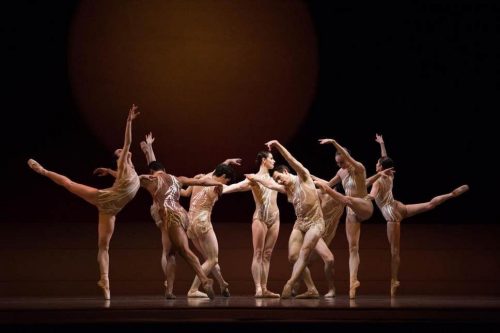 United Kingdom San Francisco Ballet – Programmes A and B (Ratmansky, Liang, Marston, Pita): Principals, Soloists and Corps de ballet of San Francisco Ballet, Royal Ballet Sinfonia / Martin West (conductor). Sadler's Wells, London, 29.5.2019 and 31.5.2019. (JO'D)
Choreography – Alexei Ratmansky, Edwaard Liang, Cathy Marston, Arthur Pita
Music – Dmitri Shostakovich: Symphony No.9; Chamber Symphony; Piano Concerto No.1 for Piano, Trumpet, and String Orchestra (Piano: Mungunchimeg Buriad; Trumpet: Michael Allen)/Amy Beach; Philip Feeney; Arthur Foote, Arvo Pärt (arranged by Philip Feeney)/ Oliver Davis/ Björk Gudmundsdottir(recordings)
Across four triple bills (Programmes A to D) San Francisco Ballet gives Sadler's Wells audiences the chance to see the work of no fewer than ten contemporary choreographers. The highlight, so far, of this ambitious project has been the piece that opens Programme B: Edwaard Liang's The Infinite Ocean (2018). In halter-neck leotards of gold and white the San Francisco Ballet dancers show as multiple versions of the 'idealised self', pausing on their journey from downstage to upstage for valedictory ensembles and pas de deux to music by Oliver Davis. The set is striking. The pas de deux (ecstatic, joyous, troubled) are remarkable and remarkably performed. The final, logical coup de théâtre makes the audience gasp.
The other two works on this programme are less simple and less satisfying. After the abstraction of The Infinite Ocean, Cathy Marston's Snowblind (2018) seems weighed down by its narrative structure and by the familiar Marston props of bed and chair. An adaptation of Edith Wharton's Ethan Frome, to music arranged by Philip Feeney, it tells of 'a farmer', 'his sickly wife' and 'their home help'. Ulrik Birkkjaer, Jennifer Stahl and Mathilde Froustey dance their parts with conviction. It might be significant, given this choreographer's relationship to the pointe shoe, that Stahl is most en pointe when she is most sickly. She also uses her shoe as a weapon with which to attack the other woman.
The corps, as always in Marston's work, is inventively deployed (as snow); but Snowblind lacks the dramatic power of The Suit for Ballet Black in 2018, which also dealt with the consequences of marital infidelity. Its protagonists are left in a revolving, unresolved ménage à trois; its audience uncertain when to applaud.
Arthur Pita's Björk Ballet is never more effective than the moment the curtain goes up on serried ranks of dancers, their backs to the audience, moving their arms and bending their waists beneath rows of what looks like gold sparklers, or houseplants, suspended in the air above them. In costumes that suggest reinterpretation for alien life form of the bodysuit worn by Nijinsky in L'Après-midi d'un faune (1912), the dancers kneel and pair off before a figure in white mask and black silk trousers breaks through to sweep them away. Épatisme then follows épatisme in a piece that appears to give more attention to the 'visual décor' (for which Pita is credited) than to the often unflattering choreography.
Programme A featured the work of one choreographer, Alexei Ratmansky, and one composer, Dmitri Shostakovich. Shostakovich Trilogy, made up of ballets created in 2012 and 2013 but 'conceived to be performed together', earned Ratmansky his second Benois de la Danse award in 2014. 'All of my knowledge about what has happened in 20th century Russia,' the St. Petersburg-born choreographer says in Marina Harss's programme note, 'is reflected in this ballet.'
As in the two other large-scale works by Alexei Ratmansky I have seen (24 Preludes (2013) for The Royal Ballet and The Flames of Paris (2008) for Bolshoi Ballet) the stage is filled from start to finish with an energy shared out, in a way that seems unique, among all the dancers. Costumes (Keso Dekker), lighting (Jennifer Tipton) and backdrops (George Tsypin) make the ballets constantly vivid. Halfway through the second, however, I found myself wondering what it would be like to hear Shostakovich with different choreography, or with no choreography at all.
While the dancers responded to the music in their entrances and exits, their steps and gestures, they were never expressive of the music. That might be a conscious rejection of Balanchine's 'See the music, hear the dance'. Ironic distance from the music and the dance, as in 24 Preludes and The Flames of Paris, might be the point. The Benois de la Danse award and rapturous applause of everyone around me at the end suggest it must be. But I did wonder.
John O'Dwyer
For more about San Francisco Ballet click here.