East Neuk Festival 2019 (SRT)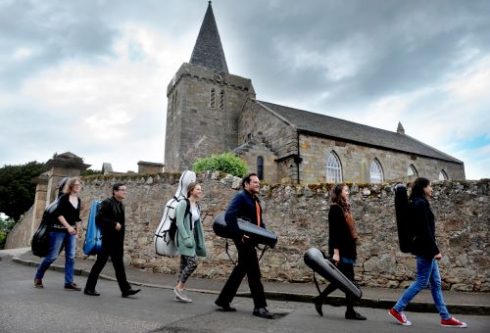 26.6.2019 – Tullis Russell Mills Band, University of St Andrews Music Centre Brass Quintet, Ensemble Marsyas / John Wallace and Peter Whelan (conductors). The Bowhouse, Fife
Thomas Erskine, 6th Earl of Kellie – The Maid of the Mill
Michael Nyman – Music from The Ogre and The Libertine; In Re Don Giovanni
Mozart – 'Gran Partita'
27.6.2019 – Benjamin Baker (violin), Diyang Mei (viola), Crail Parish Church
Solo string music by Britten, Reger, Bach and Halvorson
27.6.2019 – Pavel Haas Quartet, Kilrenny Church
Dvořák – Quartet No.14 in A-flat, Op.105
Beethoven – Quartet No.9 in C, Op.59 No.3
It may not count as a heatwave, certainly not by current continental standards, but in Scotland the sun has come out and, for those of us who live north of the Tweed, that is about as good as it gets. Summer has, therefore, arrived, and it is just in time for the bucolic idyll of the East Neuk Festival.
There are few more agreeable places to spend the longest days of the year than in the East Neuk of Fife. It is a quiet corner of Scotland, tucked away between Kirkcaldy and St Andrews, beloved by locals but seldom visited by those further afield because it is not really on the way to anywhere. It doesn't have any train stations, and road connections are quiet, but that isolated atmosphere is part of the appeal. Its main attractions are its beaches and coastline, and it is mostly populated by miniature fishing villages with chewy, trisyllabic names like Anstruther, Cellardyke and Pittenweem. It is an unlikely location for a festival of world-class chamber music, but every June festival director Svend McEwan-Brown manages to lure big names to play to discerning crowds in blissful surroundings.
Take the Pavel Haas Quartet, for example. This quartet packs out halls in Prague, Vienna and Berlin, but on a beautiful sunlit afternoon you'll find them playing to a small audience in the village church of Kilrenny. What is more, there was no concession of quality: they brought their A-game to this small crowd in a remote place, reminding us why they are one of the finest quartets in the world today.
Watching them, as well as listening to them, you get much more of a sense of why they are so good, because they look at each other as much as they look at their scores, communicating with one another in a way that enriches their communication with the audience. Their Dvořák was full of surprises, bringing to life this composer's diverse genius with exploratory skill, taking us from the occluded atmosphere of the opening through to the sunlit vigour of the first movement; then from spidery scherzo into its meditative trio and gorgeous cantabile slow movement. Their Beethoven had the full sense of this composer's craggy genius, with an architectural breadth to the first two movements, and a high-wire scherzo which took us across the finishing line at the speed of light, neatly negotiating the sideways lurch that Beethoven hurls into the music's oncoming path just before the end.
The church at Kilrenny contains an unusually large amount of wood panelling for a Scottish kirk, increasing the resonance and making it a perfect venue for a string quartet, and it is a stunning coup of the festival to let audiences experience these artists at such close quarters and in such glorious technicolour.
Along the coast, Crail is the oldest of the East Neuk's boroughs, incorporated in the time of Robert the Bruce, and it served as the venue for an exciting new stage of the festival's development. For years they've run a 'Retreat' strand, which gives emerging musicians the opportunity to work with high level professionals. This year sees the first of their 'Next Step' Retreat projects, bringing back two graduates of the scheme to have their own concert and participate in assisting the current crop of Retreaters. Diyang Mei's programme of solo viola music ranged from the spiky, experimental world of Britten's suites through to the unusual warmth of Reger's solo suite, bringing both to life with tone of chocolaty luxury. Benjamin Baker played Bach's monumental second Partita with unfussy cleanness, culminating in a stunning rendition of the great chaconne that seemed to range from the tolling of funeral bells through to upward leaps of joy, via all manner of technicalities that sound as though they should be impossible. They then joined forces for a dazzling finale of Johan Halvorsen's Passacaglia, a spiralling dance of joy that brought out the best in their playing and an audience reaction so enthusiastic that it involved foot-stamping. That is not something Crail Church sees very often!
Much like the Lammermuir Festival, whose venues you can see twinkling far away on the other side of the Firth of Forth, the East Neuk Festival's appeal lies in producing beautifully played music in unusual, out-of-the-way venues. As well as the little churches above, they have also begun a concert strand at the Bowhouse near the village of St Monan. It spends most of the year as a warehouse for farmers' produce and artisan food markets, but the festival have cottoned onto its potential for larger scale performances, and it makes for a surprisingly effective concert space.
That  is especially so when the opening act is by a Fife composer, played by a Fife band and conductor. In fact, the Tullis Russell Mills Band is (I believe), the oldest surviving industrial band in Scotland. Founded to boost morale after the First World War, they are celebrating their centenary this year, and they opened this year's festival with director John Wallace's arrangement of music by the Earl of Kellie, who was born just up the road in Kellie Castle. He was a popular composer in his day, and his opera The Maid of the Mill was a hit at Covent Garden around the time that Mozart stayed in London. I am not sure how he would have felt about it being played by a brass band, however. It is a big sound for rather small-scale music, and the clouds of notes tended to obscure the lines. The occasionally squelchy tuning didn't help either.
They sounded much better in a collection of Michael Nyman's film music, arranged by John Parkinson and played with real pizazz and lightness of atmosphere. In fact, Nyman's rhythmic chuggings suit a brass band remarkably well, with rhythmic bounce and angular contortions that really brought the rhythms to life, and I loved their playing of Nyman's joyous In Re Don Giovanni, a delicious realisation that unwittingly brought a huge grin to my face.
A completely different sound world was on show for Mozart's 'Gran Partita', played by the crack team of Ensemble Marsyas. This wind ensemble, who play 18th-century wind music on period instruments, was formed by bassoonist Peter Whelan, formerly of the Scottish Chamber Orchestra, so he knows the territory well. He hand-picked an ace team of colleagues for this performance, and it oozed class from every quaver. The slow opening had a quiet majesty, like the wind filling the sails of a ship, and it set the tone for a performance that seemed to inhabit this music from the inside out. There was a lively kick to both Menuets, and the slow movements had blissful stillness, while the finale was the closest thing to a smile you will ever hear. The period instruments gave an earthy, slightly dusky feel to the music – I especially loved the rasp of the horns – but every grace note was articulated with delightful precision, and the whole performance carried the collective impetus of a team effort.
This festival is a real jewel, bringing the highest quality to a beautiful corner of Scotland at the turning point of the year. It is definitely worth checking out. Keep it to yourself, though: we don't want everybody else finding out.
Simon Thompson
The 2019 East Neuk Festival runs to Sunday 30th June. For full details click here.