Germany Dresden Music Festival) 2019 [5] – Vivaldi, Handel: Sabina Puértolas (soprano), Xavier Sabata (countertenor), La Folia Barockorchester / Robin Peter Müller (violin, direction), Frauenkirche, Dresden, 6.6.2019. (MC)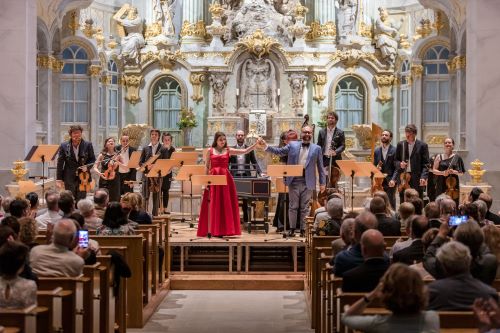 Vivaldi – Concerto in G minor Per l'Orchestra di Dresda, RV 577; Concerto in D minor con molti istromenti, RV 566
Handel – Il duello amoroso, cantata for soprano, alto and orchestra, HWV 82; Sinfonia from opera, Scipione, HWV 20; 'Scoglio d'immota fronte'. Aria for Berenice from opera Scipione, HWV 20; 'Otton qual portentoso fulmine' and 'Voi che udite il mio lamento' (Recitative and aria for Ottone from opera Agrippina, HWV 6); 'Il mio crudel martoro' (Aria for Ginevra from opera Ariodante, HWV 33); 'Vivi tiranno!' (Aria for Bertarido from opera Rodelinda, HWV 19); 'Io t'abbraccio'. Duet for Rodelinda and Bertarido from opera Rodelinda, HWV 19
My experience of attending concerts in the magnificent Frauenkirche has been a consistently favourable one and to say that I was looking forward to this concert performed by early music specialists was an understatement. Beautifully balanced, the programme comprised of recitatives and arias from Handel operas and cantatas sung by soloists Sabina Puértolas and Xavier Sabata interspersed in each half with a Vivaldi concerto.
My first encounter with the voice of Catalan countertenor Xavier Sabata with his compelling album Catharsis and only a few weeks ago another late-Baroque collection titled L'Alessandro amante on Aparté. On the other hand, soprano Sabina Puértolas from Zaragoza in Spain was a new name to me, and I was delighted to make the acquaintance of a singer of such elevated quality. I was pleasantly surprised just how quickly the two singers got into their stride, clearly relishing the beautiful surroundings of this justly famous church. In the first half the stylish Sabata wore a light blue jacket with grey trousers then after the interval changed to a crimson velvet jacket with black trousers. Sabata demonstrated his appealing countertenor which has a glowing warmth and is quite easily produced without evident strain. His voice when combined with his commendable acting ability made for a persuasive portrayal of the text. If I had to single out just one of Sabata's arias for special praise it is Bertarido's aria 'Vivi tiranno!' from Rodelinda with a heroic performance full of fire with focus and well controlled coloratura.
Conspicuously the audience soon took Puértolas to their hearts and she was in quite ravishing form all evening making every note count in what felt like a masterclass of virtuosity and interpretation. Bright in the high notes, able to fire out coloratura with focus, her mid to low range is excellent too with a slightly dusky tone to her lowest reaches. Puértolas provided my highlight of the evening with Ginevra's aria 'Il mio crudel martoro' from Ariodante. Her ability to create and sustain the tension was compelling and striking was her phrasing and extended high notes. Another major attribute was Puértolas acting ability which made everything she sang feel convincing, together with an innate ability to move the listener. For the first half Puértolas was robed in a red gown and after the interval appeared in a stunning black number. It was the performance of the final work of the evening Rodelinda and Bertarido's meltingly affecting duet 'Io t'abbraccio' from Rodelinda that brought the audience to its feet. The chemistry between Puértolas and Sabata was unmistakable as they sang so intimately whilst slowly walking down separate aisles towards each other before meeting and stepping on to the stage. Puértolas and Sabata repeated the duet for their encore and the effect was similarly moving.
Dresden based period-instrument orchestra La Folia Barockorchester was directed from the baroque violin by its artistic director and founder Robin Peter Müller. All eighteen musicians of La Folia played authentic instruments or modern copies with string instruments fitted with gut and using period bows. Especially striking were the vivid tone colours produced by the period woodwind. La Folia performed resolutely, full blooded at times, with freshness and unerring vitality, which didn't come at the expense of style and expression. It was easy to feel that La Folia's collaboration with Puértolas and Sabata was a true meeting of minds.
This Frauenkirche concert of secular baroque music was something to treasure with Sabina Puértolas and Xavier Sabata having the audience in the palm of their hands.
Michael Cookson