United Kingdom Verdi, Un ballo in maschera: Soloists, Cast, Opera Holland Park Chorus, City of London Sinfonia / Matthew Kofi Waldren (conductor). Holland Park, London, 12.6.2019. (CC)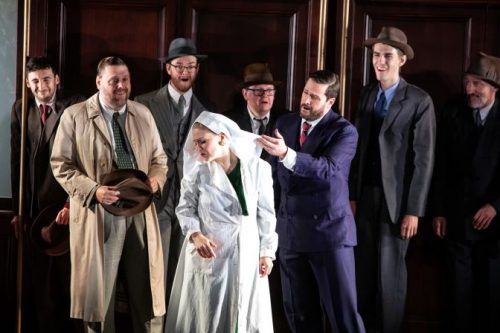 Production:
Director – Rodula Gaitanou
Designer – takis
Lighting – Simon Corder
Movement director – Steve Elias
Fight director – Bret Yount
Cast:
Amelia – Anne Sophie Duprels
Gustavo –Adriano Graziani
Anckarström  – George von Bergen
Oscar –Alison Langer
Madame Arvidson – Rosalind Plowright
Ribbing – Benjamin Bevan
Horn – John Savournin
Cristiano – Ross Ramgobin
Servant – Mike Bradley
A Judge – Ian Massa-Harris
Set in what appears to be the 1940s (as opposed to 1792 Sweden), Rodula Gaitanou's Un ballo in Maschera is a brilliant take on Verdi's opera. Perhaps the biggest surprise is the appearance of a hospital in the second act, instead of at the gallows outside of the town at midnight. In Gaitanou's reading, Amelia is being given a 'cure'. Gaitanou sets the opening scene as a fencing class, the Holland Park Opera Chorus in great, full voice while Steve Elias's choreography is impeccably thought-through and delivered. It all works well. Ballo is a difficult work to stage persuasively, and Gaitanou's thought-provoking insights will withstand many a viewing, revealing layer upon layer of depth. Simon Corder's lighting enabled shadow play to be a valuable part of the equation while takis's designs made the most of the placement of Opera Holland Park.
Inclement weather is a problem at Holland Park, as any downpours mean one has to strain to hear any subtleties from the orchestra while the rain lasts. It was a pity there was one such downpour early on, as what we did hear was full of life. Waldren is a fine conductor, as his La rondine, the season opener in 2017, indicated, and he clearly has a very good feeling for Verdi, both in the felicities of scoring and in the larger picture.
Soprano Anne Sophie Duprels has impressed here before, most recently in the titular role in Isabeau last year; prior to that, and again in Mascagni, she sang the title role of Iris in 2016. She was incredibly strong on this occasion, too: she has a real stage presence, and her voice can take on myriad colour as well as displaying real strength (her 'Morró, ma prima in grazia' from the third act being a case in point, here with Duprels working in tandem with an expressive solo cello). Duprels is very even across her range, a godsend in Verdi. As Gustavo, despite a promising start, tenor Adriano Graziani was clearly fighting a vocal problem, his voice threatening to disappear at one point (he recovered sufficiently to finish the opera, finding pathos in the bloody final moments). This vocal problem was a pity as he started off really strongly; it would be good to hear his assumption minus ailment.
Despite Duprels's excellence, she was nearly outshone by the fabulous Oscar of Alison Langer. She is a rising star, beyond doubt. I had enjoyed her Erodiade in the Guildhall production in 2014 of Stradella's San Giovanni Battista (review) and it is good to see that the trajectory is on course; she also played the role of Violetta (La traviata) in last year's Young Artists performance, which gives an idea of her ambition. Completely convincing both in terms of acting and vocally, she took the trouser role of Oscar with brilliance; vocally, her pyrotechnics were of the very first order. That first act of Traviata last year must have been something else.
George von Bergen, who had been such a strong Cornelius in the Isabeau mentioned above, is a fine Anckarström. Lovely to see Rosalind Plowright there, fabulous in all senses as the fortuneteller Madame Arvidson, her voice strong in its lower reaches, her presence undeniable. The smaller roles were well taken, the conspirators' leaders of Ribbing and Horn (Benjamin Bevan and John Savournin) dramatically strong.
The City of London Sinfonia gave the best of itself in response to Waldren's direction. Opera Holland Park continues to stimulate in the very best possible way.
Colin Clarke
For more about Opera Holland Park click here.