Switzerland Verdi, Nabucco: Soloists, Chorus of the Zurich Opera, Philharmonia Zurich / Fabio Luisi (conductor), Zurich Opera, Zurich. 23.6.2019. (JR)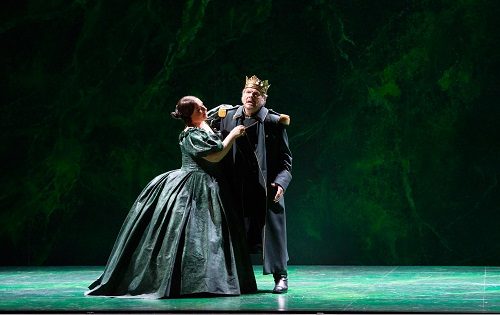 Production:
Director – Andreas Homoki
Sets – Wolfgang Gussmann
Costumes – Wolfgang Gussmann/Susana Mendoza
Lighting – Franck Evin
Scenic Assistant – Thomas Bruner
Chorus – Janko Kastelic
Choreography – Kinsun Chan
Dramaturgy – Fabio Dietsche
Cast:
Nabucco – Michael Volle
Ismaele – Benjamin Bernheim
Zaccaria – Georg Zeppenfeld
Abigaille – Anna Smirnova
Fenena – Veronica Simeoni
High Priest of Baal – Stanislav Vorobyov
Abdallo – Omer Kobiljak
Anna – Ania Jeruc
Nabucco is very early Verdi. In fact, it was only his third opera: his first, Oberto, in 1839 was reasonably successful, but a year later his Un giorno di regno was a complete flop (just one performance). Verdi vowed he would never compose again. It was also a time of personal tragedy: Verdi's wife (his first) died, as did his two children of that marriage. But then came Nabucco; Verdi was still only 29. His rivals had left the field to him: Rossini had stopped composing, Bellini had died (aged only 34); Donizetti, ill with syphilis, was still going.
The Italians identified with the fate of the Israelites in the story of Nabucco (whom we know as Nebuchadnezzar), who was King of Babylon from 605 to 562 BC; the Israelites were tormented by the Babylonians, the Italians in turn by the Austrians and by Napoleon. The Risorgimento (Italian unification) sought to consolidate the different Italian states into one nation and Verdi, politically active (he became a Senator) was a chief protagonist.
Producer Andreas Homoki brings the action in the opera forward by more than 2,000 years to the period of the Risorgimento. The Hebrews are the Italians, attired in light brown workers' garb and cloth caps; the Babylonians become the Italian Establishment, the ladies in beautiful ruched green gowns, the men in top hats and tails. That works to a degree but falls down when there are repeated references in the libretto to the idols of Baal, the destruction of the Temple and holding the Israelites prisoners.
The staging is dull, unless you like the colour green a great deal. It is a nice green, I have to say. The set is simple, curtains round the back of the stage and a giant slab of look-a-like (green) Italian marble, which rotates constantly, and occasionally partially descends. It is multi-functional: it depicts the wall of the Temple, the wall (no sign whatever of a Hanging Garden, unless you count the marbled effects) of the Babylonian palace, the prison wall. Moshinsky did something similar, a colossal revolving set of stairs, at the Met a few years ago.
The opera is not helped by an inane plot. Nabucco is attacking Jerusalem. Hebrew Chief Priest Zaccaria has kidnapped Nabucco's daughter, Fenena, who is in love with Ismael, nephew of the King of Jerusalem. Fenena has a jealous sister, Abigaille. She is in love with Ismael too. Abigaille (by pickpocketing her 'father' in this production) finds out she is not actually royal, but the daughter of a slave. Nevertheless she manages to seize power, as Nabucco goes mad (his wife died suddenly, as depicted during the overture). Nabucco recovers his senses, prevents the execution of his daughter Fenena by her evil sister Abigaille, renounces the idols of the Baal and finds God. It is a happy end for Ismael, Fenena and the Israelites – small wonder that this is a favourite opera in Israel.
Musically, the opera is rather weak (Verdi did not start composing his truly great operas until some 12 years later). Apart from the very famous chorus and unofficial Italian national anthem 'Va pensiero' ('Chorus of the Hebrew Slaves'), there are no memorable melodies. There is some music which reminds inappropriately of cowboys, rodeo, and an oompah band. Homoki sets these to Keystone Cops antics, with hordes of Hebrews running round his wall making some inexplicable hand movements. Fenena at one stage, fearing sexual abuse by her captors, is reduced to her underwear. It is all rather tiresome.
Vocally, the performance was uneven. On the plus side, Georg Zeppenfeld's sonorous and imposing bass was first-rate throughout. Benjamin Bernheim's sturdy, firm tenor never fails to please, though he gets little to sing after the interval. Omer Kobiljak sang a forthright Abdallo.
Michael Volle had to shout a lot to sound authoritative, which was a pity. The chorus was so large, the orchestra so loud, that he had to raise his decibels to be heard, which meant that after the interval he became hoarse. His fine acting skills carried him through but by the end he looked washed out: not his finest hour.
Veronica Simeoni was a decent Fenena, intonation spot-on, but rather underwhelming. It is not much of a part.
Originally, the meaty part of Abigaille was to have been sung by Catherine Naglestad, but she pulled out just before rehearsals citing family reasons. Perhaps though she felt the role was too demanding; it would have been her role debut. Russian mezzo Anna Smirnova stepped in bravely. Although Smirnova is generally recognised as a fine Verdian, this role – at least on short notice – proved too hard for her. Descending scales and coloratura were clumsy, there was a tendency to shrillness; intonation was too often flat, top notes omitted or – if attempted – missed. Smirnova did improve after the interval, but by then the damage had been done. (Callas was an Abigaille par excellence, even though she thought the opera 'a big bore'). Smirnova goes on to sing Abigaille at the Semperoper; she will need to work on her arias before then. I have heard Smirnova as Ortrud in Lohengrin (which she repeats next season); she is very fine in that role. I also have no problem with her acting skills; she does 'evil' well.
The chorus (swollen by extra singers) were in very good form, but often too loud. Their 'Va pensiero' chorus was, however, beautifully controlled dynamically, with a long quiet hum at the end; they deservedly got the best applause of the night. No encore.
Fabio Luisi was expectedly dependable in the pit; there were some timing issues, which will be ironed out in later performances, no doubt. Luisi made what he could of the somewhat meagre score.
Not one of the nights I shall fondly remember at the Zurich Opera.
John Rhodes