Germany Puccini, Manon Lescaut: Soloists, Deutsche Oper Chorus and Orchestra / Sir Simon Rattle (conductor), Deutsche Oper Berlin, 12.6.2019. (JMI)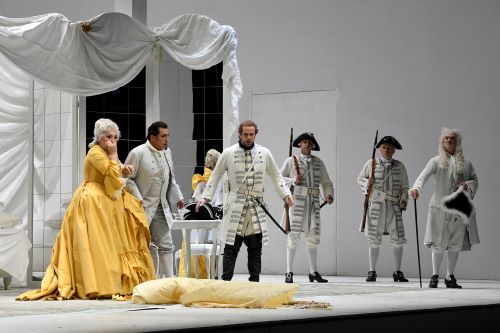 Production:
Direction – Gilbert Deflo
Sets and Costumes – William Orlandi
Cast:
Manon Lescaut – María José Siri
Des Grieux – Jorge de León
Lescaut – Thomas Lehman
Geronte – Stephen Bronk
Edmondo – Ya-Chung Huang
Dance Master – Burkhard Ulrich
Musician – Amber Fasquelle
Innkeeper – Noel Bouley
I am back in Berlin to attend the final operas of the season. The Deutsche Oper program features this Manon Lescaut under the direction of none other than Sir Simon Rattle, to be followed by Verdi's Otello and a new production of Massenet's Don Quichotte. And the operas continue at the Staatsoper with a Tristan und Isolde conducted by Daniel Barenboim and a new production of Rigoletto. Perhaps it is not an irresistible line-up for every opera lover, but it certainly is an appealing one for all.
This production of Manon Lescaut premiered here in 2004, and I had the opportunity to see it four years ago. The vocal cast was generally impressive and the musical direction was excellent: a good start indeed. There is nothing new to add regarding the Gilbert Deflo production, which I wrote about in 2015 (review click here).
The former director of the Berlin Philharmonic and one of the great conductors of recent years, Sir Simon Rattle is more often found in concert halls than in the pit of an opera house. I was surprised to read the announcement that he would lead these performances: he had conducted occasionally at the Staatsoper but rarely at the Deutsche Oper where, I believe, his last appearance was six years ago for Der Ring des Nibelungen. Once again, his leadership was magnificent – it was undoubtedly the best part of the evening, although there were other good things too. It is such a pleasure to see Sir Simon conduct, and I hope that it will happen again soon. Under his baton were the superb Chorus and Orchestra of the Deutsche Oper.
The character who gives name to the opera was sung by soprano María José Siri, who did very well in the part. Siri has an attractive middle range and shines in the high notes, although she can fall somewhat short in the lower range. She is also a solid interpreter. But in my case, I had the inconvenience of fighting with the memory of Sondra Radvanovsky, the protagonist here four years ago. Much as I enjoyed Siri's performance, I did prefer the American soprano on the earlier occasion.
Des Grieux was played by tenor Jorge de León, whom I found in excellent vocal shape, with an engaging voice and exhibiting no problems on the high notes. His interpretation of the role, however, fell a bit short.
Baritone Thomas Lehman did nicely as Lescaut, with a homogenous voice throughout the entire range. He once again confirmed the positive impression he had made on previous occasions – it is a pity that this character does not have an aria in which to shine.
In the secondary roles, Stephen Bronk repeated in the part of Geronte and was fairly modest in the part. Ya-Chung Huang has an attractive voice and was a correct Edmondo, as was the Innkeeper of Noel Bouley.
José M. Irurzun