United Kingdom Wolf-Ferrari and Tchaikovsky: Soloists, Chorus of Opera Holland Park, City of London Sinfonia / John Andrews (Wolf-Ferrari), Sian Edwards (Tchaikovsky). Opera Holland Park, London, 22.8.2019 (CC)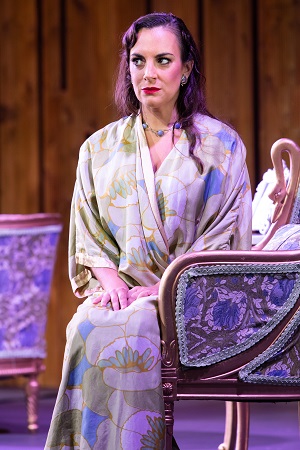 Wolf-Ferrari – Il segreto di Susanna

Production:
Director – John Wilkie
Designer – takis
Lighting Designer – Mark Jonathan
Cast:
Clare Presland – Countess Susanna
Richard Burkhard  – Count Gil
John Savournin  –Sante
Naomi Kilby & Kirsty McLean – Maid
Tchaikovsky – Iolanta

Production:
Director – Olivia Fuchs
Designer – takis
Lighting Designer – Mark Jonathan
Cast:
Natalya Romaniw – Iolanta
Mikhail Svetlov – King René
Count Vaudémont – David Butt Philip
Robert – Grant Doyle
Dr Ibn-Hakia – Ashley Riches
Alméric – Charne Rochford
Bertrand – Barnaby Rea
Marta – Laura Woods
Brigitta – Julia Hamon
Laura – Helen Brackenbury
What an amazing way for Opera Holland Park to bring its 2019 season to a close. This is a fairly long evening, hardly a problem when it represents Opera Holland Park at its very finest, and presenting two short operas enables two conductors, two casts and two production teams to shine.
The two works here are linked by their main protagonists being women who are suffering from societal constraints, and, indeed, the men around them; it is the revelation of the secrets (smoking and blindness) that form the basis of the narratives.
Wolf-Ferrari's Il segreto di Susanna came three years after the wonderful, frothy I Quattro Rusteghi (see my review of the Warner Fonit performance on disc here). It is an operatic Intermezzo in the tradition of Pergolesi's Il serva padrona. Susanna's secret is that she smokes, and much of the comedy is around her efforts to keep this from her husband, Count Gil. There are only two singing parts, Susanna and Gil; the other parts (the most important of which is Sante, the servant) are silent – and massively funny. The piece only lasts around 45 minutes, a comedy of errors in which Gil suspects his wife has another man, but the 'man' is nicotine. There is a typically Italianate, passionate row, an aria in praise of cigarettes, and the eroticisation of the act of smoking itself; sustaining the whole is a storehouse of slapstick energy. The production by John Wilkie, in conjunction with takis's designs, takes us to a place reminiscent of Upstairs Downstairs; the references to England continue with what surely must be a John Cleese Fawlty Towers reference in the splendid butler Sante, a role relished by John Savournin; along those lines, too, Gil, with his goggles in the opening moments, had something of the Peter Sellers about him, while his pink suit, well, just was. The maids, too, have their bit of fun.
The conductor Nairobi-born, Manchester-raised John Andrews, is new to me. He previously conducted Alice's Adventures in Wonderland for OHP. He has links with both the English Symphony Orchestra and the National Symphony Orchestra; he is a fine conductor, clear and with an in-depth knowledge of the score. Sitting near the front enabled one to appreciate the exactitude of beat, cues and sheer engagement with Wolf-Ferrari's score. More than that was the prevailing vivacity from the band: the Overture positively fizzed like OHP champagne; the lyrical lines had a freshness, as if composed yesterday. Andrews galvanised the orchestra to respond with quicksilver reflexes and precision attack.
The two vocal soloists were absolutely cast from strength. Clare Presland (who previously sang Varvara in OHP's Kat'a, was splendidly fresh; Richard Burkhard, who has taken previously a variety of roles from Figaro though Tomsky through to Cascard in Zazà, was a beautifully strong Gil. Both, along with their few stage companions, were hilarious. But that hilarity hinges on tight ensemble (like a good gag depends on timing), and that was present in spades. Burkhard's wonderfully warm voice was put to the service of a commanding assumption of the role, including a beautiful section in which he remembers how he and Susanna fell in love; Presland's response  to that was no less affecting. Presland herself was equally fine in her aria to the joys of smoking, where Wolf-Ferrari adds some of his most beautiful music. The music itself bends beautifully to each and every nuance, from full outpouring to Baroque-indebted cadence.
While there was much to admire in the earlier stages, it was in the latter sections of the opera that the performance really came together; it was impossible, then, not to be drawn in to the drama and the characters' emotions. A wonderful experience in an opera with a happy ending – they end up smoking together, lighting up to a melody first heard in the Overture.
Over to the world of heightened emotions, then, in Tchaikovsky's Iolanta. Blindness and isolation are underlined in Olivia Fuchs's fine production, with its neon-light maze (even the forest is made of light), its use of torches as flowers and blindfolded nursemaids. We suspend disbelief entering into this legend-like realm, wherein at the opera's opening Iolanta does not know she is blind – her father, King René, has seen to that. Four columns of fairy light are set apart from a transparent barrier (like a shower curtain, only clean) behind which we can see Iolanta's bed. This evocative set forms the backdrop of the drama. takis's lighting is masterly managed from one opera to the other; the brightness of the Wolf-Ferrari is in high contrast to the shadowy otherworld of the Tchaikovsky. The chameleon orchestra, too, is able to take us into another, more Romantic, world, with a simply beautiful cor anglais solo from Matthew Draper early on setting the scene. From Persil-white comedy to deep Russian melancholy is quite some way.
If ever an Iolanta was cast from strength, this is it. Natalya Romaniw, who forms perhaps another link to the first half in that her 2013 debut was in Wolf-Ferrari's I goielli della Madonna, and who has taken on Lisa (Queen of Spades) along the way, was a glowing titular heroine, full-voiced and passionate, absolutely inside the role, her long legato lines thrilling.
Iolanta is a dark fairy tale: it contains secluded garden, a trapped Princess, a mystical foreign doctor, Ibn-Hakia – who tells Iolanta the key is to believe she can get better and see. There is also a smattering of nobility (Robert is Duke of Burgundy, and betrothed at the start of the opera to Iolanta but actually in love elsewhere, and we have a Count in Vaudémont). The combination of claustrophobic microsociety in which Iolanta lives – trespassers into the forest are subject to termination – and her own isolation, palpably felt when Vaudémont explains Iolanta's blindness to her, form the basis of this dark reading. At one point, she wraps herself in the lights that fall from above, a gloriously emotive moment. Within this setting, Tchaikovsky's music glows, glowers and stretches.
OHP has mounted some triumphs in the past, but none surely eclipses this for sheer musical excellence. David Butt Philip has the heroic tenor required for his role of Vaudémont (forthcoming engagements include the title role in Lohengrin for Opera Australia, Florestan (Fidelio) for Glyndebourne and the Prince in Rusalka for ENO). His ardent delivery is married to a fine stage presence, resulting in a thrilling reading. No less impressive was the King of Mikhail Svetlov (previously an excellent Archibaldo in L'amore di tre re, Il Cileco in Iris and another King, Raimondo, in 2018's Isabeau). A splendid bass (he has elsewhere tackled the title role of Boris Godunov), he found an ardent aspect to the King who, despite the misguided actions, is passionate about guarding his daughter from her truth. Grant Doyle was a strong Robert, while Ashley Riches was a confident Doctor Ibn-Hakia. The smaller roles included a fine, clean and fresh Laura in the form of Helen Brackenbury and a strong Marta from Laura Woods. And as if to prove the strength of the cast, the final ensemble was absolutely radiant, in a musical as well as a literal lighting sense.
Sian Edwards led the performance with a sense of large-scale structure that was phenomenal; Tchaikovsky's invention was cogent, powerful and, in its intensity, cut straight to the soul. Her affinity for Tchaikovsky's melodic expression is beyond doubt. It's fascinating to be able to observe two conductors in one evening, too, both squeezing the very best from the orchestra.
One of OHP's greatest successes: this is what opera is all about.
Colin Clarke