United States Tanglewood [2] – Towers, Previn, Dvořák: Anne-Sophie Mutter (violin), Boston Symphony Orchestra / Andris Nelsons (conductor), Koussevitzky Music Shed, Lenox, MA, 6.7.2019. (RP)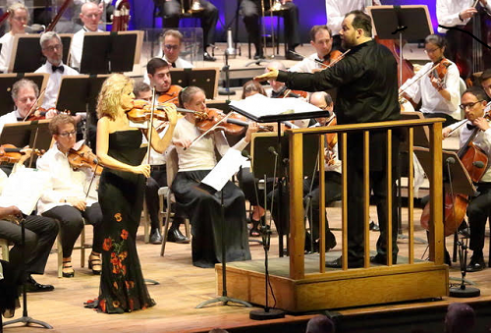 Towers – Fanfare for the Uncommon Woman No.1
Previn – Violin Concerto, 'Anne-Sophie'
Dvořák – Symphony No.9 in E minor Op.95, 'From the New World'
Tanglewood had intended to celebrate André Previn's ninetieth birthday in a big way with performances of his Violin Concerto 'Anne-Sophie' with Anne-Sophie Mutter (for whom he composed it) as the soloist, a screening of Vincent Minnelli's 1962 film, The Four Horseman of the Apocalypse, for which Previn wrote the score and Penelope, his collaboration with playwright Tom Stoppard, to be premiered by Renée Fleming and the Emerson String Quartet. Instead, these performances have become a memorial tribute to the composer, conductor and pianist who died on 28 February 2019.
Previn, who considered being a musician 'the best job in the world', had a long association with the Boston Symphony Orchestra and Tanglewood that dated back to 1977 and extended well into this century. At Tanglewood, where he taught and performed, all the facets of his extraordinary career, which encompassed classical, jazz, film, pop, musical theater and opera, were celebrated. Several of his works received their world premieres here.
In the program notes, Mutter writes that for over four decades Previn had been her musical companion and for 20 years her most cherished soulmate. He referred to her as his very best friend and described their relationship as 'the divorce that didn't work'. (They married in August 2002 and divorced four years later.) Composed in 2001 upon a commission from the BSO, the Violin Concerto contains sumptuous music with spinning melodies that weave in and out of the transparent musical textures of the orchestra. Even the second movement, which Previn described 'as more barren and acidulous than the rest', has stunning moments.
It was not Mutter's musicianship, the beauty of her sound or virtuosity that made this performance so special, but her emotional connection with the music. How could it be otherwise? High notes so sweet and pure, the soaring phrases that shimmered delicately and even the earthy, gutsier passages of the middle movement were her expression of love for the man who composed this music for her. Performances such as this remain in my memory forever.
The curtain-raiser was Joan Towers's Fanfare for the Uncommon Woman No.1, which she 'dedicated to women who take risks and are adventurous'. Composed in 1986, it was inspired by Copland's Fanfare for the Common Man and employs the same instrumentation (11 brass instruments, timpani, tam-tam and bass drum) with the addition of glockenspiel, marimba, chimes and more drums. Towers's fanfare is much more rhythmically charged than Copland's, but it has a similar innate grandeur and delivers much the same visceral impact in just three minutes. Appearing hale and hearty at 80, Towers was greeted with a wave of applause when she rose to take a bow.
Dvořák's New World Symphony regularly tops the list as one of the greatest and most popular symphonies ever composed, and Americans embrace it as their own. Without a doubt, it was the draw for most people who braved the weather at this concert. The audience had been restive and rambunctious throughout the performance, but now their enthusiasm overflowed. It is hard to begrudge those who hummed along to the beloved melodies in the first two movements and, as with the Previn, applause erupted after each movement.
Without a doubt, however, Nelsons led the most European sounding New World Symphony that I have ever heard. In the third movement, he emphasized Dvořák's Wagnerian touches, while in the finale the spirit of Beethoven emerged loud and clear. Nelsons is a great musical sculptor, who carefully crafts a seamless fabric of musical ebbs and flows in which the tension mounts inexorably. Nowhere was this more evident than in the fourth movement. As grand as they are, however, the thrilling final chords are not the end of the piece.
I will take an engaged audience over a bored one any day, but it would have been nice to savor those final few moments which Nelsons tapered so beautifully without the intrusion of applause.
Rick Perdian
For more information on the 2019 Tanglewood season, click here.