United Kingdom BBC PROM 14 – Haydn: Sarah-Jane Brandon (soprano), Benjamin Hulett (tenor), Christoph Pohl (baritone), BBC Proms Youth Choir (chorus master: Simon Halsey), BBC Philharmonic / Omer Meir Wellber conductor, Royal Albert Hall, London, 29.7.2019. (AK)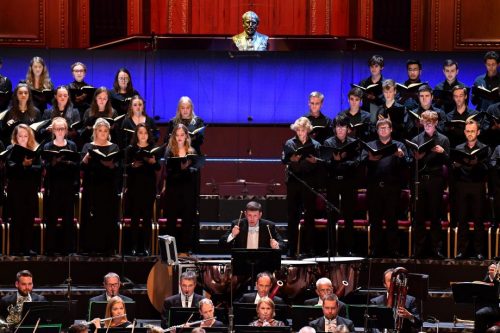 Haydn – The Creation
Having watched the TV relay of conductor Omer Meir Wellber's Proms debut with works by Mozart, Ben Haim, Schoenberg and Schumann (Prom 7, review click here), I was very much looking forward to experience his evident talent and expertise, again with his BBC Philharmonic orchestra. However, my expectation soon turned to disappointment as well as to bewilderment.
Apart from a few bars here and there, this time Wellber did not conduct; he supposedly gave musical direction first from the harpsichord (Part I) and then from the fortepiano (Parts II and III). However, the very large number of performers made this idea impractical: chorus and orchestra could neither see nor hear Wellber. Even worse, Wellber's harpsichord technique – that is hitting the keys from exceptionally high and simultaneously moving his upper body up and down – coupled with the inaudible harpsichord sound in the vast auditorium made him look like a character from a comic Marx Brothers film.
I am puzzled by the change of harpsichord to fortepiano from the start of Part II. At this point of the story we are still with the narrations of the three archangels; the Adam and Eve stage comes only in Part III. I am totally bewildered by Wellber playing all way through, from first note to the last, including the grand chorus numbers. Arguably he should have conducted and left continuo playing to a keyboard player. It was an astonishing miracle that the performance did not fall apart (except in a few places for a few seconds). To be more precise, the amazing skills of the BBC Philharmonic orchestra and the utterly astonishing contribution of the BBC Proms Youth Choir saved the day.
The heroes of the evening were, without doubt, members of the BBC Proms Youth Choir. Over two-hundred in number and drawn from four choirs – BBC Proms Youth Choir Academy, RNCM chorus, University of Birmingham Voices, University of Manchester Chamber Choir – their ensemble was exemplary, their pitch was excellent and their tonal variations were spot on. It is astonishing that they managed all their entries in spite of the conductor giving less direction than what would be usual with such a large ensemble. There was one charming definite movement for bringing in the choir: when the baritone was singing Raphael's recitative before the conclusion of Part II, at his words '…und der himmlische Choir feierte…' ('…and the heavenly choir in song divine…') he turned to the choir and indicated with his hand that they should rise.
Musically the performance was varied and arguable. I loved some of Wellber's tempi but disliked others. The contrasts between loud and soft, between the harsh and gentle were convincing, often exciting. There were some magical moments such as the beautiful orchestral pianissimo at the words 'Mit Leisen Gang' (With softer beams') in Uriel's accompanied recitative on The Fourth Day. However, in some of the recitatives Wellber treated the continuo part as a solo piece for fortepiano: there were too many ornaments, flourishes and arpeggios for instance in Raphael's and Uriel's recitatives on The Sixth Day.
On the other hand, principal cellist Peter Dixon was very discreet but fully supportive with his continuo playing.
I dislike Wellber's tampering with the score. I do not understand why Adam's last recitative 'Nun ist die erste Pflicht erfüllt' ('Our duty we performed now') was spoken rather than sung and why Eve in her response part-spoke, part-sung. I don't understand why Uriel's last recitative (before the final chorus) was suddenly spoken in what sounded like Cockney English (rather than sung in German). And why did the chorus sing their final number in English? I couldn't help wondering whether Wellber had in his mind Schikaneder and Mozart's Magic Flute.
All three solo singers treated the performance with obvious respect and dedication. However, they offered different qualities. Baritone Christoph Pohl seems to have owned his parts both as Raphael and Adam. He is economical with his soft-grained sound but rises to the occasion when he needs to project strongly. A fine artist with musical intelligence and perfect diction, he gave me true pleasure. He set the tone with his pensive and devotional delivery of his first recitative 'Im Anfange schuf Gott Himmel und Erde' ('In the beginning God created the heaven and earth').
Tenor Benjamin Hulett is well versed in baroque/classical style and has admirable technique (and lung capacity) at his disposal. His bright tenor voice was perfect for his first entry 'Und Gott sah das Licht' ('And God saw the light') and he astonished me in his first aria 'Nun schwanden vor dem heiligen Strahle' ('Now vanish before the holy beams') by holding his long notes with perfect mastery while effortlessly producing the crescendo and decrescendo baroque effect on a single note. This style of delivery was repeated in other relevant tenor solos throughout the performance. On the single word 'Harmonie' (in Uriel's accompanied recitative at the start of Part III), Hulett produced numerous tonal colours: it was as beautiful as breath-taking.
To me it seemed that soprano Sarah-Jane Brandon was not as well suited as her partners; unlike them, she seemed to have some vibrato on all her notes. Perhaps owing to her vibrato I found her pitching less clearly defined than that of Pohl or Hulett.
I cannot praise the BBC Philharmonic orchestra enough. Their wind soloists were fully integrated with the score; it is hard to find more beautiful flute, clarinet and bassoon solos or more reliable and uplifting trumpet and horn solos than what we heard on this occasion.
I was surprised to see many latecomers allowed in at the start of The Second Day of the narrative. However, this liberalism seems to be the norm in many concert halls. Hopefully it will not become the norm in opera houses too.
Now a word of praise for alto Lucy Farrimond, a Manchester University student, who came out of the chorus to join the three solo singers in the final chorus. It is a small part, which is usually inaudible owing to the large forces singing and playing at that point. Lucy's name does not appear with the three soloists in the programme notes, but I wish to offer my appreciation to Lucy and to her two hundred colleagues in the magnificent, heavenly chorus for the evening. Choral singing's future is in good hands.
Agnes Kory