United Kingdom 2019 Tanglewood Music Festival [4] – J. S. Bach: Hilary Hahn (violin),  Seiji Ozawa Hall, Lenox, 10.7.2019 (CSa)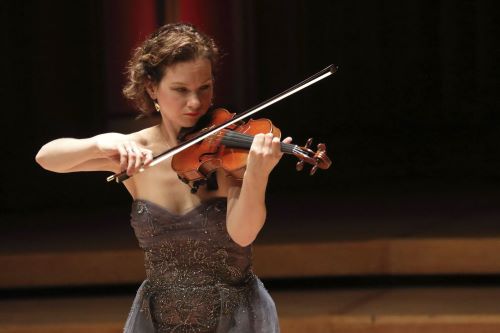 Bach – Sonata No:2 in A minor, BWV 1003; Partita in E, BWV 1006; Sonata No: 3 in C, BWV 1005
'It's easy to be a prodigy' Pulitzer Prize and Grammy Award winning concert violinist Hilary Hahn once said, 'but it's really hard to keep pushing in new directions'. A paradox then, some might think, that Hahn has chosen to devote much of the last year to the six sonatas and partitas of JS Bach, which she has played with regularity since she was 9 years old, and has since recorded extensively. Yet Bach is an eternal wellspring of musical renewal, so Hahn's return to this these profound sources of inspiration should be regarded as an exciting opportunity for personal development, and nothing less than a revelatory push in a new direction.
With perfect grace and poise, Hahn took her place on the platform of Tanglewood's packed Ozawa Hall last week to play an all-Bach programme. Swaying gently, and moving her bowing arm with extraordinary fluidity, she played with an almost ethereal purity of tone and flawless phrasing. Starting with the Sonata No.2 in A minor, Hahn gave us a measured, introspective Grave followed by a dance-like but noble Fugue, in which contrapuntal melodies played simultaneously on different strings, appeared to sound as if they were being played on separate violins. An inexpressibly poignant Andante was followed by a brisk, sparking Allegro.
Hahn's account of the famous Partita in E was a nuanced study in light and shade – at once exuberantly buoyant and achingly sad. It made one want to dance and cry at the same time, as only Bach's music can.
The recital ended with a sublime rendition of the Sonata in C. The heart wrenching opening Adagio, with its rich harmonies and dissonances, rang out with rare intensity. The energetic Fugue was magnificently played – a triumph of contrapuntal skill. The serene Largo provided a much-needed moment of tranquillity before the final movement, a joyful Allegro assai played at lightning speed.
'One can't fake things in Bach' Hilary Hahn once claimed, 'and if one gets all of them to work, the music sings in a most wonderful way'. The music certainly sang wonderfully for those of us lucky enough to be present at this unforgettable Tanglewood recital, and to witness an extraordinary musician finding new directions in her return to Bach.
Chris Sallon