United Kingdom Cilea, L'arlesiana: Soloists, Chorus of Opera Holland Park, City of London Sinfonia / Dane Lam (conductor). Opera Holland Park, London, 20.7.2019. (CC)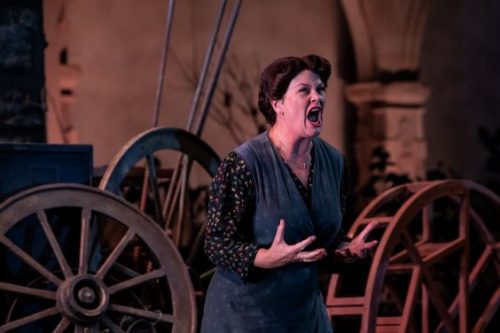 Production:
Director – Oliver Platt
Designer – Alyson Cummins
Lighting designer – Rory Beaton
Movement director – Caitlin Fretwell Walsh
Cast:
Federico – Samuel Sakker
Rosa Mamai – Yvonne Howard
Vivetta – Fflur Wyn
L'innocente – Samantha Price
Marco – James Cleverton
Baldassare – Keel Watson
Metifio – Simon Wilding
Love in its various forms drives Cilea's rarely-heard L'arlesiana (The Girl from Arles): passion, maternal, and its shadow side, rampant jealousy. Rosa Mamai has two sons, one of which is described in the score as 'simple' and is taken in the role of L'innocente; the other, Federico, is the main male protagonist (unsurprisingly, given this is verismo, a tenor). Inspired by a play by Alphonse Daudet, L'arlésienne, the opera is set in a small village that contains huge emotions, Premiered in 1897 in Milan (at the Teatro Lirico), it starred Caruso, no less. That was the original, four-act version; the more usually heard three-act structure followed a year later, but the final form was not settled until 1937, when the Prelude was added. L'arlesiana predates Cilea's other notable success, Adriana Lecouvreur.
Federico is in love with a woman from the nearby town of Arles, which worries his mother (Rosa Mamai). Rosa's god-daughter, Vivetta, is in love with Federico; in the early scenes we are introduced to 'L'innocente,' who is saved from falling from a window ledge. Enter Metifio, the lover of the woman from Arles, but who has been rejected by her family when Federico came on the scene. Two letters, which play an important part in the story, are revealed as proof of their relationship – the first act ends with Federico in possession of the letters, devastated.
He disappears, distraught; Rosa persuades Vivetta to seduce Federico. L'innocente and Baldassare find Federico, but Vivetta takes over and declares her love. Rejected, she asks for Rosa's help who, instead, gives consent for Federico to marry the woman from Arles. Moved, he says he can only love a woman who is worthy and asks Vivetta to help him forget L'arlesiana. (We never see the woman of the opera's title in the actual opera itself!)
The third act begins with Vivetta and Federico's wedding. Jealousy rears its ugly head though when Federico overhears Metifio's plans to kidnap the woman from Arles, and attacks Metifio; later, he comes close to madness as he imagines the woman from Arles being carried away by Metifio. Imagining the cries of the woman from Arles, he climbs the hayloft, Rosa trying to save her son, but he shoots himself and falls, Tosca-like, out of sight.
The setting of Cilea's opera is ostensibly the late 1800s in Italy; Alyson Cummins's designs (for Oliver Platt's production) seemed to imply rather later, a village in Second World War Italy, perhaps. The stage space is fully utilised, lighting is splendidly atmospheric. This is the epitome of verismo: real emotional problems – albeit terminally amplified – in a humble setting. As Samuel Sakker, who sings the male lead of Federico, says in an interview reprinted in the Opera Holland Park booklet, 'it is a story that will resonate with anyone who's ever had a bad break-up, or an overprotective or overbearing mother'. Sakker himself has a great voice, as his Act II lament 'È la solita storia del pastore' proved beyond doubt. His acting does not quite match the voice, though; he is slightly awkward and stiff onstage, not absolutely convincing.
When the opera was done at Holland Park in 2003, it was Rosalind Plowright who took the role of Rosa Mamai. Here it is another well-respected, experienced singer, Yvonne Howard, who becomes the very incarnation of the matriarch. Howard's Act III 'Esser madre è un inferno' was a masterclass in impassioned verismo singing, a solo scene shot through with heartfelt emotions, her pleas to God to watch over her son incredibly moving. Howard's voice feels in full bloom, yet has the impression of age to fully embrace the mother aspect; a word for the orchestra here, whose quiet and controlled strings at the scena's conclusion held the audience to silence. It was one of those operatic moments one lives for.
This was a L'arlesiana cast from strength. Keel Watson's Baldassare, who begins the opera by narrating a story to L'Innocente, shone, especially in the second act, where his injunction to come to the mountains was heart-wrenching. Generous throughout of soul and spirit, Watson has been associated with OHP since 1998 (Tonio in Pagliacci), and future plans include a Zuniga (Carmen) and The Bonze (Madam Butterfly) for ENO. He is a huge presence, both vocally and dramatically.
Fflur Wyn, who impressed as Lakmé in Delibes' opera of that name in 2015 (review) took a little while to warm in here as Vivetta, but this soon developed into a major reading. She looks and sounds fresh and young – perfect for the role, and absolutely believable musically, too. Samantha Price was an excellent in the vital role of L'innocente, whose 'awakening' plays a vital part in the final stages of the drama (it's a boy role taken by a woman). Simon Wilding was brilliantly convincing as the smoking, drinking Metifio. James Cleverton has established himself as a solid, reliable interpreter (Kyoto in Iris, 2016 and Bussy in Zazà, 2017) and continued the trend here as  a strong-voiced Marco (Rosa's brother).
Cilea has a natural aptitude for drama; the music moves ever forward and, despite the presence of set arias, the feeling of a through-composed edifice is clear. The performance is helped infinitely by the clear direction of Australian-Chinese conductor Dane Lam, who studied with Sir Mark Elder at the RNCM as well as with James DePriest at the Juilliard; he has worked as assistant to Kurt Masur at the Orchestre National de France. One aspect of Lam's clarity is his expressive beat, but another is his vision of the score. The Act I Prelude was impeccably sculpted; Lam knows how to shape verismo phrases.
The Chorus of Opera Holland Park, whether on-stage or off-stage, villagers or wedding guests, was in fine fettle, as ever seems to be the case these days, the rapid-fire opening of the final act brilliantly done.
In short, a fabulous evening: radiant music ardently performed in the beautiful setting of Kensington's Holland Park.
Colin Clarke