United States Scott Davenport Richards, Blind Injustice: Soloists, Members of the Young Professionals Choral Collective, Cincinnati Symphony Orchestra / John Morris Russell (conductor), Wilkes Auditorium, Cincinnati, OH. 22.7.2019. (RDA)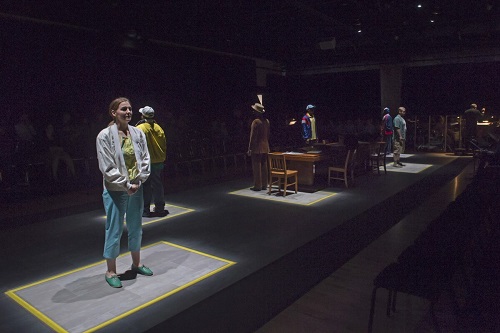 Production:
Stage director and dramaturge – Robin Guarino
Production designer – Andromache Chalfant 
Lighting designer – Thomas C. Hase 
Cast:
Prosecutor – Joseph Lattanzi
Defense Attorney – Samuel Levine
Nancy Smith – Maria Miller
Laurese Glover – Terrence Chin-Loy
Derrick Wheatt – Sankara Harouna 
Eugene Jonson – Miles Wilson-Tolliver                     
Clarence Elkins – Thomas J. Capobianco
Rickey Jackson – Eric Shane
With Deborah Nansteel, Victoria Okafor, Morgan Smith, and Joseph Parrish
In Blind Justice, a variety of characters are subjected to sorrowful vagaries of the American legal system. Laurese Glover, Eugene Johnson, and Derrick Wheatt are witnesses in the shooting of a man, and in spite of tainted evidence are all three wrongfully convicted. Clarence Elkins, accused of the murder of his mother-in-law and the rape of her young granddaughter, is imprisoned in spite of any evidence and wrongfully convicted. Similarly, Rickey Jackson is falsely singled out in a police lineup. Nancy Smith, a Head Start bus driver from Lorain, is falsely accused of molesting children — all are wrongfully convicted.
Every one of the six convicted persons tells — through David Cote's potent libretto and Scott Davenport Richards's emotionally charged score — their stories of incarceration, exoneration, and redemption in Blind Injustice, a memorable world premiere that Cincinnati will likely remember for a long time.
Opera Fusion is the partnership created by Cincinnati Opera and the University of Cincinnati's College-Conservatory of Music to stimulate the development of new American operas, and they certainly have a winner with this one. The book Blind Injustice by Mark Godsey — a University of Cincinnati law professor and director of the Ohio Innocence Project — provides the opera's inspiration. The focus is on the visceral rather than the legal details, which makes a riveting experience in its 90 minutes.
Director Robin Guarino stages it boldly, with the audience seated on both sides of a long playing area. At one end of the room sit the members of an ensemble that comments on the dramatic proceedings like a chorus in a Greek tragedy, who often intervene in the action. Guarino masterfully maneuvers the large cast with a simple long table, a few chairs, and a handful of props, and creates stunning stage imagery.
The singing actors are accompanied by a sterling chamber ensemble made up of CSO players under the sensitive baton of John Morris Russell. Once more, he proves as good a conductor of opera as any genre he cares to pursue; in this case, a mix of lyrical vocal lines juxtaposed with modern, jazz-inflected instrumentation.
Richards's potent music and Cote's hard-hitting words bring two sides to the legal battle to life. The Defense, sung by the superb tenor Samuel Levine, earns an aria at the beginning, and the Prosecutor, beautifully acted and sung by baritone Joseph Lattanzi, does most of his vocal and dramatic work in an ongoing pro-and-con exchange of pro and con, both sung and semi-spoken.
A hardworking group of singing actors provides the vox populi, countering the unjust edicts of officialdom with anger, anguish, and argumentation. Standouts are the silvery-voiced soprano Victoria Okafor and the rich-voiced mezzo-soprano Deborah Nansteel.
The principals are top-notch, with mezzo-soprano Maria Miller dramatically and vocally memorable as Nancy Smith, and baritone Eric Shane impressive as death row inmate Rickey Jackson. Terrence Chin-Loy, Sankara Harouna, and Miles Wilson-Tolliver are all rock-solid rapping actors, unforgettable as Laurese Glover, Eugene Johnson, and Derrick Wheatt, a.k.a., the 'Cleveland Three'.
The Brechtian production design, scenery, and costumes by Andromache Chalfant are most effective, and greatly enhanced by the film-noir lighting of Thomas C. Hase.
Wrapping up its 2019 season, even while Porgy and Bess plays for several more performances on the stage of Music Hall, Cincinnati Opera does great justice to Blind Injustice.
 Rafael de Acha