Germany Munich Opera Festival [2]: Verdi, La traviata: Soloists, Chorus of the Bayerische Staatsoper, Bayerisches Staatsorchester / Marco Armiliato (conductor), Nationaltheater, Munich, 1.7.2019. (JMI)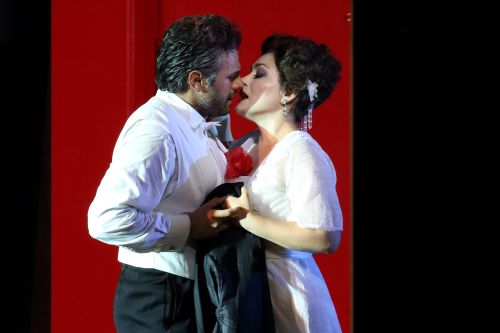 Production:
Director – Günter Krämer
Sets – Andreas Reinhardt
Costumes – Carlo Diappi
Lighting – Wolfgang Göbbel
Cast:
Violetta – Ailyn Pérez
Alfredo – Atalla Ayan
Germont – George Petean
Flora – Niamh O'Sullivan
Annina – Corinna Scheurle
Doctor Grenvil – Kristof Klorek
Gaston – Galeano Salas
Baron Douphol – Christian Rieger
Marquis d'Obigny – Hubert Zapiór
My stay in Munich got off to a bad start with the cancellation of Sonya Yoncheva in Norma. Unfortunately, the trend continued, and this time the defection came unexpectedly from the singer who was the great attraction of La traviata, Plácido Domingo. We only found out about it when someone appeared on stage with the announcement; he did not name the replacement because the new baritone had not yet reached the theater. Here's hoping that this will be the final cancellation and, if it is not, that it will not be Kirill Petrenko's turn with Salome.
This Günter Krämer production had its premiere in Munich in July 1993, and I believe this is the fifth Festival at which I have seen it staged. Here is what I wrote in 2012 (review click here).
I have always said that Marco Armiliato is one of the conductors preferred by the great opera singers, and there are excellent reasons for it. I had seen him conduct this opera in Munich before, and he was remarkable – as he was again on this occasion, and indeed whenever he conducts. He took good care of the pit and supported the singers while drawing a remarkable result from both the orchestra and the chorus.
Soprano Ailyn Pérez as Violetta was a convincing interpreter but a somewhat irregular singer. It has been said many times that La traviata requires three different sopranos: a light one in the first act, a full lyric for Act II and a dramatic soprano for the last act. There is a lot of truth in that statement. Ailyn Pérez was outstanding in Act II – the best singing that she offered in the whole opera. On the other hand, things did not work as well in Act I since she is not the light soprano required here. On more than one occasion she bordered on a scream and, of course, there was neither the famous top E that closes the act nor an alternative – she simply she went lower. She was good in the final act although I missed a wider voice here.
Alfredo was played by tenor Atalla Ayan, a light-lyric tenor with an attractive voice and a certain ease on stage. Sometimes he pushes a bit, and he is not brilliant in the high notes. In fact, he sang only one verse of the cabaletta in Act II, and he too ended by going downwards.
There is no doubt that the great appeal of this evening was the presence of Plácido Domingo in the cast as Germont. Hence the disappointment in the theatre when we learned of his absence due to illness. We were told at the first intermission that he would be replaced by George Petean, which proves the status of the Bayerische Staatsoper, able to engage a superb baritone on such short notice. Petean did very well, singing with gusto and giving meaning to his phrases. Under the circumstances one cannot be too critical.
The secondary characters were well covered in all cases. Niamh O'Sullivan did nicely as Flora, as did Corinna Scheurle as Annina. The Doctor Grenvil of Kristof Klorek was sonorous, and tenor Galeano Salas as Gaston made a good impression. Both Christian Rieger as Baron Douphol and Hubert Zapiór as the Marquis d'Obigny were correct in their parts.
The audience seemed very pleased with the results, with the biggest applause for Ailyn Pérez and George Petean.
José M. Irurzun