United States 2019 Tanglewood Music Festival [5] – Schumann, Brahms, Sibelius and Shostakovich: Gautier Capuçon (cello), Jean-Yves Thibaudet (piano), Ozawa Hall, Lenox, 17.7.2019. (CSa)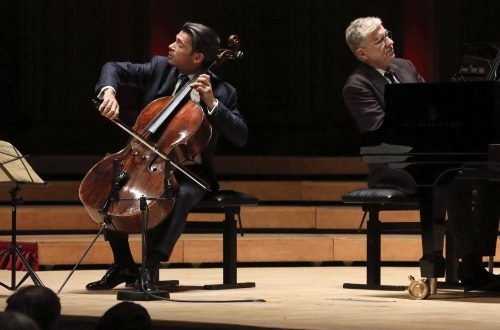 Schumann – Fantasiestücke, Op.73
Brahms – Cello Sonata No.1 in E minor, Op.38
Sibelius – Malinconia, Op.20
Shostakovich – Cello Sonata in D minor, Op.40
There was something unmistakably Gallic about the elegantly suited and booted Jean-Yves Thibaudet and Gautier Capuçon who played together in a well-attended Ozawa Hall recital on Wednesday night. Thibaudet, the older of the two men, sat tall, professorial and restrained at the keyboard. Capuçon, his shoulder length hair swept back save for the wayward locks hanging over his forehead, cradled his 1701 Matteo Goffriller cello closely and passionately. Save for two delightful lollipop encores – an extract from Richard Dubugnon's newly commissioned Concerto for Cello and Piano, and Massenet's Méditation from his lyric opera Thaïs – there was nothing French in a broadly chosen international programme featuring Schumann, Brahms, Sibelius and Shostakovich.
Schumann's Fantasiestücke, Op.73 which Capuçon has previously recorded with Martha Argerich, is a challenging work of great emotional range, and one in which Schumann uses a palette of infinite musical colours. The first piece of the set, marked Zart und mit Ausdruck (tender and with expression) was played by the duo with dreamy lyricism, Capuçon's expansive legato complemented Thibaudet's finely nuanced piano accompaniment. The second piece followed seamlessly and was perfectly in accord with the composer's directions: Lebhat, leicht (featherlight and lively) while the contrasting third piece, specified Rasch und mit Feuer (quick and with fire) was executed with lightning speed and passion.
Next came the Brahms Cello Sonata No.1 in E minor, a heavily textured work on an almost orchestral scale. It is said that when Brahms sat at the keyboard at a private performance of the work, the cellist complained the piano was so loud that he could not hear his own instrument. 'Lucky for you too' retorted Brahms as he ploughed on. Fortunately, Thibaudet showed his colleague greater consideration, the two players entering into a perfectly balanced partnership. The Allegro first movement was intended as a homage to J.S. Bach. Its rich and weighty fugue-like theme was exceptionally well-controlled by Thibaudet while Capuçon introduced a velvety song-like quality to his accompaniment. The subtle conversation between the two instruments in the contrapuntal final Allegro was simply enthralling.
Sibelius's rarely played Malinconia opened the second half of the recital. A desolate 12-minute piece, written following the death of his infant daughter, conveyed the composer's dark despair. Capuçon's cello created a sombre timbre alleviated only by a series of brilliant arpeggios from Thibaudet.
The artistic climax of the evening was the Cello Sonata in D minor by Shostakovich which concluded the formal part of the concert. Written in 1934 during a difficult period of separation from his wife, the opening Allegro is unexpectedly optimistic and unabashedly romantic. A first impression might suggest Brahms. It was played by the duo with great tenderness. The second movement – a raucous Scherzo – was beautifully contrasted with a resonant slow movement, while the dense counterpoint in the final dancing Allegro brought the work to a triumphant close.
Chris Sallon