United States Beethoven, Schubert: Nikolay Borchev (baritone), Wu Han (piano), Escher String Quartet (Adam Barnett-Hart, Brendan Speltz, Pierre LaPointe, Brook Speltz), Stent Family Hall, Menlo School, Atherton, CA. 19.7.2019. (LV)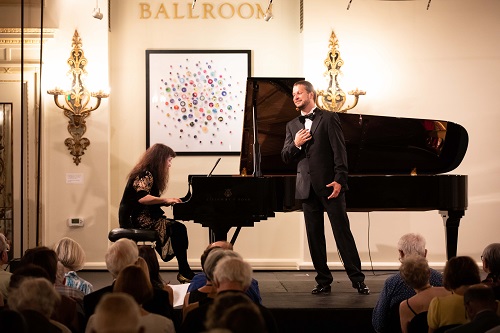 Beethoven – String Quartet in F Major Op.135
Schubert – Die Winterreise, Op.89 D.911
For Music@Menlo's third major program of its three-week season, artistic directors David Finckel and Wu Han took advantage of their riches to pair Beethoven's Op.135 by the Escher Quartet with Schubert's late cycle Die Winterreise from Nikolay Borchev and Wu Han. Significantly, it was the first time Wu Han had played the Schubert cycle, and the first time the Escher Quartet had played with Brendan Speltz as their new second violinist. In both cases, the results were enormously successful.
From the start, the Eschers' Beethoven was electric. Violist Pierre LaPointe's urgent, full-blooded curlicues set the tone for a sinewy, intensely-sculpted exploration that seemed to represent coaching truths of the Institute: Give phrases time to finish, and seek clarity without losing warmth. With Brook Speltz's lean athleticism on his two lower strings, and brother Brendan's pure intonation — plus evident joy in playing next to his sibling — the quartet achieved a transparency and intensity unusual on such a large scale.
They caught both the hectic brilliance and mystery in the Vivace, with Adam Barnett-Hart serenely soaring in the high-flying leaps and otherworldly harmonics, before a deeply felt Lento assai which felt — as it often does — too short. Their dialogue in the Muss es sein? finale was gruffly affirmative and exhilarating at the same time.
On the night before the concert, Michael Parloff — principal flute of the Metropolitan Opera Orchestra from 1977 until 2008 — offered an endearingly low-tech slideshow presentation. With a charming manner and remarkable verbal efficiency, Parloff brought the two scores alive in the context of Schubert's relationship with Beethoven through contemporary reports, musical analysis, and his own elegant reflections and illuminations. It was a mark of how seriously Music@Menlo takes its responsibility to include its community in the process of research and discovery —  the same process that the performers experienced themselves.
It was also a mark of how affectionately Music@Menlo regards its community that before Winterreise started, the affable cellist Dmitri Atapine offered tips on how to minimize noise while following the texts and translations in the 16-page booklet. The translations had been specially prepared by Finckel to prioritize 'accuracy over beauty, leaving Müller's poetry and Schubert's music to speak for themselves'.
Perhaps in part because of such a communal effort, the composer's own bleak tragedy haunted the proceedings from the start, and one felt that Borchev was the actual person being described. At times, he struggled to sing beyond mere beauty in order to capture his disintegrating emotional life. Earnest and shy, he made the pain very real. Wu Han's playing trembled with emotion, perhaps in response to Parloff's brilliant portrayal of the Schubertian landscape.
By chance, a local public station running Classic Arts Showcase (sort of like MTV but for classical music and dance) played a 1959 BBC video of Dietrich Fischer-Dieskau singing Der Lindenbaum with Gerald Moore. The legendary English pianist — who accompanied Elisabeth Schumann, Hans Hotter, Elisabeth Schwarzkopf, Victoria de los Ángeles and Pablo Casals — played with elegant simplicity, humanity and humility, setting up the singer. In both the deferential introduction and postlude, the principal of 'less is more' meant the pianist barely touched the keys.
The collaboration between Wu Han and Borchev was something different. She was his only reality. Her introductions and postludes were poignant and reflective, which fed a larger integrated flow — Borchev joined in rather than took over. It was Schubert the song composer that Beethoven could never be. We usually speculate: What if Schubert had lived longer? What if, on the hand, Schubert had been born earlier and like Beethoven, been a contemporary of Goethe and Schiller instead of Wilhelm Müller?
Laurence Vittes