Johannes Moser talks to Geoffrey Newman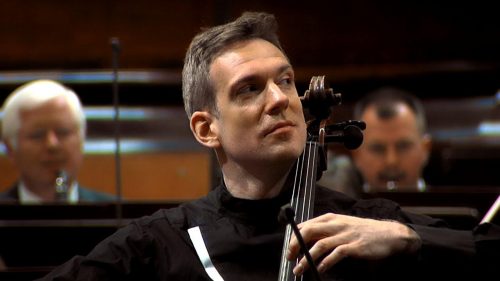 It is increasingly rare for today's young artists to come from a long musical lineage. For German/Canadian cellist Johannes Moser, however, music has been in his bones from birth – and indeed much before that. His Canadian mother is soprano Edith Wiens, who grew up in the Vancouver area, had a celebrated international vocal career and still teaches at the Juilliard School. His German father, Kai Moser. was a long-standing cellist in the Bavarian Radio Symphony Orchestra. The latter's sister was the well-known soprano Edda Moser, and their father was musicologist Hans Joachim Moser (1889-1967), the son of music professor Andreas Moser (1859-1925), himself a pupil and early biographer of legendary violinist Joseph Joachim.
Johannes Moser's principal teacher was Lithuanian cellist David Geringas, a student of Mstislav Rostropovich and the Tchaikovsky Competition Gold Medalist in 1970. Moser won Second Prize in the Tchaikovsky Competition in 2002 (no first-prize medal was awarded), followed by ECHO Klassik's Young Artist and Instrumentalist of the Year Awards in 2007 and 2008 respectively. His recording career started with Hänssler Classic, highlighted by the well-received 'Brahms and His Contemporaries' series in 2007, which fused Brahms's Cello Sonatas with works of more neglected composers of the time. In his ten CDs with Hänssler, the cellist did an estimable job of bringing more obscure cello sonatas to light, including those of Russians Mieczyslaw Weinberg and Boris Tchaikovsky and the British contingent of Bridge, Bax and Britten. The often-neglected cello concertos of Saint-Saëns, Martinů, Honneger and Hindemith were additional bounty. In 2015, Moser signed a contract with Pentatone Records, which has  yielded widely heralded readings of the Dvořák and Elgar concertos, plus a more contemporary pairing of concertos by Lutoslawski and Dutilleux. In 2019, Moser has released Bernard Rands's Chains Like the Sea with the BBC Philharmonic, a pictoral neo-modern work originally written for Rostropovich, and Works for Cello and Piano by Felix and Fanny Mendelssohn with pianist Alisdair Beatson.
Moser's concert schedule features both concerto appearances with the world's finest orchestras and duo and smaller ensemble collaborations with distinguished instrumentalists. He has formed a piano trio with pianist Yevgeny Sudbin and violinist Vadim Gluzman. Equally inspired by both the classical and modern repertoire, Moser maintains a youthful desire to bring the joy of music to diverse groups. This includes a recognition of the need for grass roots outreach and the importance of performing in smaller centers. He also plays the 'electric' cello. Uniformly praised for his tonal precision, range of technique and the faithfulness of his interpretative judgement, Gramophone deemed him to be 'one of the finest among the astonishing gallery of young virtuoso cellists'. Moser plays a 1694 Andrea Guarneri and is currently Professor at Hochschule für Musik und Tanz Köln.
This interview was an outgrowth of an adventurous recital in March 2019 with pianist Chiharu Iinuma that included Debussy and Brahms cello sonatas. It was sponsored by Vancouver's Music in the Morning series.
Geoffrey Newman: Let's start from the beginning. It must have been quite an experience growing up in an environment so full of music.
Johannes Moser: Yes, I heard all sorts of repertoire from the earliest age, coming at me from different directions. Even when I hear a Mahler symphony today, I recognize that the experience goes right back to my childhood. Naturally, I didn't distinguish Schubert songs from Mahler or other composers at that point. For me, it was all music and sound – the 'sound' of your childhood. Still I admit that something stuck in a way that I can't analyze or put into words; I absorbed a whole range of musical fragrances without being conscious of it. Even now, I hear a piece of music or am in a particular concert venue, and it is like a faint smell comes to me. You can't point your finger directly to it, but it's like, 'Oh yeah, this is a smell I've known from my childhood'.
GN: You must have also learned some firsthand lessons in career management as you grew up.
JM: I have two key examples in my life. My mother was still in her prime, but she gave her last concert in New York in 2000 when she turned fifty. She decided not to see her vocal decline, so to speak. On the other hand, there was Edda Moser, who sang into her sixties and let the public take care of putting an end to her career. With singers, it's quite tragic. The end is not as early as for ballet dancers, but it comes when the artists still feel they posses full capabilities of body and mind. Of course, I have thought hard about instrumentalists too: I am aware of the physical decline as one gets older, and the need to build some teaching or journalistic pursuit to fall back on. A lot of instrumentalists might consider conducting, not always to the betterment of classical music, I'd have to say!
GN: Your father played under some great conductors with the Munich orchestra. Did you ever see Rafael Kubelik?
JM: I saw Kubelik at the tail end of his career, and I remember when he was going back to the Czech Republic to conduct (his last) Má vlast. I watched it on TV, and it was very touching for my father because Kubelik was sort of his boss and his biggest influence to that day. He was also lucky to play under revered conductors like Eugen Jochum and, later, Lorin Maazel. Interestingly, for all Maazel's prodigious skill, he seemed to me to be a somewhat tragic figure, always frustrated in dealing with musicians who didn't have as much talent as he had.
GN: In your early musical studies, you experimented with the violin first before moving to the cello.
JM: Yes, I really didn't jell with the violin at all, but when I sat down with the cello at age six and felt the instrument so close to me with its warm low frequencies, I immediately felt great kinship. Of course, I had just a half-sized cello to begin, but even with less than full sound, it felt so much better than a squeaky violin. And I started loving to practice too. The passion of spending time with the cello and exploring its potential is something that remains to this day.
GN: I have always been impressed with the style and innovative spirit of your principal cello teacher, David Geringas. What was your experience?
JM: I studied with him for eight years, starting in 1997 when I was eighteen. He was a student of Rostropovich. I certainly learned much from his physical interaction with the instrument (though, since I am taller, our physicality differs), but I probably learned as much from what he was talking about as watching him. It was really quite an amazing experience. I try to play for my students as much as I can these days in the hope that the same thing happens. Geringas is one of those cellists who uses his full body in terms of sound production, and his playing does not come across as particularly analytical. Nonetheless, when he was teaching me the Beethoven or Mendelssohn sonatas, or the Russian masterpieces, he knew something about every note. He was quite moody, so he didn't always tell me what was on his mind or what I should do better, but the layers of knowledge that he had about every phrase and what he wanted to do with it were amazing. Interestingly, he didn't always do the same thing; he permitted a lot of room for improvisation, something I have greatly learned from.
GN: He certainly commissioned a lot of new works. This must have influenced your own approach.
JM: Well, his teacher, Rostropovich, left behind ninety commissioned works, so he was following in a tradition. Both cellists sought new music that spoke to them and, in doing so, were able to elevate their own playing. Rostropovich clearly could only get so far with standard concertos like the Dvořák; he needed additional modes of transportation. Shostakovich, Prokofiev, Britten and Dutilleux (among others) were able to create the vehicles to facilitate his larger-than-life energy and remarkable palette of expression. Geringas focused his commissions largely on Baltic composers, including Vasks and Tüür, not forgetting Sofia Gubaidulina. Anatolijus Senderovas's 'David's Song for Cello and String Quartet' was premiered on the cellist's sixtieth birthday, and it very much fit his idiom – his singing style and way of phrasing. But I think other commissions fared less well. He loved Dutilleux, but I am not sure he brought out the best side of this composer: his Prokofiev, on the other hand, was 100% him. He was clearly looking for the widest array of composers possible, but some of his commissions were not his kind of music, and his advocacy was limited.
GN: What have these insights taught you about the commissioning process?
JM: Well, as a fact, I already have twenty-seven commissions, so I am getting up there. But I often think about whether we need to commission a lot of new things when there are plenty of works that have only been played once and that we can actually revive and perfect. I think my rule is to search out composers who I genuinely feel I can express myself through. It is always an honour to have a celebrated composer write a piece for you, but I would resist if I know in advance that it will not fit my style; I couldn't do it justice.
GN: Just out of interest, did you ever meet Rostropovich?
JM: For five minutes after a concert in Hamburg. I couldn't say anything because I was so starstruck.
GN: So what was the experience of winning the second-place medal in the 2002 Tchaikovsky Competition like?
JM: Truthfully, it was one of the hardest experiences of my life. One basic reason is that they didn't really feed us. You could go to the cafeteria and order chicken, but I don't think it was really chicken they served. It was simply awful, whatever it was. I wish I could talk about inspiring moments but, at the end, I just wanted to go home. I was always very lightweight, only 65 kilograms when I went, but I came back at 59 – basically just bones. I certainly learned one big thing musically: that competitions are less about artistry and more about who messes up the least in the early rounds. You're trying to find a middle ground all the time that will get you the most votes, which means offending the least number of jury members. A certain mindset is necessary to succeed: you must tell yourself, 'Forget any of your own innovations: this is how I need to play and this is how I'm going to do it'. Competitors on the extreme may have some glowing admirers, but they will typically divide the jury and not move forward. With the knowledge and the passions I have now, somehow I doubt that I would be successful in competition. Your development as an artist requires you to define your own point of departure and path of exploration and this need not produce conventional or popular results.
GN:  Isn't this a pretty depressing prospect all told?
JM: Yes, if a competition winner does not develop some of his own artistry and move forward, then the next competition winner is just going to take over. Nowadays, there's a competition on every street corner: it doesn't matter if you win the Tchaikovsky, Van Cliburn or Honens, the next winner is already getting ready to surpass you. When my students gear up for competition, I tell them, 'Do it for the sake of advancing your knowledge about music and performance, but don't think that the world is necessarily going to call you if you win a medal'.
In my own case, I was astonished that so little happened after the Tchaikovsky Competition. I received few calls, so I soon had to try a different strategy: to audition for as many conductors as I could and see if one or two might invite me to play with them. Fortunately, I had access to the many fine conductors who came through the Munich orchestra for a concert, so I could approach them directly. I must have auditioned for thirty-five to forty maestros, and I was overjoyed that at least 80% invited me to play with them. Among these were Zubin Mehta, Lorin Maazel, Esa-Pekka Salonen, Sir Colin Davis, Jiří Bělohlávek and the list goes on. I was very grateful for this opportunity.
GN: As you see it now, is there any concert invitation that stands as a defining moment for you?
JM: It took quite a while for everything to jell, but in 2009 I got a phone call inviting me to play with Zubin Mehta and the Berlin Philharmonic in two years time. I hung up the phone and immediately felt, 'Oh no, I'm not ready for this'. Because I grew up with the idea of the Berlin Philharmonic as the holy grail, I actually got scared. I immediately contacted a trainer who trains Olympic athletes, basically a mental coach. I said, 'I have this big event coming up, and for me, it's like the Olympics and Wimbleton combined. Can we work together to get through the experience, not just to get through it alive, but to get through it while actually enjoying the process?' So, we worked for about a year together, and it was so instructive. When I eventually stood in front of that concert door, ready to go onstage, and Zubin Mehta asked, 'Are you ready?', I said, 'Absolutely!' I had worked so hard that I could now go through a weekend schedule of four concerts and feel that I very much enjoyed it. It felt right that I was there. You can spend many hours on the question of 'Why me?' The stage that Rostropovich and Yo-Yo Ma occupied all the time, the greatest in our field: suddenly, I am sitting there with them!
GN: I saw you play the Schumann concerto with the VSO just around that time, then a number of years later Tchaikovsky's 'original' Roccoco Variations – one of your signature pieces. One thing that impressed me both times was just how much you encouraged interaction between your solo part and the rest of the strings. Is this something you have always aimed for?
JM: Yes, absolutely. There is seldom enough time for discussion with the orchestra in rehearsals these days so, in a concert, I feel there is a definite need for interaction in getting everybody on the same page – and as excited as I am. If I have a first violin section that is uninvolved, that's going to reflect on the inspiration in my playing too, while if I can get everybody engaged, then we can all have a good time. Nothing is as discouraging as attempting to communicate with the first violins when they're all steadfastly looking into their scores. That really is a blow to my heart. A lot of musicians clearly think, 'I'm in an orchestra, this is the set of things I have to do, and I have to do them perfectly. And that's it'. And, doubtlessly, part of this may be the fear of stepping out of line with the conductor. Whatever the case, there is often a wall there, and I guess I try to pierce that wall. Sometimes I'm successful. and sometimes I'm not. My desire for onstage communication is hardly for the show of it, but because I feel that musical energy has to go in all different directions to yield a complete experience. It goes behind, it goes to the sides and then, if everything is established in a great flow, we can take the audience with us. This is 360-degree communication. Fantastic! And such a great feeling. It is really live music-making.
GN: Isn't the 'wall' partly a generational thing? You might find better comraderie and spirit with  younger conductors and orchestras.
JM: That's probably true. Nowadays my focus is to play more with the Karina Canellakises of the world, to grow with the younger generation. Or the new Spanish Music Director in Toronto, Gustavo Gimeno. I have made some of my recent recordings with younger conductors, Thomas Søndergård and Jakub Hrůša, for example. It is an interesting sidenote that my first audition for a conductor after winning the Tchaikovsky medal was with Jiří Bělohlávek. There was a young musician in his early twenties with him at the hall, and it was in fact Hrůša, who he was mentoring.
GN: Sounds like you would also love to do play/direct concerts.
JM: Yes, I'm doing these and have a couple of projects already ongoing. When performing more classical works though, one problem is that the cello doesn't typically have the upbeat, so you still require a leader to collaborate with. But chamber orchestras are much easier to work with in general, and some of them are so good that there is really no need for anyone to give them a beat. Rehearsals can be more interactive too: a concert may require no more than just being awake and ready to communicate.
GN: Let's move to your recordings. You started with some pretty adventurous early discs with Hänssler, illuminating neglected parts of the cello repertoire, before moving to Pentatone a decade later to record the more mainline works.
JM: I think it was a natural way to start: to explore some of the less well-known composers I liked, but staying some distance from the core repertoire until I learned the craft of recording. I really wanted to know what it felt like when that red recording light went on, and to learn how to edit too. Hänssler essentially gave me carte blanche on these projects. It was a bit of a strange organization: they were distributing religious books as well as recordings, so their music output was funded by the other things they did. Plus, the recordings were paid for by the radio, which had an interest in material they didn't have in their archives. They were happy to have another recording of the Brahms sonatas, but then I gave them Johann Fuchs, Stravinsky, all these obscure cello pieces. I really had little competition here.
By the time Pentatone came along in 2015, I was ready for the bigger pieces; I knew my way around the art of recording. I think it's important to find the exact point in your life when you are ready to move forward. If you start recording the big pieces when you're too young, your viewpoint is not fully developed, and your early discs can haunt you all your life. But if you wait too long, you may not have either the technical facility or freshness of interest to pull them off anymore. We are past the era that Rostropovich recorded in, where you get five or six chances to record the Dvořák concerto, so your timing of a recording is very critical.
GN: How did you approach the two big tests, the Elgar and Dvořák concertos, recorded for Pentatone only a couple of years ago?
JM: The possible difference in my approach to the Elgar was that I made an unusual effort to follow what was on the printed page. Thus, it contrasts from the celebrated reading that every young cellist wishes to emulate, namely Jacqueline du Pré's, which was largely her own creation. In spite of departing substantially from the score, Du Pré's emotional world managed to collide memorably with Elgar's, but I don't think the same approach worked nearly as well in her Haydn or Dvořák. Elgar is so meticulous with his notes, accents, sforzandi – they're all supposed to sound different. In mining the score, I had to be careful not to become too scholastic and fixate on small screws to the exclusion of the big sweep, but there is really so much information on each page that it became my mission to characterize it as exactly as I could. So this was one adventure. With Dvořák, we specifically went to an interpretation that was not as exuberant and fulsome on one hand, and not as slow on the other; in fact, rather clean and upbeat overall. As Dvořák's orchestra only had ten first violins, we pared back the orchestra's size, using the fifty-player Prague Philharmonia. A prime objective was to not overindulge: if one wants the indulgent recordings, there are plenty of them out there.
GN: Do I discern a real quest for authenticity in performance?
JM: When I recorded the Dvořák, I admit I had the original manuscript with me. Somehow, doing historical research and, in particular, seeing the composer's own handwriting brought me closer to their true intentions and emotions. You also hope it informs the way you play, giving you more tangible insight into the notes and how loud, soft, dense or reserved the sound should be at any point. I certainly get satisfaction from this type of exploration – I'm a scholar at heart! – and I've now realized that performing and recording a work is only one part of the joy of studying it. Speaking of handwriting, I had a fabulous experience in Martin Gropius Bau, the museum in Berlin, examining the handwritten manuscript of Franz Kafka's The Process. You have all the early pages written so neat and orderly, but when it comes to the closing moments where the execution takes place, Kafka gets so emotional that he can only manage to write a couple of words on each page. You can see this right in front of you – so immediate. To be able look at someone's handwriting as a lens into their emotional state, wow, what a blessing!
GN: You have been a Professor at Hochschule für Musik und Tanz Köln since 2012. How do you enjoy teaching – and the students of today?
JM: I have six students, and it's a nice change from all the travel. It's a very grounding experience to teach for a day because you always have to want as much as the students should want, and give as much as they should give. To be fair, I wish my students were as passionate about music as I am, and wanted to explore the historical inspiration of works a little more. I can teach them fingerings and bowings, but if they are not willing to absorb the context of a composer's work, then they will have few ideas about style. Of course, I could spell all this out for them: for example, if you play Shostakovich, there are four authors who you should read to understand his time and place and the nature of his humour and sarcasm, and then two reference recordings you might listen to – but I wish my students had more hunger for discovery on their own. There are always exceptions which give me great joy but, for the majority of students at the lower levels, even the perception of the need to assimilate works in the most complete terms is less conspicuous these days.
GN: And what about your new piano trio with Vadim Gluzman and Yevgeny Sudbin?
JM: These are great musicians to work with, and I admire both of them very much. I learn so much about string playing from Vadim. We all have our own careers, so we mainly get together in the summer. Our big venture so far took place at the end of 2017. We did an extended ten-concert tour playing Tchaikovsky's Piano Trio and the inspiring, but little known, Piano Trio of Arno Babajanian. We visited Denmark, London's Wigmore Hall, Spain, Italy and Germany – all places where we had perfomed individually as soloists. At the end of the tour, the two works were recorded in Bremen for CD release by BIS. The recording is virtually ready to go now.
GN: Have you any opinion on how the 'art' of the cello has evolved over the last decades?
JM: It is an interesting observation that, if I turn on the radio and I listen to two bars of Rostropovich – or Heinrich Schiff or Yo-Yo Ma – I know immediately who the cellist is. On the other hand, I have much greater difficulty differentiating some of the distinguished young cellists of today. The older artists seem to reveal their own specific history and personality right away. They reflect a time when personality dominated style; nowadays, style seems to be put above personality. You can argue if it's a good thing or not. A lot of young musicians try to make up for personality with PR. Take Yuja Wang: she is a dream for any PR person, because she looks great in pictures and onstage and, at the same time, she's the most amazing pianist!
There's another difference too: in earlier days, a great cellist could move from the Baroque to the moderns with equal facility and inspiration. Now, I doubt that cellists can play all musical styles equally well. One factor is that each musical period has been more strongly delineated by historical research and performance precedent over time. It would now be a major error to play a Haydn concerto with the same tonal weight and thrust as a Shostakovich concerto, or to ignore the lessons that Rostropovich offered in both Shostakovich and Prokofiev. This mattered less in earlier times, since fewer guiding principles were out there. In my estimation, few players can exhibit mastery over all the slots/styles defined today.
GN: One thing I have noticed is that you seem to get as much joy playing in the more off-the-beaten-track centres as in the famous venues. Is there some temptation for an artist to save the best efforts for the latter?
JM: I want to do my best no matter where I am. Whether it's a remote town in Colorado or in Berlin, I will give it my all. Some artists might be tempted to phone it in in the former, but I think they will end up deteriorating their art: if they do this repeatedly, they will have a harder time getting up to speed when they have to. I might note that some of my favorite concerts have been with the orchestra in Raleigh, North Carolina. They are fabulous: a very proud orchestra with devoted players and audience, and it is always an experience to be there. I have learned that there is no  rule on what type of setting creates a memorable concert. Exciting as it is to play with an A-list orchestra, they can sometimes be unwilling to get involved, while the inspiration of a provincial orchestra can often shine through. As a musician, I don't think you can afford arrogance in terms of performing venues: all people can be inspired by great music. One must be humble in face of the masterpieces we are allowed to bring to life.
GN: As one of your many adventures, we must not forget your identification with the 'electric' cello. How did this start and how far have you gone with it?
JM: It started right from my teacher. Geringas had received an electric cello from Yamaha to look at, but he didn't use it. One day I took it to the basement, started playing, pretending I was Jimi Hendrix or something. I eventually got my own, plugged it into my computer and started experimenting. When I got good enough, I went to the LA Phil, and proposed a commission for electric cello and orchestra. They said, 'Please do, go find us a composer'. I came across Mexican composer Enrico Chapela, who wrote the fine piece 'Magnetar' in 2010, premiered by myself and the LA Phil a year later.
The use of electronics is undoubtedly tricky. I quickly learned I had to change my performance style since the sound output is the same no matter whether I am stiff or energetic in my motions. For fear of being perceived as boring, I had to invent a different set of moves while playing. Another general problem with electronics is that the audience cannot tell what is being processed, what is pre-recorded, and what is happening where. What is the DJ actually doing behind his laptop? I have learned to keep processing and enhancement sufficiently minimal to maintain a semblance of transparency and spatial definition. Now I'm trying to develop a project with eight speakers, an environmental soundscape where the listener can step in and out of the circle. I'm going to open that up for composers, and I'm also going to write for it.
GN: So, finally, do you still enjoy performing in Canada and coming back to Vancouver in particular?
JM: Oh, yes, I love performing here: I have relatives all over the place in the Vancouver area. I first performed a Haydn concerto with Bramwell Tovey and the VSO in 2007. I often perform in Toronto and Ottawa too. I was very pleased with my nomination in the 2018 Juno Awards held here.
Geoffrey Newman
Previously published in a slightly different form (click here).