The 26th International Gilbert & Sullivan Festival
Buxton Opera House 24-29 July 2019
Royal Hall, Harrogate 7-18 August 2019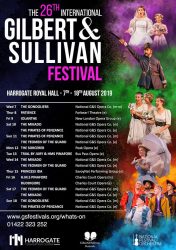 After the outstanding success of last year's Gilbert & Sullivan Festival in Harrogate this year's Festival is less than a month away. Central to the two-week programme will be appearances of the National Gilbert & Sullivan Opera Company presenting four operas Mikado, Yeomen of the Guard, Pirates of Penzance and Princess Ida. Prior to their opening at Harrogate the Company will present these operas for a week at Buxton from 24-29 July. The International Gilbert & Sullivan Festival is the largest celebration of England's most famous theatrical partnerships and attracts visitors from all round the world to join events at The Royal Hall, Harrogate, 7-18 August for another season.
This year the Festival will feature other professional performances by the groups, Forbear! Theatre and Charles Court Opera. The competing amateur societies will be represented by New London Opera Group, SavoyNet Group, Peak Opera, and Bus Pass Opera. There will as usual be a packed Fringe programme with a range of interviews and illustrated talks from Gilbert & Sullivan experts. I agree with the Festival founder and Chairman, Ian Smith, with his comment that the Festival is a unique event in the UK.
Harrogate will be welcoming eight leading British universities to perform a fully-staged Gilbert & Sullivan opera as part of the annual UNIFest competition. The Festival Youth Production returns and is always a highlight. This year youngsters aged between 9-19 years old will meet for a week of rehearsals before presenting The Pirates of Penzance on Saturday on 17 August.
If as good as last year the twelve-day Festival will be one of fun and pleasure, yet is one that makes sure Sullivan's music is perfectly played — beautiful voices and glorious music. The events will take place in Harrogate from August 7-18 2019.
For detailed information about the programme click here.