United States Bellini, La straniera; Rossini, La gazza ladra: Soloists, Teatro Nuovo Chorus and Orchestra / Jakob Lehmann (primo violino e capo d'orchestra), Rose Hall, New York, 17 & 18.7.2019. (RP)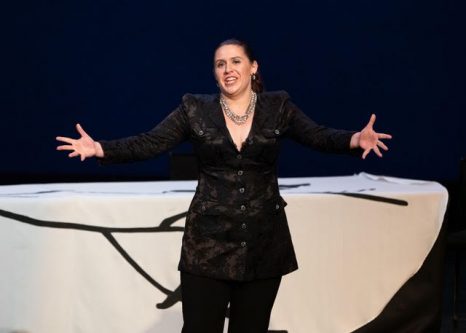 La straniera
Cast:
Alaide (La Straniera) – Christine Lyons
Isoletta – Alina Tamborini
Arturo – Derrek Stark
Valdeburgo – Steven LaBrie
Il Priore – Vincent Grana
Montolino – Dorian McCall
Osburgo – Isaac Frishman
La gazza ladra
Cast:
Ninetta – Alisa Jordheim
Pippo – Hannah Ludwig
Giannetto – Oliver Sewell
Fernando – Erik van Heyningen
Il Podestà – Hans Tashjian
Lucia – Allison Gish
La Gazza – Christopher Hochstuhl
Fabrizio – Rob McGinness
Isacco – Spencer Viator
Antonio – Jacob Wright
Ernesto – Peter Warren
Giorgio – Samuel Ferreira
Il Pretore – Daniel Fridley
Now in its second season, Teatro Nuovo has added performances in New York City to its residency at the State University of New York at Purchase. The company has a threefold mission: to offer exciting revivals of neglected bel canto masterworks alongside re-studied interpretations of familiar ones; to ally virtuoso singing at the highest level with historically informed performing styles and orchestral instruments of the era; and to train young musicians in the special skills required to bring these exciting, and in many cases forgotten, operas to life. The operas are presented in concert with only the bare essentials of staging, so the focus is all on the music and the musicians.
Bellini's La straniera and Rossini's La gazza ladra were the rarities presented this year. In the past decade, the Bellini has been performed in concert versions in Europe and the US and was staged in Zurich as a vehicle for Edita Gruberová, but it hasn't been heard in New York for quite some time. And although the overture to La gazza ladra is extremely popular, performances of the opera are few and far between. Its neglect is to be rued as the score has some dazzling music and is full of excitement with Rossini constantly firing off one of his famous rockets.
What makes a Teatro Nuovo performance unique in these parts is the use of original instruments from the early nineteenth century or replicas. While not so unusual in Baroque operas, it's a rarity to encounter a period band in the pit for a bel canto one. There is no debating that there's a difference in sound between period and modern instruments: it's simultaneously more pungent, warmer and mellower. Rose Hall doesn't have a pit per se, which gave the audience an opportunity to actually see the players and their instruments. The solo woodwinds in particular proved to be musical heliotropes, basking in the audience's appreciation of the wonderful solos that Rossini wrote for them.
The other return to the past is the layout of the orchestra. Rather than being arranged for the best possible view of the conductor, the players are seated so that they can see and communicate with one another. The violins thus sat in a circle all facing the primo violino e capo d'orchestra, Jakob Lehmann. The maestro al cembalo seated at the fortepiano takes care of the singers on stage. For the Bellini, it was Will Crutchfield, Teatro Nuovo's general and artistic director, and Rachelle Jonck assumed the role for the Rossini. Balance and coordination were ideal, so they must be on to something.
The chorus, comprised of singers from Teatro Nuovo's Resident Artist and Student programs, was extraordinarily rich-voiced and polished. Rolando Sanz prepared the chorus for La straniera and Derrick Goff for La gazza ladra. The singers' ability to spit out tongue twisters in the rapid-fire Bellini choruses and the men's singing in the Rossini were especially impressive.
Over the course of two evenings, 20 singers appeared in solo roles. Hannah Ludwig in the pants role of Pippo in La gazza ladra was one of the standouts. The warm-voiced mezzo-soprano is a generous colleague, and every duet and ensemble was enriched by her presence. She gave an effervescent rendition of the Brindisi in Act I, enlivened by the woodwind solos with which Rossini laced it.
Tenor Oliver Sewell served up vocal glamour as Giannetto, the son of prosperous farmers, who is in love with Ninetta, the family's servant. As Ninetta, Alisa Jordheim surmounted the role's dramatic demands – unappreciated servant, dutiful daughter, faithful lover, condemned thief, martyr – and her soprano negotiated the vocal demands with ease. Her father, Fernando, is caught in a bind: saving his daughter means revealing his identity and being executed as a deserter. (A last-minute reprieve from the king saves him.) Bass-baritone Erik van Heyningen has a fine voice and was at his best in the role's most dramatic moments.
Giannetto's mother, Lucia, is one of Rossini's most delicious character roles. She's a harridan who demands justice when she believes her young servant girl stole a silver spoon, but melts when Ninetta is sentence to death. Allison Gish was grand and outlandish as she dashed off the coloratura in her aria 'A questo seno' and topped it off with a ringing high note. Stepping out from the chorus, baritone Samuel Ferreira and bass Daniel Fridley made particularly vivid vocal impressions with their clear, sonorous voices. Fridley's bass in particular filled the theater effortlessly.
Rossini's opera is based on the true story of a servant girl who was executed for theft before the subsequent discovery of the pilfered item in a magpie's nest. Christopher Hochstuhl didn't sing much as the Thieving Magpie in this production, but he cut a dashing figure in his black velvet cape and feathers. He, Gish and Ludwig were the high-octane performers who added the buffo to this opera semiseria.
With his silvery tenor, Derrek Stark as Arturo was the star of La straniera. Alina Tamborini's elegant soprano, even throughout its range, was particularly imposing in Isoletta's two arias. She is Arturo's betrothed, who gets shunted aside once he becomes smitten with the mysterious woman living in solitude at a nearby lake. Christine Lyons was appropriately regal as Alaide, the mysterious stranger, who is actually a queen in hiding. Her soprano, however, has a hooded quality and distinct register breaks that did not do justice to Bellini's glorious melodies and seemingly endless vocal lines.
Baritone Steven LaBrie cut a dashing figure vocally and dramatically as Valdeburgo, Alaide's brother, whom Arturo assumes is his rival. Sparks fly in the Act I trio when Arturo sings of the tortured madness of his love for Alaide, while Valdeburgo tells him that he must leave her in peace. As Arturo's confidant, Osburgo, tenor Isaac Frishman made a vivid impression when it was his turn to step out from the chorus.
The complex plots have something to do with the descent of these two operas into obscurity, especially that of La straniera which chiefly serves as a vehicle for a soprano to show off her voice. With its wonderful score and more coherent plot, however, the cast size of La gazza ladra is undoubtedly an impediment for many opera houses, to say nothing of its length. All the more reason to celebrate Teatro Nuovo's annual bel canto feast.
Rick Perdian