United Kingdom Rick Wakeman's Journey to the Centre of the Earth: Rick Wakeman (keyboards), Robert Powell (narrator), Alfie Boe, Ashley Holt, Hayley Sanderson (vocals), English Chamber Choir, The English Rock Ensemble (Dave Colquhoun [guitar], Tony Fernandez [drums], Matt Pegg [bass], Adam Wakeman [keyboards, guitar], Orion Orchestra / Guy Protheroe (conductor). Royal Festival Hall, London, 14.7.2019. (JPr)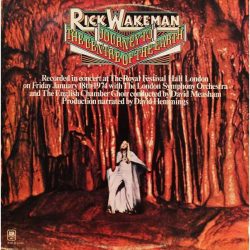 I hope he will forgive me, but I never really thought twice about Rick Wakeman until I once heard he played on one of my favourite T. Rex songs. In my recent rave review (of his 2017 Piano Portraits tour) I recount his anecdote how, in 1971, Wakeman was lacking the £8 a week for his rent and was in London looking for session work. His friend Marc Bolan let him play on 'Get It On' and all he needed to do was a glissando on the piano. Rick said to Marc afterwards, 'You could have done that,' and he replied, 'Well, you want your rent money don't you?'.
Wakeman had made British chart history in 2017 when his Piano Portraits was the first solo piano instrumental album to enter the UK's Top 10 on release – a feat he repeated with last year's Piano Odyssey. Returning to his progressive rock roots, Wakeman marked the 45th anniversary of Journey to the Centre of the Earth by performing the entire work – including missing music added in for 2012 tour – for two final UK performances to celebrate his 70th birthday.
Time went on after Journey to the Centre of the Earth's original tour and when there where performances considered for Brazil in 1981 it was found the orchestral music was missing and it has never been subsequently rediscovered. In 2009, however, a box from Australia arrived at Wakeman's house which remained in his garage for several months before he looked through it only to find a water damaged conductor's score. With the assistance of musicologist and conductor, Guy Protheroe, it was transcribed and digitised and now included additional music cut originally due to vinyl time constraints.
It is no surprise that Journey to the Centre of the Earth is based on Jules Verne's science fiction novel of the same name. The story tells of Professor Otto Lidenbrook, his nephew Axel, and their guide Hans, who follow a passage to the Earth's centre originally discovered by Arne Saknussemm, an Icelandic alchemist. The entrance to the route is via the extinct volcano of Snæfellsjökull in Iceland and they negotiate lava galleries, tunnels, a stream of boiling water, a giant mushroom forest, storms, earthquakes and creatures from prehistoric times, before remerging from Stromboli, a volcanic island located in southern Italy.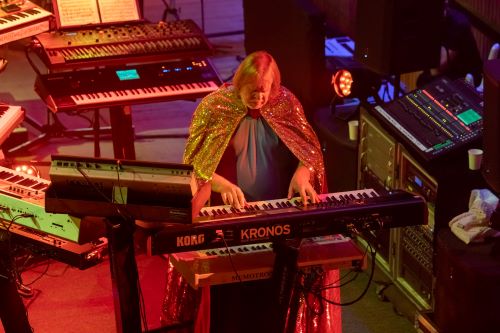 With as big an ovation as that which rumbled through the Royal Festival Hall audience at the realisation England had won the Cricket World Cup, Wakeman loped on stage in a flowing cloak that sparkled in the spotlight to set himself behind an amazing array of keyboards looking for all the world as some sort of glam rock caped crusader. With his familiar luxuriant hair flicking from side to side, Wakeman's fingers then became a typical blur as he shared the performance with a narrator, three singers, a rock group, choir and orchestra. I guess Journey to the Centre of the Earth must have been one of the first 'concept' albums and there were added garish psychedelic lighting effects to give atmosphere to the expressive narratives, loud anthemic songs, (what sounded like) oohing and ahhing choruses, soaring classical themes, frantic keyboard sections, more tranquil passages, as well as, hard rock improvisations.
The glossy souvenir programme (complete with CD from the 1974 North American tour) unfortunately did not list the tracks we heard for those, like me, (seeing and) hearing any of it for the first time. A hyperactive Alfie Boe bounded on for his first song which he sang like Tony Christie on steroids but was much better in the rousing 'Still Waters Run Deep' (originally from Wakeman's 1999 'Return to the Centre of the Earth'). Ashley Holt always seemed to be channelling Joe Cocker and it was left to Hayley Sanderson – with a stunning 'Echoes' in particular – to most successfully bring across Wakeman's phantasmagorical lyrics which remain very much rooted in the 1970s. A highlight of the entire concert was when all three combined memorably for a climactic 'Ride of Your Life' (also added in from 'Return').
Guy Protheroe held everything together extraordinarily well and the orchestra were impressive throughout and came into its own with an excerpt from Edvard Grieg's 'In the Hall of the Mountain King'. Robert Powell's significant contribution should not be overlooked, and he was more measured than the portentous intonings of the late David Hemmings (on the 1974 CD) who apparently – according to Wakeman – was his second choice with Powell originally being unavailable. Better late than never and Powell had a marvellous way of conjuring images with mere words.
Wakeman's famed keyboard virtuosity shone out in 'The Dance of a Thousand Lights' ('Return' again) and during a protracted encore when he wandered through the audience with a keytar (lightweight electronic keyboard) strapped on and jammed with The English Rock Ensemble. The latter included a remarkable guitarist, Dave Colquhoun, and Wakeman's son Adam, extraordinarily multitalented in his own right, but apparently there – according to his father – due to 'concern' at the average age of the band being over 70!
For Rick Wakeman's ambitious vision and the commitment of all concerned the standing ovation at the end from the Royal Festival Hall audience was thoroughly deserved.
Jim Pritchard
For more about Rick Wakeman click here.