Spain Verdi, Giovanna d'Arco (concert version): Teatro Real Chorus and Orchestra / James Conlon (conductor), Teatro Real, Madrid, 20.7.2019. (JMI)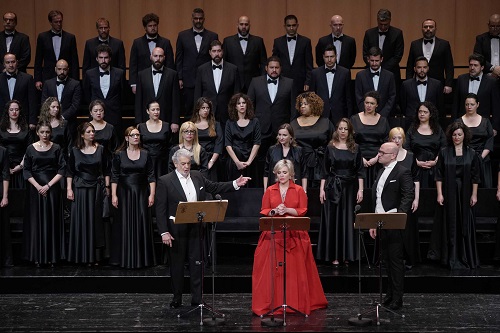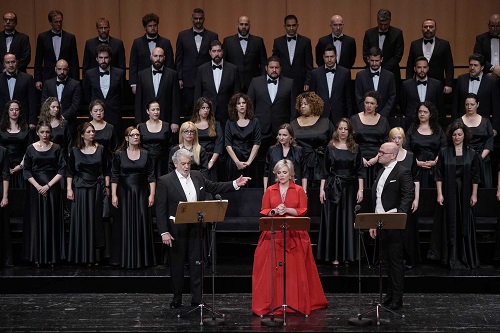 Cast:
Giovanna – Carmen Giannattasio
Carlo VII – Michael Fabiano
Giacomo – Plácido Domingo
Talbot – Fernando Radó
Delil – Moisés Marín
Giovanna d'Arco is the seventh opera by Verdi, who had to compose it in a short time in order to fulfill his commitment with La Scala. It is one of the operas of his so-called galley-slave years and, as is the case with many of his operas from this period, it is rarely performed. In my opinion, Giovanna d'Arco is one of Verdi's least inspired works: while it is well constructed, it lacks those moments that remain in one's memory. Perhaps the best-known song is the chorus 'Tu sei bella', which is no more than an incidental page within the opera.
The libretto by Temistocle Solera is based on Schiller's Die Jungfrau von Orleans, in which Joan of Arc is not burned at the stake. Instead, she is freed from jail to lead the French troops once again, dies on the battlefield and more or less ascends into Heaven. Obviously, this ending contradicts history since the trial and death sentence of France's patron saint are well documented. Nevertheless, Schiller preferred to do it his way, and this is the plot that Verdi follows in the opera, as Tchaikovsky would do years later.
These performances are due to Plácido Domingo's presence in Madrid: it is well known that every year he sings in his hometown. In fact, the opera has not been done in Spain since a staging in Bilbao six years ago.
As on previous occasions when Domingo has sung at the Teatro Real, the conductor was James Conlon, with whom he has a close relationship: Conlon is the musical director of the Los Angeles Opera where Plácido Domingo is the artistic director. Conlon's leadership was intense and worthy of being highlighted. He kept the audience's interest at all times, which is not easy in an opera like this one. He was always helpful to the singers, and the orchestra was excellent under his baton. The chorus too did a splendid job.
Giovanna d'Arco was sung by soprano Carmen Giannattasio, whom I had recently seen as Norma in Munich. She has again exhibited a voice of considerable amplitude and gave a convincing portrait of the French saint. Her singing, however, which was mainly in forte and lacked some nuance, was a little tight at the top of the tessitura.
Carlo VII was interpreted by tenor Michael Fabiano, who was a pleasant surprise. I saw him roughly two months in Berlin singing the Duke of Mantua and was disappointed. Here it was exactly the opposite: this character's tessitura falls in the middle range, and the only high notes are optional. Fabiano seemed very comfortable in the character and sang with good taste and nuance – one of the best performances that I remember from him.
Plácido Domingo was Giacomo, the father of Giovanna d'Arco. He is neither a tenor nor a baritone: he's simply an ARTIST (in capital letters) and a living legend to whom we show our admiration, beyond vocal details. However, I am always impressed by his vocal freshness, which does not seem to correspond with someone of his age, and also by how he lives the characters he sings.
In the secondary parts, both Fernando Radó as Talbot and Moisés Marín as Delil did quite well.
Teatro Real was fully sold out, as might be expected given the presence of Domingo, and the audience responded enthusiastically to both singers and conductor.
José M. Irurzun