United Kingdom Fennessy, Panopticon: Psappha (Tim Williams, cimbalom/director; Benedict Holland, Lucy Baker, violins; Beth Woodford, Susie Meszaros, violas; Abi Hyde Smith, Amy Jolly, cellos). Purcell Room, Southbank Centre, 7.7.2019. (CC)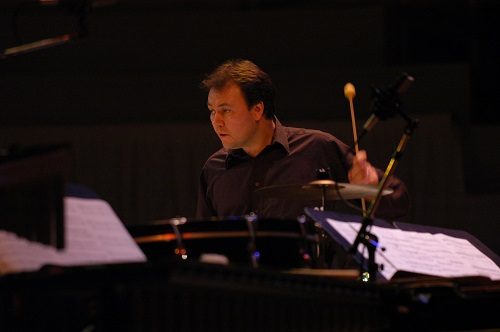 Anyone who has encountered Psappha's Composing For … series will be aware of the progressive, supportive nature of their work: I was present at the recording of the Composing for Piano and Percussion day in Ancoats, Manchester, fairly recently and can attest to the sheer amount of devoted work that goes into those films and performances.
This performance of David Fennessy's Panopticon (2016) was another aspect of Psappha's vital work. It was part of Southbank Centre's New Music Biennial, an immersive weekend of performances and installations (including an installation called Music for Seven Ice Cream Vans). 11am on a Sunday morning is a bit of an ask, but a fair-sized audience came to hear Fennessy's inventive piece. David Fennessy is a lecturer at his alma mater, the Royal Conservatoire of Scotland. Scored for cimbalom and string ensemble, the work's title Panopticon refers to an 18th-century prison design in which cells were arranged around a circular central chamber from wherein prison officers could observe prisoners at all times (the title also references a theatre in Glasgow locally known as the panopticon). Panopticon has been recorded by Psappha for the NMC label; and, amazingly, a full 'perusal score' of the work is available at Universal Edition's website (here). On that website, the composer explains that the piece is part of a line of works exploring ideas of the individual and the collective, starting with graft (1999) and moving through to Hauptstimme of 2015.
There were two performances of Panoptocon, one 'blind' (that is, unless you did your homework, you listened 'blind'), an interview with the composer around the piece by Gillian Moore, and then a second performance. This is a fabulous way of working: in the space of just over an hour, there is the opportunity to really feel that one gets to know a work. There's also the implicit invitation to explore more of that composer's music …
Fennessy sees the work as about leaders and followers, an exploration of the roles that people play, with the cimbalom as clear leader. Throughout all bar the last couple of minutes, the cimbalom player plays on its lowest note, a low C (which also happens to be the lowest note of the cello). The cimbalom is therefore the 'governor' of the imagined 'prison'; also, the cimbalom's gestures impact on the actions of the strings, making it a 'leader'. The cimbalom begins, with a fast repeated note fanning out to strings played with a plectrum. A spatial component comes to the fore here, with the repeated, percussive sound now moving around the strings' space – a plethora of plectra, one might say. Two cellos are placed at either end of the semicircle of strings, perhaps to ground the sound. Added to this is the ability of the cimbalom to produce harmonics, which adds a beautiful, metallic colour to the palette; later, a cimbalom string is stopped by the player's left hand, producing a more percussive effect.
Structurally, the piece works towards a high-pitched climax, after which a firm arrival in a far lower space comes as a real sonic relief. Melodically, a short, upward cello gesture heard at one point seems to imply a need to break out into melody – it returns in the final moments, as if to imply an alternative route the piece could take, if only it were to continue. The composer describes the final two minutes as entering into 'another room'; perhaps that cello gesture is a hint of, to further continue the analogy, another floor that the music could venture to? Those final couple of minutes offer a different, more expressive way of writing for the cimbalom – by this time, it has earned the right to express itself in the way it, surely, feels most comfortable.
Gillian Moore's interview with Fennessy was illuminating – it allowed us to hear the work in a more informed way, the discussion clearly delineating the work's trajectory.
The vibrancy of new music, the spirit of enquiry and the sense of learning all contributed to a palpable sense of enrichment. A remarkable performance of a powerfully effective piece,
The NMC disc referenced above couples Panopticon with Fennessy's Piano Trio (for piano trio and pre-recorded soundtrack, 2010), 13 Factories (2009) and Hirta Rounds (2015). The work graft, mentioned above, was part of a 'Quartetfest' at the RNCM in Manchester reviewed back in 2000 by Seen and Heard International (link), while Fennessy's chOirland (2002) is part of a promotional RTÉ Lyric FM disc reviewed on MusicWeb International here; if this last is no longer available, there is a fabulous performance of this fun piece on YouTube by Chamber Choir Ireland under Paul Hillier, taken at the Lunalia Festival in May 2018 (here).
Colin Clarke