United Kingdom Various composers, Puttin' on the Ritz: Grand Theatre, Blackpool, 6.7.2019. (MC)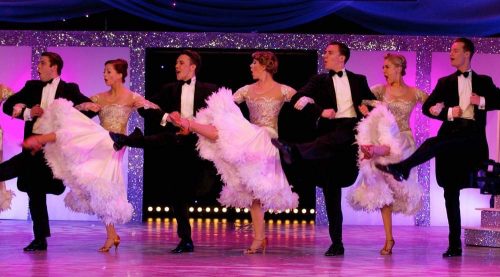 Singers: Tamara Eden, Katherine Glover, Robyn Tempest, Miles Braithwaite, Sean Smith
Dancers: Shauna Olley, Gemma Taylor, Daniella Hyner Anderson, Lauren Carrick, Joseph Harrison, James Chew, Daniel Holland, Lewis Herring
With all its glitz and sparkle this David King production Puttin' on the Ritz was just made for Blackpool.
Described as an American production Puttin' on the Ritz, when it first toured Britain in 2014, broke box office records. David King has successfully staged the show internationally and the cast has just returned from an Australian tour.
The Grand Theatre audience was treated to a feast of singing and dancing featuring the songs of three legendary composers Cole Porter, George Gershwin and Irving Berlin, all stalwarts of the Great American songbook. I counted a programme of well over forty songs all of which were accompanied by some form of stylish and romantic themed dance routines. The stage was relatively plain, devoid of fixed props with only a back curtain embossed with twinkling stars of changing colours. It worked really well to place the main focus on the glamorous stage costumes of the five singers and eight dancers, all in keeping with the popular songs and jazz standards of the 1920s to the '60s. With such a variety of gorgeous gowns and elegant tuxedos I don't think I have ever seen as many costume changes which contributed to the visual as well as vocal treat of this fast-moving production.
Five talented solo singers, who all danced as well, gave impressive performances of the three featured composers in turn using a variety of dazzling scenes. There were also special tribute spots notably the Cotton Club the famous Harlem jazz venue including 'Yes Sir, That's My Baby' and 'Minnie the Moocher' and to Judy Garland the much loved superstar of Hollywood's Golden Era with several of her numbers especially 'We're a Couple of Swells' and 'Over The Rainbow'.
In a concert that was outstanding from start to finish there are several highlights that lodge firmly in the mind. Katherine Glover certainly excelled with her smooth characterful vocal in George and Ira Gershwin's 'Someone to Watch Over Me'. Displaying his attractive sweet tone Miles Braithwaite was a stylish interpretation of the 'Embraceable You' by the Gershwins and a great performance of Fats Waller's 'Ain't Misbehavin'. Henderson and Brown's hit 'Life Is Just a Bowl of Cherries' sung by Robyn Tempest had weight and heaps of expression. Sean Smith in Cole Porter's 'Night and Day' gave his all in a strong performance bursting with character. A Judy Garland favourite 'Rock-a-Bye Your Baby with a Dixie Melody' was given a quite memorable rendition by Tamara Eden. Striking too was Irving Berlin's hit 'There's No Business Like Show Business' sung so enthusiastically by the full cast. Cashing in on the revival of interest in ballroom dancing, performing with vitality and assurance, the eight dancers displayed a breathtaking consistency all evening captivating the audience with their tap and ballroom routines. There was no live orchestra as backing tracks were used for the whole show, which isn't normally to my taste, nevertheless it all sounded ok.
It was a pleasure to hear so many classic songs from the Great American Songbook performed one after the other with such impact. I cannot imagine anyone coming away from the Grand Theatre not feeling uplifted.
Michael Cookson