Sweden Mozart, Le nozze di Figaro: Soloists and Ensemble of Läckö Slottsopera, Läckö Chamber Orchestra / Simon Phipps (conductor), Läckö Castle Courtyard, 14.7.2019. (NS)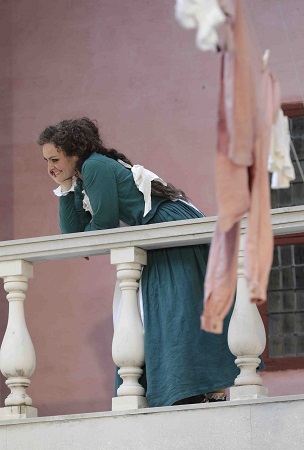 Production:
Director – Anne Barslev
Set and costume design – Anna Ardelius
Makeup design – Therésia Frisk
Lighting design – Ronald Salas
Choreography – Agnes Duvander
Cast:
Figaro – Nils Gustén
Susanna – Frida Engström
Count Almaviva – Hannes Öberg
Countess Almaviva – Matilda Sterby
Cherubino – Annie Fredriksson
Marcellina – Maria Streijffert
Bartolo – Lars Arvidson
Basilio/Don Curzio – Fredrik af Klint
Barbarina – Hilkka Ylinärä
Antonio – Sami Yousri
Ensemble (servants at the castle) – Helena Gedda, Agnes Duvander, Martin Kjellgren, Mattias Gunnari/Jakob Wall, Martin Lissel
For the first time in years, Läckö Castle Opera has chosen to produce a piece from the standard repertoire rather than a rarely-performed opera. But it is no longer common to perform The Marriage of Figaro in Swedish, and Läckö often makes interesting productions, so I arrived with keen anticipation.
Unfortunately, so did a thunderstorm. Though a canvas roof was extended over the castle courtyard, the heavy rain made its way through some gaps, including one over the orchestra. This and the noise of the downpour caused a delay to the start of the performance. It was still raining, though less heavily, during the overture and Act I, which stressed the singers and challenged the orchestra (which had moved under the stage).
One singer who was never flustered was Susanna (an outstanding Frida Engström). In many ways she was the lynchpin of the performance, always a strong presence in the ensembles and exercising superb vocal control. Her singing and acting really gelled, especially in her lovely duets with Figaro and a beautifully seductive 'Deh vieni, non tardar'. Sadly, the direction of that scene distracted from the music.
The charming Figaro (Nils Gustén) acted with gusto in the slapstick elements of the production, but also with finesse; his relationships with Susanna and with the Count were particularly well drawn. His voice spread a bit in 'Se vuol ballare' but that was perhaps due to an effort to be heard over the rain.
Hannes Öberg's outstanding Count had no such vocal trouble, in fact his beautiful baritone projected with clear diction. His acting, as it was last year in the title role of The Vampire, was gripping. While on the outside he was every inch the arrogant aristocrat, he bared his soul in the opening of Act III, giving a window into a character who is insecure and craves acceptance.
Another standout performance came from the flamboyant Cherubino (mezzo-soprano Annie Fredriksson), whose voice had a fantastic ping and captivated from the first entrance. Both of Cherubino's set-piece arias 'Non so più cosa son' and 'Voi che sapete' were terrific, communicating his emotions with warmth. Ms. Fredriksson also acted with great conviction; in a word, she was a perfect Cherubino.
The Countess (Matilda Sterby) was very promising at Läckö last year and her creamy voice continues to impress, though 'Porgi, amor' was sung too loudly – competing with the rain- and for me lacked a sense of line. But Ms. Sterby's beautifully clear and well-projected soprano was great in the ensemble scenes and her 'Dove sono' was beautifully phrased and emotionally resonant, though again could have been slightly quieter in places.
The minor roles were also well-cast, though in some cases the cuts that have been made for this production left them with less to do than usual. Barbarina (Hilkka Ylinärä) nevertheless shone with a beautifully fresh voice in 'L'ho perduta, me meschina'. Sami Yousri was a fine Antonio and often had something to do on stage even when not singing, even listening to the Count pouring his heart out at the beginning of Act III!
Fredrik af Klint carried both his roles (Basilio and a delightfully dry Don Curzio) with aplomb, judging his acting perfectly to capture Basilio's weasley ways and singing with an attractive and focused tenor. Bartolo (Lars Arvidson) was in fine voice and carried 'La vendetta' with a sonorous and expressive bass. Sadly, Marcellina (Maria Streijffert) was given an awful costume and the production characterized her as a sex-obsessed hag, which rather distracted from Ms. Streijffert's rich and attractive alto voice.
While there were some dubious aspects to the production, there was also quite a lot to like. Anna Ardelius's costumes – apart from Marcellina's – were excellent and the ensemble direction generally effective. One lovely touch by director Anne Barslev was to have the Count hide in a wash-basket in the famous scene in Act I, a delightful reference to that other lecherous aristocrat, Falstaff. Agnes Duvander's choreography for the energetic dance at the double wedding was also a hit. Simon Phipps paced the music perfectly and the orchestra played with verve despite the circumstances. All in all, the rain on the premiere seems to have been a good omen.
Niklas Smith
Playing until 3 August, all performances are currently sold out (as of 21 July).