United Kingdom BBC PROM 12 – Lera Auerbach, Tchaikovsky and Prokofiev: Nicola Benedetti (violin), National Youth Orchestra of Great Britain / Mark Wigglesworth (conductor), Royal Albert Hall, London, 27.7.2019. (AS)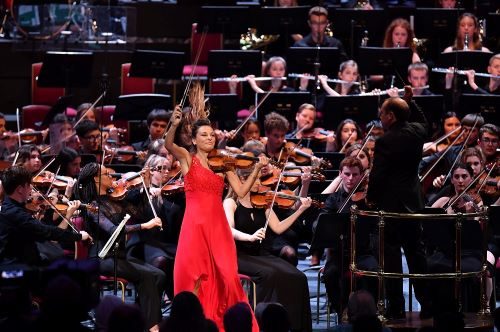 Lera Auerbach – Icarus
Tchaikovsky – Violin Concerto in D, Op.35
Prokofiev – Romeo and Juliet, Op.64 (excerpts)
The Russian/American composer Lera Auerbach wrote her own programme note for Icarus. In this she described her response to the Ancient Greek myth at some length, but then undermined her passionate prose by saying that she had given the work its title after it had been written. 'All my music as abstract, but by giving evocative titles I invite the listener to feel free to imagine, to access their own memories and associations'. Also rather off-putting was Thomas McCarthy's composer profile, which he launched by writing that 'Over the years, steadfastly, quietly, determinedly, Lera Auerbach has continued to evolve as a poet among world composers: a genius among her contemporaries, hers is a poet's ear'.
Well, the proof was in the pudding, as they say. Icarus turned out to be a sequence of attractive sounds that fell easily upon the ear, all composed in a well-worn, conservative idiom that often harked back to the earlyish twentieth century. The episodes were varied in that they were successively fast, slow or medium; loud, not so loud and soft. They seemingly had no connection with another, and there was no unifying sense of structure, though I am sure was the intention. Everything was expertly, beautifully and lavishly scored and so the work proved to be an ideal vehicle for the very large and highly efficient National Youth Orchestra under Mark Wigglesworth's expert, precise direction. But it had little else to offer.
Nicola Benedetti's laudable work in the area of musical education for young people is well-known, and so it was appropriate that she should be welcomed by the NYO as the soloist in Tchaikovsky's Violin Concerto. She always seems to be at her best in overtly romantic repertoire, and the quality of this performance underlined her excellent credentials. Her playing displayed an attractive warmth of phrase and tone and had a dedicated, inward quality. There was no showing off for effect.
At the end of a superlatively played first movement, by both soloist and orchestra, there was widespread and prolonged applause. Is this just a natural reaction of approval, or is it a tiresome interruption? There needs to be some thought about this, since the practice is clearly growing. If inter-movement clapping is generally felt to be intrusive, then some kind of announcement asking for restraint should be made before a performance.
In the middle-movement 'Canzonetta' Benedetti responded beautifully to Tchaikovsky's wonderful flow of melody, and vividly conveyed the music's rather achingly sad nature. Though her technique was up to it, Benedetti's basic tempo for the last movement was perhaps a little too hasty for all the detail to register adequately, though Wigglesworth and his young players notably gave on-the-spot support.
After more sustained applause Benedetti addressed the audience, paying generous tribute to the commitment of the young musicians throughout the previous week of rehearsals, especially in conditions of extreme heat, and then played the charmingly reflective 'As the Wind Goes' from Wynston Marsalis's Fiddle Dance Suite.
Only a portion of Prokofiev's Romeo and Juliet ballet could of course be played in the second half and Wigglesworth chose not to perform any of the three suites made by the composer, but a sequence of 14 numbers that followed the action of Shakespeare's original play. This proved to be very effective in providing contrast and dramatic effect. The playing of the NYO was quite extraordinary in its precision of ensemble and attack, the virtuosity of each section and each individual soloist, and the enormous range of tone colours produced.
Wigglesworth returned to the platform several times to acknowledge prolonged applause. At one clearly pre-arranged point, the percussion section of the orchestra then struck up Bernstein's Mambo from West Side Story before the conductor had reached the podium; Wigglesworth then took over to produce a rendering of enormous gusto.
As always there had been the opportunity for the young players to receive concentrated tuition over several days and for them to be given lavish rehearsal time. None of this would have been so effective without the inspiration – for this it clearly was – of Mark Wigglesworth. With his immaculate stick technique asserting complete control, and his ability to generate intensity of playing, his was an outstanding contribution throughout the concert. Surely, he is one of our most underrated conductors.
Alan Sanders