Spain Verdi, Il trovatore: Soloists, Teatro Real Chorus and Orchestra / Maurizio Benini (conductor). Teatro Real, Madrid, 18, 19 & 21.7.2019. (JMI)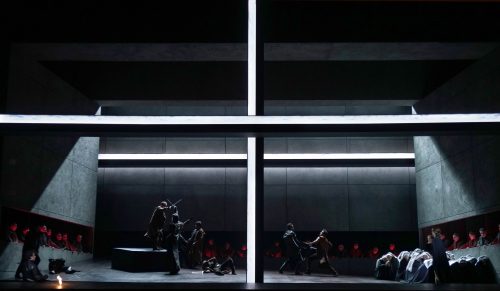 Production:
Director – Francisco Negrin
Sets and Costumes – Louis Desiré
Lighting – Bruno Poet
Casts:
Manrico – Francesco Meli/Piero Pretti
Leonora – Maria Agresta/Hibla Gerzmava/Lianna Haroutounian
Azucena – Ekaterina Semenchuk/Marie-Nicole Lemieux
Count di Luna – Ludovic Tézier/Artur Rucinski/Dimitri Platanias
Ferrando – Roberto Tagliavini
Ines – Cassandre Berthon
Ruiz – Fabián Lara
Messenger – Moisés Marín
The Teatro Real had announced that there would be two different casts for this opera, but one might consider it as three – in the final performance here, it was practically a new cast. The performances were all generally fine from a vocal standpoint, and the musical direction was correct. However, the production is rather boring and even unattractive.
The staging by Francisco Negrín is a co-production of the Teatro Real with Monte-Carlo and Copenhagen, and its premiere took place in Monaco in April 2017. Negrin's idea is to convert the ghosts into the protagonists of the opera, and at many moments on stage two extras represent the mother of Azucena and the dead child who is none other than Manrico. There is one basic set for the entire opera with walls at the sides and back that open and close plus a few props. Whether we are in the garden of the Queen, in the gypsy camp, in the convent or in the prison, nothing changes. The costumes are somewhat timeless and not particularly appealing.
Maurizio Benini's reading had dramatic strength and intensity but fell short on nuance and was sometimes too loud. Once again, the orchestra sounded really good, as did the chorus, particularly the women in the convent scene.
In the first cast, Manrico was played by tenor Francesco Meli. There have never been many tenors for Manrico, a role that requires a spinto tenor who has bel canto moments. Nowadays, the number of good Manricos is perhaps scarcer than ever, and it is thus understandable that Francesco Meli sings the part in the great opera houses of the world. He is a lyric tenor – and a remarkable singer – but he has the disadvantage of tight high notes, and the high C does not exist. He sang his aria in Act III with gusto, although I expected more from him here. The best part of his performance was the duet with Azucena in the prison scene.
The second Manrico was Piero Pretti. He is a lyric tenor with an attractive and homogeneous voice throughout the whole range, but his biggest problem is a lack of expressiveness. I was not convinced by his interpretation in his aria, but 'Di quella pira' was well resolved.
If there are few great Manricos, I cannot say the same of Leonora since today there is a trio of exceptional interpreters: Anja Harteros, Anna Netrebko and Sondra Radvanovsky. Maria Agresta is not on the same level, but she gave a solid performance. I thought she was at her best in the Act IV aria 'D'amor sull'ali rosee'. Hibla Gerzmava in the second cast was the best in vocal terms with an important, pleasing voice. And finally, Lilian Haroutounian sang the part with a broad voice that is suited nicely to the demands of the character.
The best singing in the three casts came from Ludovic Tézier as the Count di Luna: his performance was outstanding from beginning to end. He has become one of most notable Verdi baritones of today. It is almost 20 years since I first saw him as Hamlet in Toulouse where he was replacing Thomas Hampson, and he showed great promise which is now a magnificent reality. His aria 'Il balen' was just perfect.
In the second cast baritone Artur Ruciński once again showed a well-suited voice for the character, with outstanding breath control. Dimitri Platanias in the third cast has an attractive voice but one with a scarcity of colors which makes his singing monotonous.
Azucena was played in the first cast by mezzo-soprano Ekaterina Semenchuk and her performance was excellent. The least interesting part of her performance was the always anticipated aria 'Stride la vampa', but from her duet with Manrico forward, her vocal and stage performance were terrific.
Marie-Nicole Lemieux in the second cast does not have a voice that is best suited to the mother of Manrico. She is more a contralto, as ones reads in the program, and it is clear that Azucena needs a mezzo-soprano. She is a magnificent Mrs Quickly in Falstaff, and here things worked well when the tessitura was in the middle, but the high notes occasionally bordered on a scream.
Roberto Tagliavini as Ferrando has a pleasing voice and sang his aria in the opera's first scene with taste. In the secondary characters, soprano Cassandre Berthon as Ines, Fabián Lara in the part of Ruiz and Moisés Marín as the Messenger all left good impressions.
José M. Irurzun