United States Poul Ruders, The Thirteenth Child: Soloists and Chorus of the Santa Fe Opera / Paul Daniel (conductor), Santa Fe Opera, New Mexico, 27.7.2019. (CCr)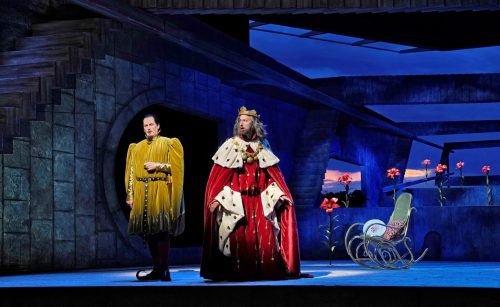 Production:
Director – Darko Tresnjak
Set designer – Alexander Dodge
Costume designer – Rita Ryack
Lighting designer – York Kennedy
Projections – Aaron Rhyne
Choir director – Susanne Sheston
Cast:
Hjarne, King of Frohagord – David Leigh
Drokan – Bradley Garvin
Gertrude, Queen of Frohagord – Tamara Mumford
Prince Frederic – Joshua Dennis
Lyra, Princess of Frohagord – Jessica E. Jones
Benjamin, prince of Frohagord – Bille Bruley
Corbin – David Leigh
Toke – Anthony Ciaramitaro
Drive from the high plains of Northern Texas, heading northwest to Santa Fe, New Mexico. You'll feel the flatness and the brush and the colour incline surreptitiously, as the sandier loams give way to rolling clay. Mountains begin to appear, at first just hills that lift your car to give you a view of endless straight highways. These are the southernmost Rockies, the Sangre De Cristo subrange. In the 1950's a guy named John Crosby, according to legend surveying for good acoustics on horseback, put an opera house up there.
You can see why once you get a feel for the environs. Santa Fe as a city is a bit like the Latin Quarter of Paris, minus Paris. Services are far outside the beautiful old town; this is artists' and visitors' terrain. There's surprisingly little to actually do, the point being to slow down and retune your senses. That might be easier said than done; the strict purity of Pueblo Revival buildings risks a monoculture, tight streets of would-be adobes. There's a greater concentration of etchings and pottery and turquoise jewellery here than one's affinity for such craftsmanship can handle, and the old town is saturated with pretty good restaurants and ever-so portly fifty-somethings eager to lighten their wallets and let their greying hair down. Senses can dull.
Art can quicken them. Once you've had your fill of topaz and tapestry, flagging in the summer's breezy high-elevation heat, a cluster of museums propound a visit, and it was in the New Mexico Museum of Art that I heard the Escher String Quartet give Mozart and Dvořák quintets, part of the excellent Santa Fe Chamber Music Festival. Long will I remember the sight of Brook Speltz racing his cello through the 'Furiant' movement of Dvořák's Piano Quintet No.2 in A major, flying by the seat of his pants and somehow still sovereign-eyed as he simpered entrances to his colleagues.
Lieder are on offer for the first time this year. It goes to show you how good Schubert's Winterreise is that an effulgent American resort town will summon a full audience for it in July, paying full price. The Escher String Quartet charged $95 a ticket to a near-capacity crowd, and it was worth every cent. The festival runs through mid-August.
So does the Santa Fe Opera Festival, which gives five operas a summer and is on its 16th world premiere since starting in 1957. American festivals are leaders in commissioning new compositions; I'd kill to be in Salzburg right now, but the Festspiele's newest work this year is Enescu's Œdipe, composed between 1910 and 1931. (In opera, a piece is considered new if it is only one hundred years old as opposed to two or three.)
What should these new operas be about? Shakespeare and mythology still make a good showing; Santa Fe gave Thomas Adès's The Tempest in 2006, and Henze's Venus und Adonis in 2000. The last two premieres here concerned Silicon Valley and morality (Mason Bates's The (R)evolution of Steve Jobs) and a Civil War romance (Jennifer Higdon's Cold Mountain). Good audiences have figured out by now that if the story and the music are right, opera should be about whatever it damn well pleases.
I asked artistic director Alexander Neef, of whom it was announced last week that he will be taking over the Opèra national de Paris in 2021 (after a forty-five minute job interview with Emmanuel Macron), why Santa Fe is in a position to sustain so many new productions. His answer acknowledged that the festival has relatively ample funds for a five-production house, and a highly supportive audience built over years, but Neef went on to emphasise the leadership of the company's Board, before feeding me an unbelievable statistic: 40% of the Santa Fe Festival audience is viewing an opera for the first time.
40%! One realises some American audiences are so full of amateur spectators that it can be played to an advantage. In remote Santa Fe – and here a comparison to Bayreuth is not out of line – you make the pilgrimage to the place, the magnificently open house and view are by design a part of every production, and you submit more readily to a boldness of narrative in the mountains than you might to an urban opera house to which you rush after work. A lack of orthodox expectations on what things have to look and sound like can free up all sorts of storytelling advantages. As I've written before, an increased attention to good theatre is the future of opera.
Danish composer Poul Ruders has taken for his fifth opera a Hessian fable catalogued by the Brothers Grimm, later retold by his countryman Hans Christian Andersen as 'The Wild Swans'. Fun fact: Andersen was born in Odense, the Danish city whose orchestra co-produced this opera, recording it a full two years ago, before the Santa Fe Opera bought the already-finished work.
Ruders and his first-time librettists Becky and David Starobin have rendered the following tale: a jealous schemer, Drokan (the powerful and expressive Bradley Garvin), has the ear of an aging king, Hjarne (bass David Leigh, also strong). Hjarne is the father of twelve sons, princes all, and Drokan warns that they will usurp him and bring the downfall of his kingdom. Only a daughter can hold the throne and avoid this fate. Hjarne's wife, Queen Gertrude (Tamara Mumford, taking a while to warm up to her rich sound), is with child.
Eighteen years later, Hjarne is dead and Gertrude is dying; she has hidden her twelve sons in the enchanted forest – check – safe from their father's madness. Her pregnancy yielded a daughter, Princess Lyra (the stoically elegant Jessica E. Jones). Lyra learns of her twelve brothers as her mother dies and enters the enchanted forest to meet them. Celebrating their reunion, she unwittingly plucks the twelve red lilies, 'red as blood', that signify the lives of her brothers; cursed, they turn to ravens. Only seven years of Princess Lyra's silence can end the curse and return her brothers to human form, by which point Prince Frederic – check – has come to marry her. Drokan is routed, taking the youngest brother Benjamin (the expressive and ambitious Bille Bruley) with him in defeat. Princess Lyra sings that there is no joy without sorrow, solemn at the death of her brother even as she announces the promise of healing to come.
So much for Aristotelian unity of time; this libretto spans some 25 years, in two woefully busy forty-minute acts. If revisions are made, I'd suggest the following ones: turn most of the first act into a prologue, adding a third act for Benjamin and Prince Frederic's fight with Drokan; make Prince Frederic a full character to begin with (Joshua Dennis sounded nasal and waxen in this underwritten role); and subtract the seven years of Lyra's silent penitence (La muette de Portici notwithstanding, muteness is a tricky thing to portray in musical theatre). That is to say, the opera as it stands manages to feel both bloated and unfinished.
As it stands, the wan villain of Bradley Garvin's well-sung Drokan has zero origin story – how about an arioso about a bad childhood, at the very least – and Lyra's grand reunion with her brothers when she finds them in the enchanted forest is unfathomably short. Of twelve brothers – imagine the musical possibilities – only three have stand-alone singing parts, though there is a great jumpy chorus à la Bernstein of the eleven brothers asking Benjamin where their meal is, replete with a teasing slide whistle. And then there's the ignoble finale: upon her brother Benjamin's death, Lyra sings about six bars of Oh-well-music, then curtain. Presumably, she keeps things short due to urgently having to use the bathroom, though this is not mentioned prominently in the text.
The obvious explanation for the opera's brevity is so that it may appeal to children, but very few of them were in attendance at the premiere, and the story lacks a compelling moral arch over which children can find their way. (Costumes by Rita Ryack are indeed childlike; Hjarne looks like the Burger King.) On the whole, the opera is at a loss to combine for an audience of any age both the sinisterism of the King's exploited fear, which ruins a family, and the bravery of Princess Lyra as she embraces the task of repairing it. It would take lengthening the opera, not keeping it clipped, to give it a lure that would draw children in.
It's the darker aspects of the score that grip. The winds are trimmed down to amplify the angular singing, strings and organs and gongs give tense grimness. Liberal percussion stays visceral. The pairing of sound to word is good; atonal vocal lines abut barbed orchestration as King Hjarne and Drokan poison each other's thoughts in some of the best text painting of the work. The choral writing is lusty and bold. The libretto may be poorly constructed, but at the level of some individual lines it enables marrowy drama: 'The night air groans, and I know not what is true.'
The stage is a great asset, the use of it less so. The inside of a medieval castle's tower has been turned on its side, like the inside of a telescope, to give us a view of its vanishing depths (and always in the background: mountains). All is askew, the stairs run Escher-like around the ring of the turret. Aaron Rhyne's formidable projections give us the enchanted forest in a rush that matches the music, snakes that swirl around Drokan's thoughts, and a jarring storm. Would that the characters move around the set with something resembling energy. Director Darko Tresnjak takes the great gift of vertigo from scenic designer Alexander Dodge and limns instead a static, planar family play, in which schlepping exits undo orchestral bursts.
Admirers of Ruders's operas – his 2000 Handmaid's Tale is playing in Boston now, to great acclaim – will enjoy much of this music and cross their fingers for revisions in time for whenever it gets revived.
Casey Creel