Spain Britten, War Requiem: Orchestre de Paris, Orfeón Donostiarra, Orfeón Txiki / Daniel Harding (conductor), Kursaal Auditorium, San Sebastián, 21.8.2019. (JMI)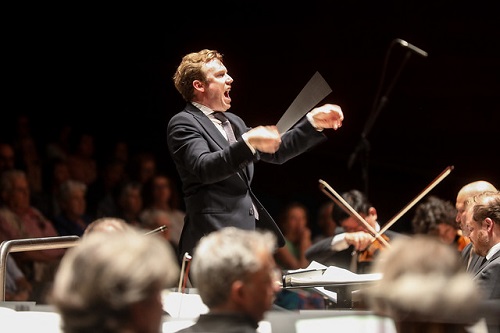 Soloists:
Soprano – Emma Bell
Tenor – Andrew Staples
Baritone – Florian Boesch
This Requiem is not frequently programmed in the concert halls of Spain, which undoubtedly has to do with the demands that the piece brings with it. Indeed, the work requires a symphony orchestra of about a hundred musicians, to which must be added a small chamber orchestra to accompany a trio of soloists. There also needs to be a chorus of no less than a hundred and a children's choir.
Benjamin Britten is one of the great composers of the twentieth century and, for me, he shares the position of the most important composer in British music with Henry Purcell. The War Requiem premiered in 1962 on the occasion of the inauguration of the new Coventry Cathedral, which had been totally destroyed in the horrific World War II bombing of 1940. Without doubt, this is one of the most terrible pages in human history, together with the brutal bombing of Dresden by the Allies a few years later.
The Requiem follows the traditional Latin liturgy and adds nine English poems by Wilfred Owen, which are performed by the soloists accompanied by the chamber orchestra. It has a special pacifist connotation: one cannot lose sight of the fact that in the 1960s the so-called Cold War was at its peak, and there was enormous fear that a third world conflict could happen.
This great work was directed here by Daniel Harding, who offered a commendable reading of a work where there is much to conduct. I would even say that it was a brilliant reading, although it did lack in emotion: always a fundamental ingredient in music, but especially in this work. It's not that there was no feeling expressed – it was obvious at moments – but in general I missed it. Under Mr. Harding's baton was a marvelous Orchestre de Paris. Orfeón Donostiarra was magnificent, with beautiful piani, and the Orfeón Txiki demonstrated impressive musicality.
The soloists were well suited to their parts and handled them well. The voice that best reached the audience was that of soprano Emma Bell, but both tenor Andrew Staples and baritone Florian Boesch sang with gusto.
José M. Irurzun