Austria Salzburg Festival [5] – Mozart, Paisiello, Salieri, and Martín y Soler: Claire de Sévigné, Siobhan Stagg (sopranos), Lea Desandre (mezzo-soprano), Mauro Peter (tenor), Huw Montague Rendall (baritone), Robert Gleadow (bass), Choir of Soloists from the Young Artists' Project, Salzburg Mozarteum Orchestra / Raphaël Pichon (conductor). Grosser Saal, Mozarteum, Salzburg, 18.8.2019. (MB)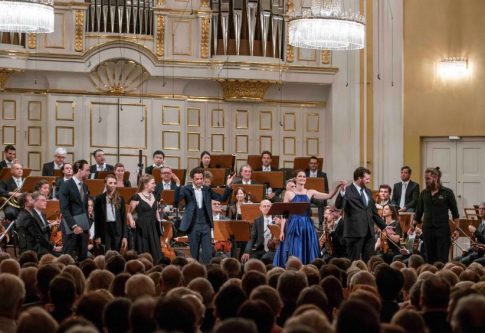 La folle giornata
Mozart – Lo sposo deluso, KV 430/424a: Overture, Quartet, 'Ah che ridere!', and Aria, 'Dove mai trovar quel ciglio?'; Recitative and aria, 'Bella mia fiamma, addio' – 'Resta, oh cara', KV 528; Insertion aria, 'Chi sà, chi sà, qual sia,' for Vincente Martín y Soler's Il burbero di buon cuore, KV 582; L'oca del Cairo: Aria, 'Ogni momento dicon le donne'; Canzonetta, 'Ridente la calma,' KV 152/210a; Nocturne (trio), 'Se lontan, ben mio, tu sei,' KV 438
Paisiello – Il barbiere di Sivilgia: Cavatina, 'Saper bramate'
La scuola degli amanti
Mozart – Der Schauspieldirektor, KV 486: Overture; Aria, 'Männer suchen stets zu naschen', KV 433/416c; Aria, 'Io ti lascio, oh cara, addio', KV Anh.245/621a; Der Schauspieldirektor: Arietta: 'Da schlägt die Abschiedsstunde'; Lo sposo deluso: 'Che accidenti! Che tragedia!'; Canzonetta, 'Più non si trovano,' KV 549
Salieri – La scuola de' gelosi: Sextet, 'Son le donne sopraffine'
Il dissoluto punito
Mozart – Thamos, König in Ägypten: Entr'acte: Maestoso-Allegro; Recitative and aria, 'Così dunque tradisci' – 'Aspri rimorsi atroci', KV 432/421a; Aria, 'Vado ma dove? oh Dei!', KV 583; Aria, 'Per pietà, non ricercate'; L'oca del Cairo: Sextet, 'Corpo di Satanasso!'; Thamos, König in Ägypten: Chorus, 'Ne pulvis et cinis superbe te geras', and final music to the fifth act of the play
Vicente Martín y Soler – Una cosa rara: Sextet, 'O quanto un sì bel giubilo'
Now this is just what the Salzburg Festival should be doing in its longstanding Mozart-Matinee series: one of the most delightful and thought-provoking I have yet to attend. Divided into three 'scenes', each accorded as title the subtitle of one of the Da Ponte operas, this concert, from an excellent cast of young singers, the Mozarteum Orchestra, and Raphaël Pichon, offered suggestions as to inspirations, sources, context, and sometimes just affinities between music for a number of principal characters in each opera from other works by Mozart and contemporaries. So, for 'La folle giornate', we welcomed to the stage the Count, Countess, Figaro, Susanna, Cherubino, and Dr Bartolo; for 'La scuola degli amanti', the full Così sextet; and for 'Il dissoluto punito', its entire cast too. Arrangements, where necessary, were credited to Pierre-Henri Dutron and Vincent Manac'h. One may sometimes have quibbled about the programme attribution of certain parts to certain others, but that was part of the fun and enlightenment. We all approach these greatest of operas in different ways, with different ears, with different memories, at different times. One of the great losses of recent years in the Festival has been that of a core Mozart ensemble of singers, often singing the major operas for several years in succession. This concert not only hinted at that time-honoured practice, but also brought many thoughts to mind of Mozart's own work with particular singers on particular operas.
A decent-sized orchestra for a small hall (strings 8.7.6.4.3) played with verve, vigour, and great sensitivity, all on show in a warm account of the Overture to the operatic fragment, Lo sposo deluso, its second, Andante section winningly prayerful – reminding us that Mozart, like any good man (or woman) of the Enlightenment, made little or no distinction between sacred and secular. (Such, in broadest outline, will be the starting point for my next book.) I may have preferred more string vibrato there, but such was Pichon's style, and my ears soon adjusted. Moaning that this was not Colin Davis would rather have missed the point on this very particular occasion. Pichon handled very well the transition to the quartet, 'Ah che ridere!' from our reassigned Count, Countess, Figaro, and Cherubino, all of whom excelled in concert-ish-performance acting too: the knowing glance, the perfection of timing, and so on. Mozart's prophetic progression to full vocal ensemble: well, we know very well where that was heading. Huw Montague Rendall's following aria marked him out as perhaps first among equals for me, though I had no complaints from any of the singers. It was, in any case, an absorbingly full, characterful performance, quite as vivid as any on stage. Mauro Peter's aria from the 'other' Barber of Seville, Giovanni Paisiello's, was beautifully sung, capturing the sense that this was far more straightforwardly Italian a serenade than anything Mozart would have written – and more seductive than anything Rossini would. Paisiello's lovely writing for pizzicato strings (as well as mandolin) and clarinet was relished by players and conductor alike. Siobhan Stagg's concert aria suffered a little from unduly ascetic violins, especially during the recitative, but my goodness, she knew how to use recitative – as, of course, did Mozart, in accompagnato of extraordinary musico-dramatic riches. As for his chromaticism in the aria itself, we were but a stone's throw already from Wagner and Schoenberg. Lea Desandre's coloratura was sometimes a little shaky in the insertion aria Mozart wrote for Vicente Martín y Soler's Il burbero di buon cuore, but her tone was nicely suggestive of Cherubino. A vigorous contribution from Robert Gleadow, a palpably sincere – if a little too 'white' for my taste – early canzonetta from Claire de Sévigné, and a refreshing choice for 'finale', the delectable Metastasian 'Se lontan, ben mio, tu sei', rounded off a first scene that, like Figaro itself, had one straining for more.
On then, after the interval, to 'La scuola degli amanti' and 'Il dissoluto punito'. If Pichon, here as elsewhere, never quite managed to hear, or at least to communicate, the Schauspieldirektor Overture in a single breath, it had pleasing weight and vigour. Gleadow, who, it was revealed was suffering from excruciating back pain, offered a lovely Don Alfonso-ish aria, to which Montague Rendall responded with a poignancy that threatened almost to eclipse his own Guglielmo and touch the (allegedly) more sensitive Ferrando. If I thought the 'Fiordiligi' Schauspieldirektor number closer to Pamina, that opera was not on offer here – and the final coloratura made its own point. Salieri's sextet from his strikingly similar (in plot) 1778 La scuola de' gelosi, to a libretto by Caterino Mazzolà (librettist for Mozart's La clemenza di Tito, after Metastasio), was, like the Paisiello number, more straightforwardly Italian, less contrapuntal – but then, it would be, and not only because it was written for Venice. Mozart, upon a return to Lo sposo deluso, followed on seamlessly, almost immediately demonstrating who was the greater composer and dramatist, but then, he would. A Metastasian closing number, again written for quartet and three basset horns, offered prayerful continuity with the first scene as well as a degree of contrast in the same respect. What could be more apt?
We stepped back slightly in time for the final scene, to the second of the three Da Ponte operas, or rather to music in its orbit. For 'Il dissoluto punito', we opened and indeed closed with some of the astonishing incidental music for Thamos, King of Egypt. Here was the full-bloodedly Romantic Mozart we knew from the piano concertos as well as from Don Giovanni, the Mozart ETA Hoffmann had no doubt was of his party. On hearing the sextet from Martín y Soler's Una cosa rara, we might well by now have replied, like Leporello on hearing a snatch of 'Non più andrai', 'Questa poi la conosco pur troppo', so often have we heard its quotation in Don Giovanni. But why? What a lovely opportunity, not least in so compelling a rendition, to hear the original, genuinely admired, it would seem, by Mozart. Its move to the minor was perhaps especially interesting – and quite differently accomplished from any instance I could immediately recall in Mozart. Gleadow's aria, once again, spoke wonderfully on its own terms; no one would surely have known the conditions under which he was having to sing. Desandre's, which followed, displayed here absolute control of her instrument and clarity of line, was well as a wonderful way with Italian. Peter (or 'Don Ottavio') offered typical sincerity in his preceding a splendid clarion call (Montague Rendall) and full ensemble from the unfinished L'oca del Cairo. I do not think I have ever heard the music leap from the page with such joy. That, in a sense, was the 'finale'; but, in an inversion of the practice of Don Giovanni, we returned to the tragic, minor mode, Montague Rendall leading his colleagues, an additional quartet of vocalists included, in a magnificent, Gluck-haunted 'Ne pulvis et cinis superbe te geras'. If this were not sacred music in the fullest sense, I do not know what would be.
Mark Berry