United Kingdom Three Choirs Festival [12] – And There Grow Flowers: Remembering F. W. Harvey: Matthew Romain (reader), Sabrinensis Chamber Choir, Cranham Handbell Ringers, Gaudeamus Youth Strings, James Quinn (piano), George Gillow (organ) / Judith Sheridan (conductor). St Peter's Church Minsterworth, 2.8.2019. (JQ)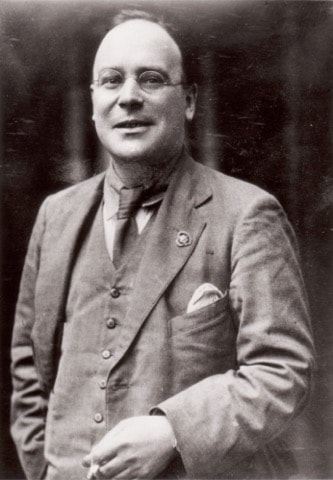 Frederick William ('Will') Harvey (1888-1957) was a Gloucestershire man through and through. Born in Hartpury, a village a few miles outside Gloucester, he was educated at the Kings School, Gloucester, where his contemporaries included Ivor Gurney and Herbert Howells, both of whom became close and lasting friends. Harvey, who lived most of his life in Gloucestershire, was brought up in the village of Minsterworth, another village just outside Gloucester. Indeed, I believe that I drove past the house in which he grew up on my way from Gloucester to Minsterworth today. In one of the poems read today Harvey calls Minsterworth 'queen of riverside places'. He is buried in the churchyard of the village church, which also has a Harvey memorial window. It was in this church, a Grade II* listed building, that today local musicians paid tribute to him in this programme of music and readings.
Harvey was a multi-faceted man. In his biography, F W Harvey. Soldier, Poet (1988, rev 2011) Anthony Boden describes him thus: 'Although a solicitor by profession, he was a gifted poet by inclination, as well as a tough soldier, sportsman, broadcaster, and good companion'. Boden draws attention, rightly, to Harvey's service in the First World War. He volunteered as a soldier with the Gloucestershire Regiment within days of the declaration of war, was sent to France in early 1915 where he was decorated for bravery in action. Initially a corporal, his service was sufficiently distinguished that he was commissioned as a lieutenant. Shortly after receiving his commission he was captured and spent the remainder of the war as a prisoner of the Germans. Returning to Gloucestershire after the end of the war, he became a highly respected local figure and continued to write poetry, much of it hymning his native county.
The programme, which had obviously been researched and compiled with great care, gave us a very good and roughly chronological portrait of Harvey. The selection of poems took in his exuberant youth, his wartime experiences and his later reflections on life and his home county. Along the way we were able to witness, through his own writings, his humour, his humanity, his strong principles and his religious convictions. Most of the readings were delivered by the actor, Matthew Romain. I thought he was first class, bringing the words vividly to life with a nice, easy delivery. Although all the spoken words were included in the programme, I can pay Romain no greater compliment than to say that not once did I feel the need to follow them as he read. Other shorter snippets from Harvey's writings were read by several members of the choir.
The Sabrinensis Chamber Choir, who take their name from the Latin name of the River Severn are all experienced local singers. (Disclosure: I know a few of today's performers, mainly through my own singing activities.) They presented a varied selection of music, most of it with Harvey links. During the programme sections of the Magnificat by Francesco Durante (1684-1755) were sung – we heard the whole piece during the concert. I have to say that I didn't quite see how this fitted in with the rest of the programme, although Harvey did include a couple of lines from the canticle in his poem, Charlie 'The Black' – A Tribute. Whatever the reason for its inclusion, the choir sang Durante's music with spirit.
Another thread running through the programme was the performance of some movements from the choral work There was such beauty by Richard Shephard (b.1949). I'm not sure if there was an overt link between Shephard and Harvey but there was certainly a Gloucester link because Shephard was a chorister at the city's cathedral. The movements that we heard from this work were attractive, and a capable baritone, a choir member, sang the important solos well and clearly.
In compiling the programme Judith Sheridan had very commendably given space for several living composers. At the very start we heard Belltide by Hugh Barton ((b.1946). This set the scene for the programme with a description, in words by Elizabeth Baker, of the Severn Meadows. The composition is for the unusual combination of narrator and handbells. The contribution of the Cranham Handbell Ringers added a lovely ambience round the words spoken by Matthew Romain. I'm afraid I got far less out of the other Barton work on the programme. Within my Dreams (The Return) is scored for string quartet, handbells and women's voices. This music challenged some of the audience, including me, and perhaps challenged the performers too, though they surmounted the challenges well, but I found myself asking 'to what end? 'As far as I could discern, the music bore little relation to the words; it certainly didn't enhance them. I couldn't follow the direction of the piece at all and while I commend the performers for giving it their best, I'm afraid it did little for me.
I enjoyed other pieces by living composers much more. To Hs Love by Bartholomew Mason (b.1986), and The Songs I had by Gareth Treseder were both attractive pieces and the choir evidently enjoyed doing them.
Two of Harvey's great friends were rightly represented. We heard In Flanders by Gurney – a setting of lines by Harvey, of course – and Sing Lullaby by Howells. And what a delight it was to hear A Prayer by John Sanders (1933-2003), who served Gloucester Cathedral with such distinction as Director of Music (1968-94.). This setting of a 1925 Harvey poem was written by Sanders in the year that he died. It's set for SATB choir and organ. The piece is simple, eloquent and lovely. It received a fine performance and for me it was the musical highlight of the programme.
The last word was given to Harvey himself. To close the programme, we heard an archive recording of him reading his own poem, November. His voice spoke clearly and firmly to us across the decades. It was a very fitting conclusion.
The Sabrinensis Chamber Choir did Will Harvey proud and they were very well supported by the Cranham Handbell Ringers and the excellent instrumentalists. Matthew Romain brought Harvey's fine poetry to life for us. I should also say that the programme booklet, produced independently of the Festival, was a very comprehensive piece of work, providing us with all the words as well as valuable notes about Harvey and about the music that was performed.
The programme was given as an uninterrupted sequence. That approach was correct, but I think that the programme, at 90 minutes duration, was over-long. With judicious pruning a presentation of about an hour could still have worked extremely well. However, the sequence as it stood brought us closer to Will Harvey. As such, it was a worthy tribute.
Will Harvey is commemorated by a tablet in Gloucester Cathedral on which is inscribed these words which he himself wrote: 'He loved the vision of this world and found it good'. That's a fine epitaph.
John Quinn