United Kingdom Three Choirs Festival [10] – Various composers: Roderick Williams (baritone), Susie Allan (piano), Cheltenham College Theatre, Cheltenham, 1.8.2019. (JQ)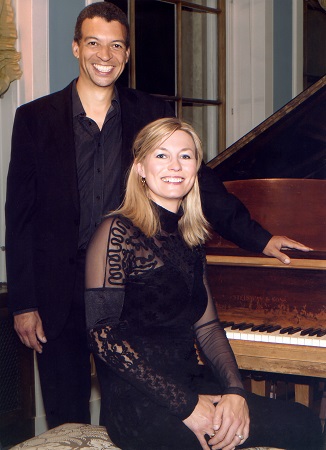 Parry – English Lyrics Vol.7
Kevin Brown – Description of Spring
Ian Venables – What then? (2017, world premiere)
Bernadette Marmion – When you are old (1974)
Christopher Maxim – There is sweet Music
Elaine Hugh-Jones – Eight O'Clock (2011)
Pamela Mellor – Winter's End; Spring (2004)
Vaughan Williams – The Splendour Falls; Blackmwore by the Stour
Somervell – Maud
A song recital by Roderick Williams is always the hottest of tickets at any Three Choirs Festival, and so it was again today. In a typically charming little introduction, Williams told us that only at Three Choirs would he be able to propose a programme such as this with infrequently heard songs by Parry and Somervell and some individual songs by other composers, not all of them well-known, in a 'disparate' first half.
I was delighted that he chose to open proceedings with a set of Parry's English Lyrics, partly because Parry's songs are so rarely encountered in recitals. The other reason is that Roderick Williams is one of the singers in SOMM Recording's complete, three-volume survey of Parry's twelve sets of English Lyrics (review ~ review ~ review) and I welcomed the chance to hear him sing some of them live. These songs, over seventy in all, were composed from about 1874 and 1918 and the last two sets were compiled posthumously. Williams sings all six of the songs in Set VII on these recordings: the first five songs can be found on SOMM's Volume 1 but the sixth song, 'Sleep' was held back to Volume 3. Set VII of English Lyrics was published in 1907.
He told us that in rehearsal Susie Allan had coined the phrase 'delightful ditties' for these songs. That was certainly true of the first three, which Williams delivered with charm and wit. Even at this early stage in the recital his habitual care for the words was much in evidence. The fourth song, 'O never say that I was false of heart', is more serious in tone and it received a fine performance. The next song, 'Julia', benefitted from excellent use of rubato from both artists; the performance was delightful. To close, we heard 'Sleep'. This song is slow, tranquil and, to my ears, Brahmsian. Williams and Allan gave it an elevated performance.
Next came a collection of songs by living composers. Roderic Williams explained that he regularly gets offered new songs by composers and he files them away mentally, waiting for a chance to include some of them in programmes. Today, he said, we were going to experience 'a snapshot of what is currently in my drawer'. He had cherry picked songs, as he explained, and with one exception the songs explored the effects of time and the changing seasons.
Kevin Brown's Description of Spring was most attractive, featuring a lyrical vocal line and busy, illustrative piano writing, expertly despatched by Susie Allan. Ian Venables' What then? is the last in a set of Eight Songs for Baritone and Piano, Op 41. Since today saw the world premiere of the song I infer that the complete cycle has not yet been heard in public. On the evidence of this song, I hope that won't be delayed much longer. Venables' setting of this Yeats poem is slow and solemn – the low piano part is suggestive of a slow march. This questioning, powerful refection builds to a powerful closing climax. It's a fine song. Bernadette Marmion's When you are old had a pleasing melodic line and some unexpected harmonic turns. Christopher Maxim's There is sweet Music interested me because it evoked a sense of mystery and, for me, sense of landscape and nature. Elaine Hugh-Jones' Eight O'Clock is a stark Housman setting in which the poet depicts the last hours of a condemned man. The abrupt ending is very effective. Finally, we heard two short songs from a cycle by Pamela Mellor:  Winter's End and Spring. These nicely contrasting songs pointed up the change from one season to another.
All of these songs were appealing and well worth hearing. The composers, some of whom were present, received splendid advocacy as Roderick Williams and Susie Allan brought each song vividly to life. They closed the first half with two Vaughan Williams songs. First came the early Tennyson setting, The Splendour Falls. This dates from 1895 and whilst it's far from fully-formed VW it's still interesting to hear. Blackmwore by the Stour is a poem in Dorset dialect and Williams adopted a suitably rustic accent for this jolly song. His engagement with the narrative brought laughter from the audience.
The Parry group with which Roderick Williams opened his programme today comprised songs which, as I said, he has already recorded for SOMM Recordings. He closed the programme with Arthur Somervell's Maud and, by a pleasing symmetry, he and Susie Allan recently recorded this cycle as part of an all-Somervell CD which SOMM is planning for early release.
The thirteen songs in this cycle comprise, as Gwilym Bowen said in his notes, a 'filleted version' of Tennyson's 10,000-word poem. Introducing the performance, Roderick Williams told us that his work on the cycle had been 'a bit of a wrestle' because Somervell's music is essentially lyrical yet when he went back to Tennyson's original, the darkness of the poem took him to the world of Winterreise. He decided that the best tactic was to identify with Tennyson's protagonist, even if that occasionally produced something of a mismatch with what he was actually singing. Adopting what he said was an 'interventionist' approach, both artists plumbed depths in these songs which, to me at least, were quite unexpected.
I've heard Maud in the past – though not for a long time – and I freely confess that I've regarded the cycle as rather cosily Victorian That lazy assumption was significantly challenged by the performance I heard today. Nothing had prepared me for the dark intensity which both musicians brought to the music. It was instructive to hear how, in the opening song, 'I hate the dreadful hollow', Williams switched in a matter of moments from his relaxed introduction to Somervell to sing with intense introspection. Susie Allan made the dramatic piano writing seem positively Brahmsian. Later, the fifth song 'Birds in the high Hall garden', seems charming on the surface but these artists made you read between the lines. 'Maud has a garden' and 'Go not, happy day' are a bit more relaxed, at least for part of the time. 'I have led her home' sounded distinctly Schumannesque. 'Come into the garden Maud' is synonymous with Victorian parlour ballads but Somervell's setting is much better. Susie Allan's rippling piano playing again put me in mind of Schumann. But immediately afterwards, 'The fault was mine' switches to self-realisation and bitter regret, a mood which both singer and pianist conjured up expertly. After much more soul-searching we reach the last song, 'My life has crept so long'. In the fourth line we hear the words 'My mood has changed' and that, I think, is key. This is a beautiful and thoughtful setting and though the ending could seem grandiose I thought Williams found nobility there.
This performance was something of a revelation to me. These gifted and perceptive musicians opened my ears to Maud and I'm now impatient for the release of the forthcoming CD which will enable me to experience their vision of these songs again.
An encore was inevitable and we were given another Somervell song. After all that dark introspection and intensity, the choice was shrewd. We heard Shepherd's Cradle Song, an unassuming and gently touching little song. Beautifully performed, it was the perfect envoi.
This was an engrossing recital by an artistic partnership that always seems to me to work splendidly. Roderick Williams is surely at the height of his powers right now and in Susie Allan he couldn't wish for a finer recital partner.
John Quinn