Spain Puccini, Madama Butterfly: Easo Choir, Euskadi Symphony Orchestra / Giuseppe Finzi (conductor), Kursaal Auditorium, San Sebastián, 13.8.2019. (JMI)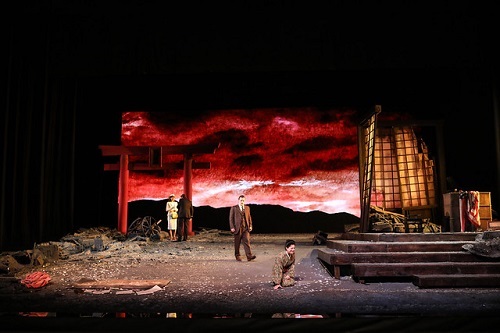 Production:
Direction – Emilio López
Sets – Manuel Zuriaga
Costumes – Mónica Teijeiro
Lighting – Antonio Castro
Cast:
Cio-Cio San – Ainhoa Artet
Pinkerton – Marcelo Puente
Sharpless – Gabriel Bermúdez
Suzuki – Cristina Faus
Goro – Francisco Vas
Zio Bonzo – Fernando Latorre
Yamadori – Isaac Galán
Kate Pinkerton – Ana Cristina Marco
Comisario Imperial – Isaac Galán
This year marks the eightieth anniversary of the Quincena Musical Donostiarra – clearly one of the most important summer music festivals. Every year one opera is performed, and this year the choice is Madama Butterfly.
The Emilio López production had its premiere in Valencia in October 2017, and on the whole it's a fairly routine staging. It's set in Nagasaki after its destruction by the atomic bomb, which doesn't make a lot of sense but doesn't bother one greatly either. The first act offers a traditional stage, with the house appearing in the next two acts mainly in ruins as a result of the bombing. The costumes are classic and somewhat ordinary, and the lighting is not satisfactory, especially in the second act.
One does not really understand what the American consul is doing in Nagasaki in these circumstances. Nor does it make much sense that Act II takes place at night, which doesn't prevent the protagonist from seeing a ship entering the port and reading out its name.
The musical direction was in the hands of Giuseppe Finzi, whose performance was, in general, lackluster. The most intense part of his reading took place in the last act, while the first two acts were flat and emotionless, which is a serious problem in an opera like Madama Butterfly. The tempos were slow, and there was excess volume coming from the pit. I have nothing against slow tempos, but they need depth and that could not be detected here.
The main attraction of this performance was the presence of Ainhoa Arteta as Cio-Cio San. Last January I was at Barcelona's Liceu to attend her debut in the character, but she ended up canceling the first performances. This time, Ms. ​​Arteta seemed to sing two very different parts. The first one ran to the end of the famous 'Un bel di vedremo', and Ms. Arteta was not convincing in vocal terms: there was an excess of vibrato in the middle of her voice, which has always existed, but is now more pronounced. But from then on, her performance improved, and she was much more appealing in both vocal and stage terms.
Pinkerton was sung by Marcelo Puente, whose voice is well suited to the character, with an attractive timbre and a homogeneous sound throughout the tessitura. However, there was a lack of emotion and expressiveness in his interpretation.
Sharpless was once again interpreted by Spanish baritone Gabriel Bermúdez, who had difficulty projecting his voice. He is a remarkable performer, but his voice is somewhat small, and he suffers in an auditorium like the Kursaal. He sounds better in an Italian-style theatre than here.
Suzuki was played by mezzo-soprano Cristina Faus, who did well. Her voice has quality in the middle and she's a good actress, though she falls a little short at the bottom of the range.
Francisco Vas as Goro was excellent, as usual, although he too had some problems being heard in Act I. Isaac Galán doubled as Imperial Commissioner in Act I and as Prince Yamadori in the second, and was correct in both cases. Fernando Latorre was a sonorous Zio Bonzo, and Ana Cristina Marco did nicely as Kate Pinkerton.
José M. Irurzun